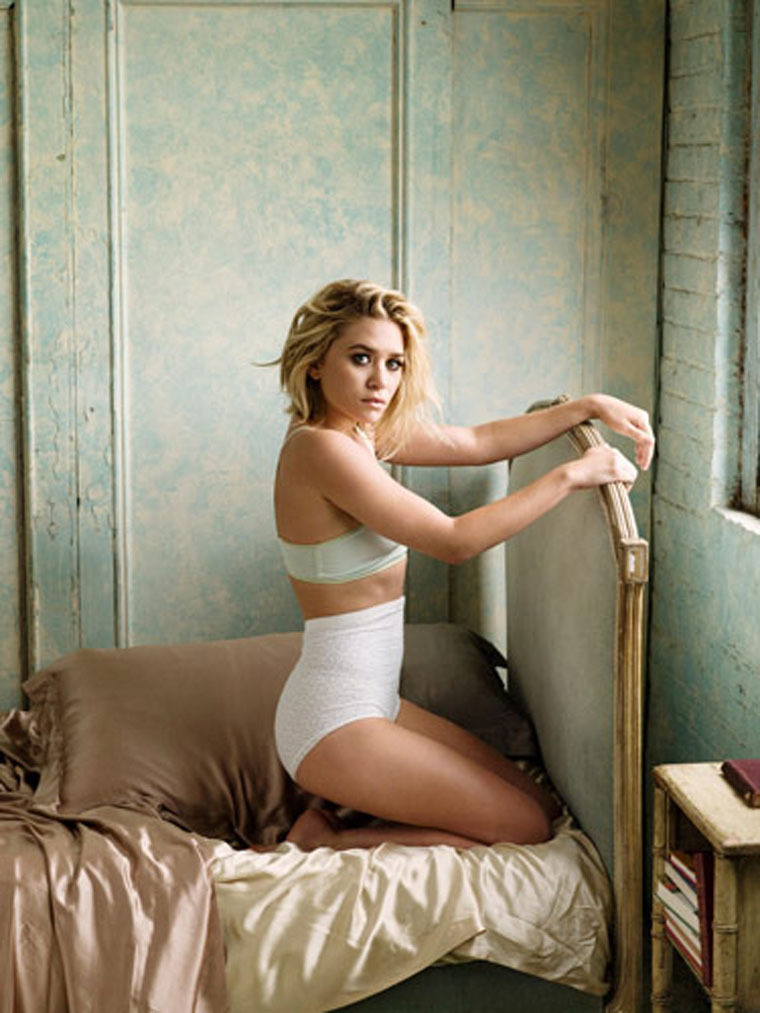 Ashley Olsen gave a great interview to Marie Claire in which she talks about style, her fashion empire, and Britney Spears. How's Britney relate? Ashley's talking about her childhood and how overly-regimented her life was as a result of being a child star. And she ends the discussion of her military-like existence by saying she's surprised she didn't end up like Britney Spears. Meaning all messed up.
The actress, who graces the cover of Marie Claire's September issue, admits of the pressures of her childhood stardom: "I look at Britney, and I'm surprised I didn't end up like her."

Although she is, in fact, far more put together than the troubled pop star, Olsen did get pretty racy for the photo shoot – in one shot, she rocks nothing but a bra and panties. Between poses at her Greenwich Village townhouse, Ashley spoke about how far she's come since her days as baby Michelle Tanner on "Full House" – days she doesn't always remember fondly.

"[Growing up,] it was almost like I was in the Army," she laments. "School, work, homework, fly to New York, get in at 2 in the morning, do a morning show at 5 a.m., then another one at 7, then a radio interview at 10."
[From Marie Claire via the Daily News]
I don't think the comment was meant as a passive aggressive insult. It's sort of a given that Britney Spears' childhood fame did a number on her as an adult. In a way, it could be construed as Ashley saying it's just good luck or something. She doesn't say anything like, "Well of course my parents helped keep me and Mary-Kate grounded." She just says it was hard and exhausting as little kids, and she's surprised she turned out alright. Really I'd say the comment is more of a slam on her parents than anything.
Ashley and Mary-Kate have received nothing but praise kudos for their fashion work and all of their lines are doing ridiculously well. Ashley's managed not just to work here and there in show business when she wants to but also become immensely respected not just for wearing other people's work but for designing her own. She says she gets why people were so fascinated with her and Mary-Kate's style a few years ago when the twins first moved to New York.
"I think you're either born with a sense of style or you're not," Ashley says in her small, soft voice, giving her knuckles a loud crack. "Either you care or you don't. And we"—she and Mary-Kate—"love fashion. When we were going to NYU, I think that was the first time we were aware of the power of our personal style. Not the power of it, but the result of it. Between the big sunglasses and the Starbucks cup and the big sweaters, the hobo-chic thing, we were more shocked than anything"—by the endless commentary and tabloid coverage. "I get it; we were fortunate enough to have really nice clothes, and we put them together in this raggedy way."
[From Marie Claire]
Ashlee definitely has an unusual style that's all her own, and she can pull off looks the rest of us can't. But she still seems to have a good sense of fashion that, while not high, per se, also isn't quite for the masses. From most accounts Ashley is an exceptionally hard worker who runs a good deal of the business end of her companies with Mary-Kate. I'd say she didn't just avoid the pitfalls of childhood stardom, she's managed to use all of it to her advantage.
Thanks to Marie Claire for the pictures