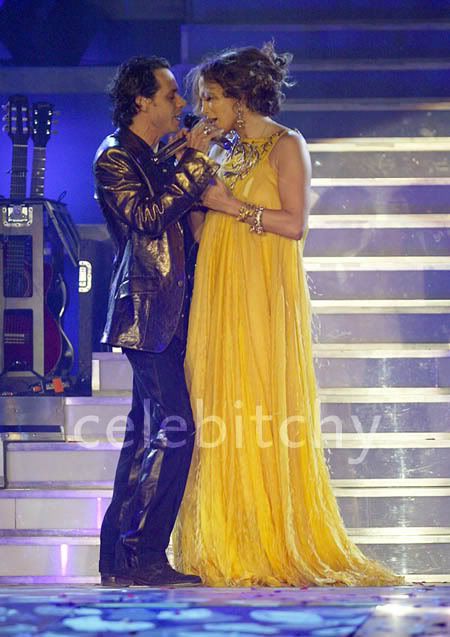 Despite multiple denials from both Jennifer Lopez and her husband of an inexplicable three years, Marc Anthony, they are said to be planning to announce Lopez's pregnancy at their joint concert at Madison Square Garden on Sunday:
Bronx native Jennifer Lopez, 38, plans to "announce that she and (husband) Marc Anthony are expecting their first child on Saturday night at her Madison Square Garden concert," said an insider.
[From NYPost]
On September 19th Anthony's publicist denied that Lopez was pregnant, saying "Everyone calls about this every month with the hopes that they'll hit the mark, but no. No."
Then Lopez herself claimed she wasn't pregnant about a week later when she was asked directly, saying: "No, no! We get this every week! I don't mind when people talk about this, I get the interest. I'm not the only [celeb] who gets these rumors."
The rumors started when Lopez showed up at the unveiling of her god-awful clothing line, Just Sweet, wearing a green sack-like dress and sporting what looked like a baby bump from a certain angle. She has continued to wear fug loose clothing at public appearances and her concerts with Anthony, and people thought she was either trying to hide a slight weight gain or fibbing about a pregnancy because she hadn't reached the third month mark yet.
Yesterday a picture surfaced of Lopez's top blowing up while she was performing to show what looked like a baby bump. Perez ran it, saying "We totally see a baby bump there. Do U????" People has it today, and it looks like she's protecting her bump in this shot: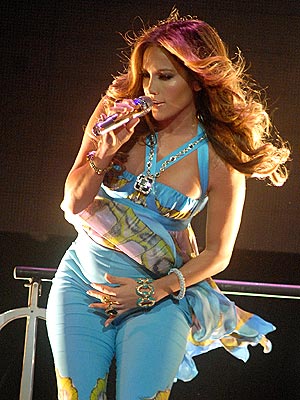 If she is pregnant and is going to announce it and everything, why did they both lie about it instead of saying "no comment"? I know this is common practice among celebrities, but there's no need to be so adamant that it's not true, it just makes them seem disingenuous. Then again Marc Anthony and J.Lo never came off as honest, down to earth people.
Congratulations to Lopez and Anthony if this is true. She is rumored to be pregnant with twins.
Pictures are of Jennifer Lopez and Marc Anthony performing at Trump Taj Mahal Hotel and Casino in Atlantic City, New Jersey on October 1. Thanks to SplashNews.