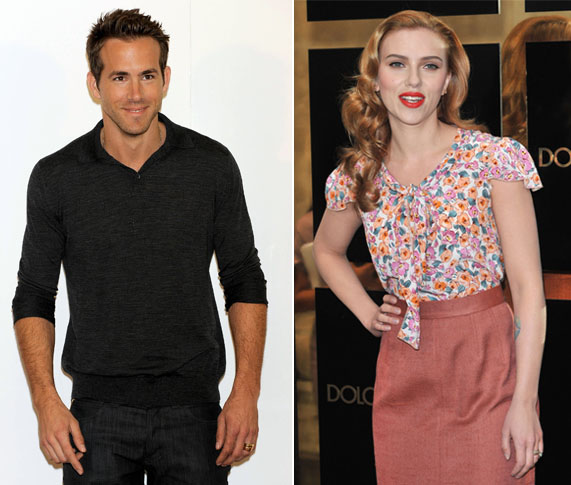 For a few weeks now, there have been some mutterings and tragic gossip that Scarlett Johansson and Ryan Reynolds were having some serious issues. It all started when Ryan didn't show up for Comic-Con, and ScarJo did. There were multiple reports that Ryan was supposed to show up, but didn't because he and ScarJo had some major falling out. Very quickly, their reps denied the hell out of those reports. And yet… they still linger. Star and In Touch have shockingly similar stories about the problems within the ScarJo-Reynolds marriage. It's enough to make me think they might have the same unnamed source.
Star's version is less offensive to me than In Touch, but the quotes are nothing special. Scar and Ryan are fighting about everything, and they can't even go out to eat without getting pissy with each other:
"They're struggling to see eye-to-eye on almost everything," an insider tells Star. "From when to start a family – he's ready, but she's in no rush – to her smoking and what she sees as his reckless motorcycle riding."

"What's making matters worse is that their busy careers are keeping them apart, so they get really out of sync… It's gotten so bad neither of them is hurrying home just to start fighting again."

[What began as a romantic meal on July 20]… "They started out snuggling… they left barely looking at each other."
[From Star Magazine, print edition, August 17 2009]
Now for the dirtier details. In Touch's source has the specific complaints Scar and Ryan are lodging against each other. It seems Ryan has a "jealous streak" as well as "a bad temper and a dark side." As for ScarJo, she "has a big mouth at times." Yikes. This does not sound good:
After having a huge fight over the weekend of July 18, Scarlett Johansson reportedly got so angry at Ryan Reynolds that she threatened to take off her wedding ring. Ryan was so upset, he [didn't go with her to Comic-Con].

"He saw it as a bunch of young guys wanting to stare at Scarlett and drool over her," a source tells In Touch. "Ryan has a jealous streak, and he didn't think that would be fun."

Just 10 months after tying the knot, friends fear that the newlyweds are already headed for a split. "They have been fighting a lot for the past few months," says a close pal. "They are both strong-willed and stubborn."

The source adds, "Ryan has a bad temper and a dark side, and she has a big mouth at times."

A rep for Scarlett says that any reports of a fight are "ridiculous" but an insider says, "They are two completely different people. They spend more time apart than together and rarely do things as a couple."

[Since] their nuptials in September 2008, the pair have rarely been spotted together. The close pal adds that another problem is that Ryan can be controlling and Scarlett feels smothered.

"He wants to know where she is at all times and who she is with," the close pal reveals. "She's much more of a free spirit."

Ryan has been nagging Scarlett to start a family, but the insider says it's unlikely: "They're just not in the same place."
[From In Touch Weekly, print edition, August 17 2009]
So, is any of this for real? Personally, I buy parts of it. Mainly because I've always thought they were an odd couple, because ScarJo doesn't seem (to me) particularly interested in being settled down. She's always struck me as, yes, a "free spirit" – which could be a euphemism for "a girl who likes to get laid, and doesn't really care to remember your name." Ryan is sort of blank for me – usually I find him bland, dull and pretty, but I could see how he could be this closeted jealous, smothering bastard. On the other hand, this is quite likely a tempest in a teapot, with the tabloids offended that ScarJo and Ryan haven't given them any good photo-ops, like, ever. I don't know… my guess is that the marriage won't last more than two years. And there won't be any babies.
Ryan Reynolds is shown on 6/26/09, Scarlett Johansson is shown on 7/31/09. Credit: WENN.com