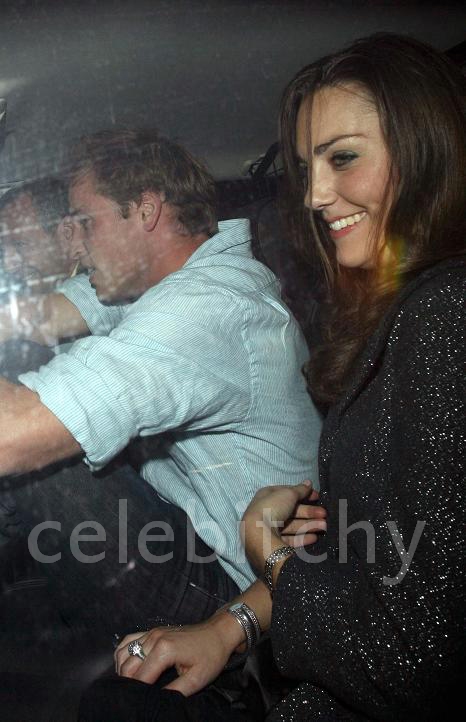 Much as I don't feel that badly for celebrities who have to deal with the paparazzi, I do feel badly for people born into it. Prince William and on-again, off-again girlfriend Kate Middleton have had a lot of problems with the paparazzi aggressively chasing them during the last six months or so. Considering the paparazzi contributed to his mother's death (in most people's opinions) this is a special concern for William, who was chased aggressively in London last night.
"Paparazzi aggressively pursued Prince William and his girlfriend early Friday as they left a nightclub, following them by car through the streets of London after photographing the couple, the prince's spokesman said. The chase came just days after the start of an inquiry into his mother's death in a 1997 car crash after being pursued by photographers. British newspapers on Friday ran pictures of William and Kate Middleton, both 25, in a car after leaving a London nightclub in the early hours. 'Threatening' paparazzi then chased the couple in their car, Paddy Harverson said.

"'Having already been photographed leaving the club, he and Kate Middleton were then pursued in his car by photographers on motorcycles, in vehicles and on foot. The aggressive pursuit was potentially dangerous and worrying for them,' Harverson said. The photos of the couple were published in the same week as pictures of William's mother, Princess Diana, leaving the Ritz Hotel in Paris in 1997, as part of the inquest into her death. The inquiry is charged with determining how Diana came to die with her boyfriend Dodi Fayed in a car crash while being pursued by paparazzi.

"Harverson said it 'seems incomprehensible, particularly at this time, that this behavior is still going on.' The matter has been raised with the Press Complaints Commission, Harverson said. In a statement, the commission reminded editors that it was 'of the utmost importance not to use photographs which have been taken in a manner that may have compromised the safety of individuals, which may include pursuit in vehicles.'"
[From the Washington Post]
I really think the paparazzi should cut them some slack. It's one thing when you're Britney Spears and practically whoring yourself out to the paps, but it's totally different when being chased through the streets seems to be your birthright. I doubt it would be possible for the next king of England to live below the radar, but I don't think he's courting the attention either. I hope he manages to force the paparazzi to lay off him a bit, if for absolutely nothing else than his own safety and those around him.
Picture Note by Jaybird: Here's Kate Middleton and Prince William leaving Boujis Nightclub in Kensington in London on October 4th. Images thanks to WENN.