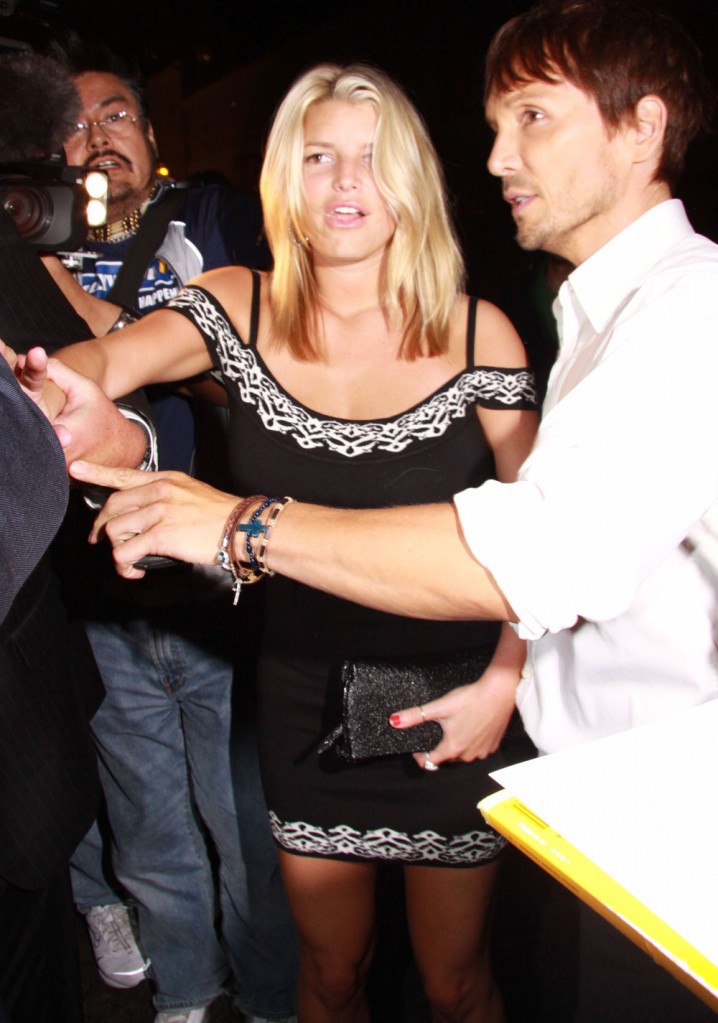 At this point, I'm sure everybody has seen these pictures of Jessica Simpson looking half-way or completely in the bag at her hair stylist Ken Paves' birthday last Wednesday. Jessica was photographed leaving the club with Ken, who looked scared and nervous that so many people were photographing an obviously tanked client/friend. For her part, Jessica looked like she's a very happy drunk. She tried to smile and blow kisses at the photographers, and seemed like she was feeling no pain. Ken totally shoved her into the back of a car, and my guess is that Jess was praying to the porcelain gods just hours later.
Page Six is now claiming that Jess's intention wasn't to get drunk as a skunk that night – she's just on a hardcore diet, and her tolerance for alcohol is null and void. I kind of think the story would be cooler if Jessica's people just came out and said "Yeah, she got hammered. It happens. It was a fun party!" But instead, it has to be all about her split:
JESSICA Simpson is dropping weight faster than she realizes. Celebrating her hairstylist Ken Paves' birthday Wednesday night at Beso in Hollywood, "she didn't eat much, because she's been dieting since her split from Tony Romo," said our source.

So after two drinks, the 5-foot-3 star "got tipsy really fast." Photos show a bleary, but svelte, Simpson holding onto Paves as they exited.

Simpson's rep told us, "She was out celebrating Ken's birthday, and now she's getting ready to leave the country to film her docu-series for VH1."
[From Page Six]
I hate the whole idea of going on a "revenge" diet when you break up with someone. It's as if Jessica thinks Tony dumped her because he didn't like her body, when I believe the relationship probably lasted as long as it did because the only thing Tony liked was her body.
Meanwhile, Jessica's message man (her dad) got a night off, and it was Jessica's mom's turn to talk to the press about her daughter. Tina Simpson happens to be a lot more forgiving of Tony, and she tells US Weekly that "we all like our exes." Not really, Tina, but whatever:
Jessica Simpson may have been dumped by Tony Romo, but her family has no hard feelings.

"We like all our exes," her mom, Tina, told E! News at a Gap event in Hollywood Thursday.

How's Jessica handling the split, which happened on the eve of her 29th birthday in July?
"Jessica is just a really strong girl," says Tina. "She has her stuff together. She really does. She's really solid."

"I'm very proud of her," Tina went on, adding that Jessica is currently "awesome…she's doing very good."

Tina says she's been spending the summer with Jessica and Ashlee Simpson-Wentz "working, hanging out by the pool, enjoying the grandson."

Bronx, 8 months, "is a sweetheart," Tina says. "He's so cute. And getting so big…I'm a proud grandmother!"
[From US Weekly]
Poor Ashlee. She never gets the attention. At least, not from her dad. Or the media. But Ashlee and her mom seem pretty tight. To be fair to the Simpson parents, can you imagine having Pete Wentz as a son-in-law? You'd probably keep your distance too.
Jessica Simpson and Ken Paves are shown out a Beso on 8/5/09. Credit: WENN.com and Fame Pictures