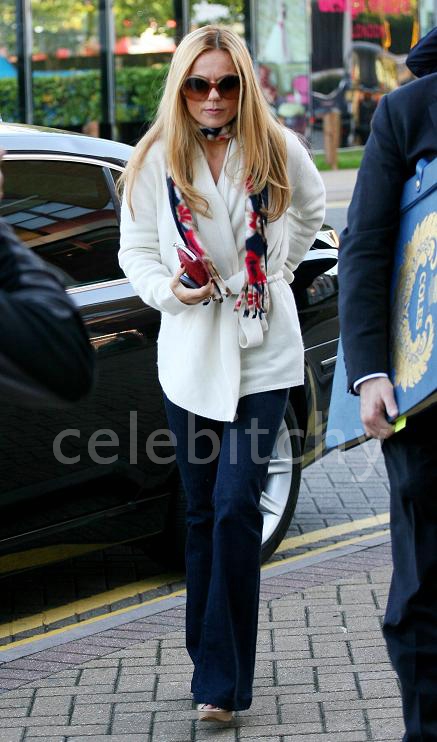 Well that didn't take too long. Who bet on day 94 in the "When will the Spice Girls get all diva bitchy on each other?" contest? Apparently it doesn't take much to cause infighting… though that's not really a surprise. Aren't divas known for freaking out about the slightest thing? I'm guessing the majority of the cat fighting is between Ginger, Posh, and Scary. The other two seem comparably nice and low-key, but I'm easily mislead these days.
Apparently Geri Halliwell released the name of the Girl's first single without their permission, and even knew it might cause some problems. I'm guessing she either got carried away from being on television, or the tabloids are trying to make a big deal out of nothing. It all seems petty to me, but I'm not a Spice anything, so I could be wrong.
"Geri Halliwell has sparked tensions with her newly reunited Spice Girls bandmates after she revealed the top secret name of their new single – according to reports. Halliwell announced the single release, their first in seven years, to British chat show GMTV on Friday.

"She said, 'I'm not too sure if I'm going to get in trouble for telling you this because I haven't discussed it with the other girls. The Spice Girls' new single is finished and it's out on November 19 and it's called Headlines.'

"However, the other members are said to be annoyed at the impromptu announcement, reports British newspaper The Daily Star.

"A source tells the paper, 'They will be furious Geri has let slip the name of their new single.'

"However, a spokesperson denies the rift, explaining, 'Everything's cool with the girls. No-one's angry with Geri about her giving the name of the single away. It was all part of the plan.'"
[From Star Pulse]
Hmm… sounds like double-talk. I'd like to believe there's a lot of drama and anger behind the scenes. Something along the lines of vases being thrown and secretly slipping roofies into each other's drinks and then taking embarrassing photos of one another. But I'm guessing things aren't nearly that dramatic. There's probably a lot of play pens, husbands, and … [I'm trying to think of other mature things here…] sauvignon blanc? I'm sure all the girls can whip out some diva when they want to, but I'm guessing that they've probably matured enough not to freak out about Ginger Spice leaking their first comeback single title. It's not like she showed up with the disc in hand or anything. Though that'd would have made for much better drama.
Picture Note by Jaybird: Here's Geri at the 2007 Serpentine Gallery Summer Party on July 11th. Image thanks to PR Photos. Header of Geri making a trip to the Chelsea Harbour Design Centre in London after making an early morning appearance on GMTV on October 5th. Image thanks to Splash Photos.