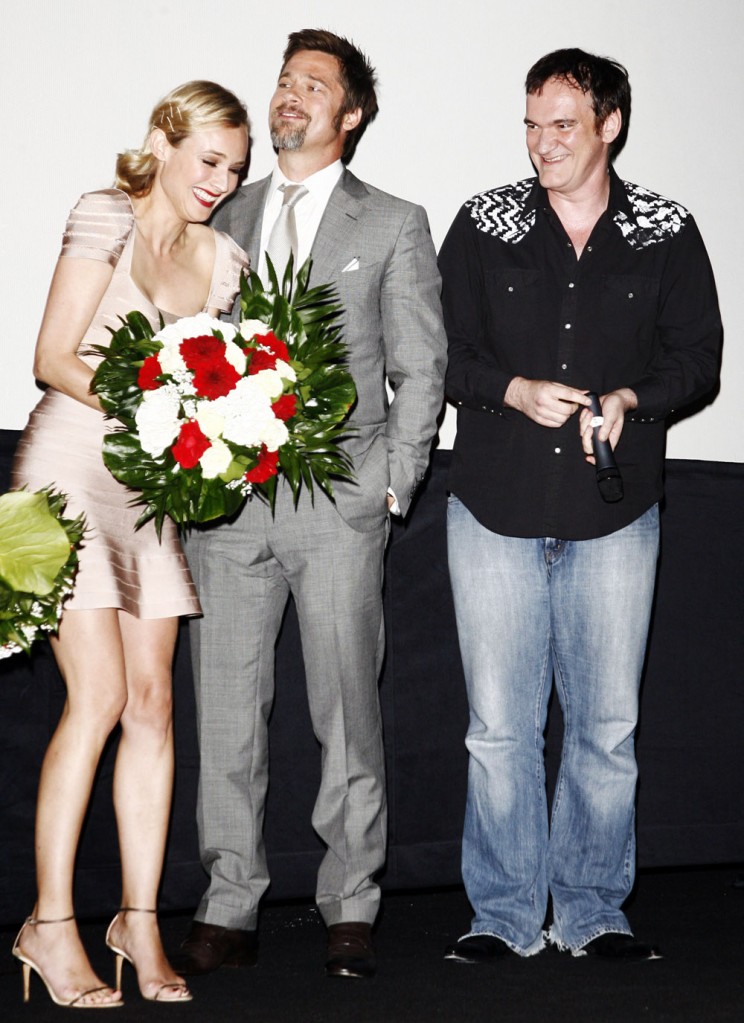 These are just a few pieces of vaguely Brangelina-related news. First up, Quentin Tarantino was interviewed recently, and of course he was asked about his Inglourious Basterds star, Brad Pitt. Quentin was all compliments, saying, "What's really cool about Brad right now is that the pretty boy is gone. He's a man now. He can bear the weight. Brad is at the zenith of his iconicness." While I'm not sure about the whole "zenith of his iconicness" stuff, I do agree that Brad no longer carries that "pretty boy" trophy. He's aged the past few years, and I believe he's grown tremendously as a man and as an actor. He's attractive in the way a 45-year-old man with crow's feet, a graying goatee and six kids is attractive.
Apparently, Brad is still attractive enough for his Basterds costar Diane Kruger to be lusting after him. Diane told The Sun that in her second film with Brad (the first being Troy), she still didn't get any sex scenes with him, and she was totally disappointed. But Diane did joke, "I did get tortured by him which I guess is the next best thing when it comes to someone like Brad Pitt. Everyone has their tastes and preferences but I'm sure lots of girls wouldn't say no to that." Ooohhh… so he tortures her in the film, does he? That's interesting. I'm completely in the dark about the plot of this film, so any news is interesting to me.
In one last piece of news, it seems Brad and Angelina had an adults-only date night on Saturday, when they enjoyed a "romantic dinner" at Vincenti in Brentwood. Apparently, Brad had just flown back into Los Angeles that day, after spending Friday in New Orleans, where he checked on the progress of the Make It Right Nola homes. Brad brought along sons Maddox and Pax, and Friday night the three boys went to a Kaiser Chiefs and Green Day concert. Kaiser Chiefs' Nick Hodgson told Spinner, "Brad Pitt was there! It was totally cool. We met Brad Pitt. He had his kids with him… [There were] a couple security and that, but he was just sat in the normal seats. We had a photograph taken just like regular nerds… We had the camera set to video so we had to call him back. He was cool. It's not the first time [that's happened]." I bet the concert was a boys-only birthday present for Maddox. Who knew that Maddox liked Green Day? I would have figured him for Nine Inch Nails.
Here's Brad Pitt, Quentin Tarantino, and Diane Kruger attending the premiere of "Inglorious Basterds" in Berlin on July 28th. Images thanks to Fame Pictures .