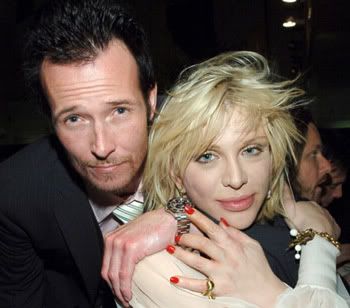 Courtney Love, Scott Weiland of Velvet Revolver, Michelle Tractenberg, and Ben Kingsley were among the stars at the kick-off to fashion week 2006 at Mr. Chow's in LA last night.
Love was recently linked with "Capote" director Bennett Miller, and toured with Weiland in 2004. They look cosy and may be a couple, but we doubt it.
Love will be taking advantage of her sobriety by recording again soon. Page Six reports:
Love revealed she's started pre-production on a new solo album and plans to start recording next month. Ex-Smashing Pumpkin Billy Corgan will produce some of the songs. "I don't generally talk about what the songs are about, but I will say that in the gutters of this earth you can always find love," the randy rocker told NME.com.
"In the gutters of this earth you can always find Love." She must be referring to herself.
Eight more after the jump.