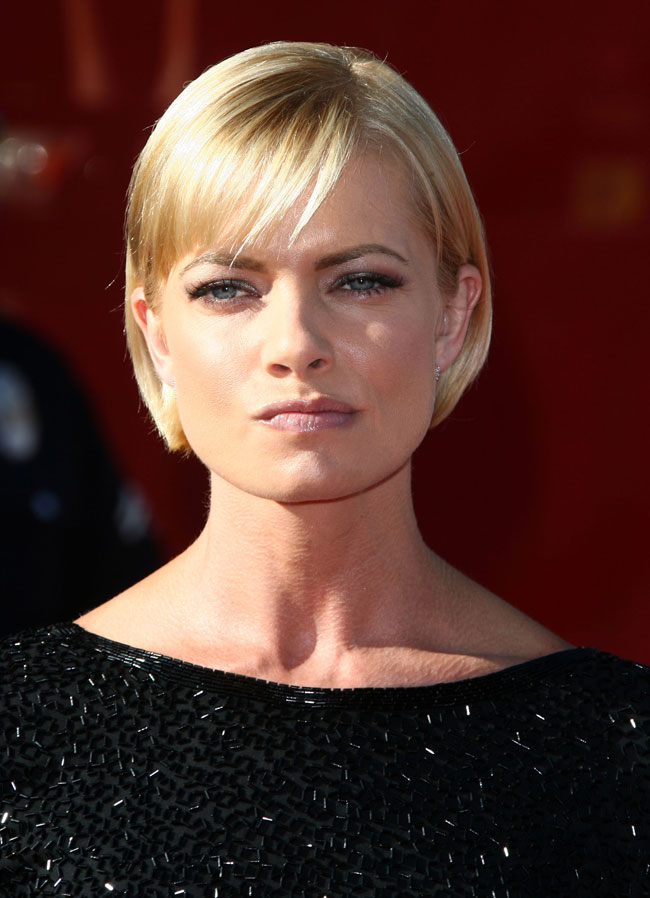 "My Name is Earl" actress Jaime Pressly just announced her engagement to entertainment lawyer Simran Singh last week. Jamie, 32, has a two year-old son with her ex fiance, DJ Eric Calvo. Eric and Jamie broke up last November after four years together.
This is a woman with a family and we shouldn't reduce her to this one incident – although that's sure to happen if it really went down like this. Look at what Fergie had to deal with after she had an accident on stage. Perez Hilton is claiming that Jamie got so wasted at a gay bar in West Hollywood on Sunday that she crouched outside and peed on the ground. There are photos and a quick video of the alleged incident, but it's hard to tell if that's what really happened. Perez is running this story with open glee. If Pressly really is peeing, that's just mortifying. I'm not convinced though.
The thing is, how absolutely blotto do you have to be to pee right on the ground like that? I've never seen that happen to any woman. It's possible that Pressly spilled a drink and that it's running under her legs. Some commenters on Perez's site say she's clearly not peeing and they give pretty decent evidence that Pressly may have accidentally crouched near a spilled drink while she was talking on her phone:
It is very clear from the photo and the vid that she is hunkered down talking on her cell phone. You can even see the phone in her hand when her friends pull her up. Why would she squat and take a piss while on the phone??

Her other hand is reaching behind her feeling her dress, probably because she felt she had sat in something wet, or she was reaching behind her because she realized that she knocked a drink over.

Futhermore, you fat hack, if you look at the puddle, it starts in a place that is anatomically impossible . If she was the source of the puddle, then it's start point means she must have been pissing out of her ass!
[Comment on PerezHilton.com from PerezYouIgnorantSlut]
Uh it doesnt look like she is peeing. Her dress is down past where the pee would be flowing. It looks like she is until you really look at the picture and realize she isnt peeing.
[Comment on PerezHilton.com from shutittwat ]
Its a water bottle, you can see it clearly if you look close up once she starts standing again. She should have faced the cameras and shown it afterwards to ensure no one thought it was real. But in any case a truly intoxicated person would not be able to squat with stilettos and one hand behind their back, they'd just fall right over.
[Comment on PerezHilton.com from Leo32]
The thing that makes it look like it's just spilled liquid and not pee is the fact that there are splatters to the right of Pressly on the ground and it looks like the puddle is already drying. If it was pee, it would have been in a more even puddle and would have started right beneath her. Anyway, onlookers supposedly swear she was doing her business right there on the ground. You can hear people yelling "Oh My God!" in the video. As it is, I don't think this is enough evidence. Maybe Pressly should issue a statement that she spilled a drink and that photos are misleading. That could just draw undue attention to a story she hopes will die out on its own, though. It's not likely it will, and people will be talking about it for months. If this actually happened, it's much worse than needing to be carried to your car.
Update: Jaime twittered that it was a dare for her bachelorette party, and that she was pouring the water from behind her back to make it look like she was peeing. I wonder when Perez is going to update his story. [Thanks Roma!]
Way to spin a story!! Breaking news huh? wow!!!!
about 16 hours ago from web

pouring a bottle of water!!! C'mon guys! Do you think i would really pee in the entry way to the Abbey in broad DAYLIGHT!!!
about 16 hours ago from web

Yes….that is me doing dare #8 at my bridal shower..Things are not always what they seem.. Notice my hand in the back..its pouring a bottl
about 16 hours ago from web
[From Jaime Pressly's Twitter]
Jaime Pressly is shown at the ESPY Awards on 7/15/09. Credit: Juan Rico/Fame Pictures