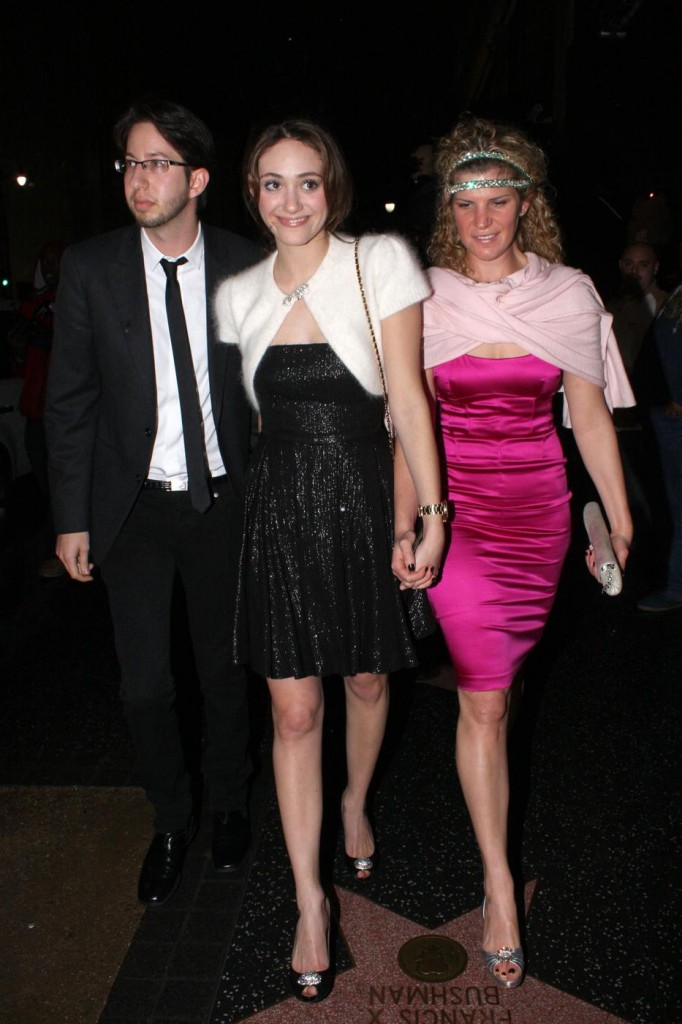 What's your first thought at the mention of Emmy Rossum? Mine is "Budget Anne Hathaway". My second thought is "Lainey hates her." I'm not sure why Lainey hates her – Emmy seems pretty harmless. She's not a particularly good actress, but she's not the devil or anything. Basically, I just think that people barely care about her. I know I get a little sleepy when her name is mentioned. Yawn… where was I?
Anyhoodle, it seems that Emmy announced that she and Justin Siegel had split a few weeks ago. This was barely news, and if I wasn't staring at this report, I wouldn't know anything about this guy. Apparently, he's 27 years old, he's in the music industry, and they were dating since 2007. I just googled him, and I've noticed two things – first, his only claim to fame thus far is "dating Emmy Rossum". His second claim to fame might be that he looks kind of like a Budget Raffaello Follieri, that con man who duped all of those people when he was dating Anne Hathaway. This just reinforces the whole idea that Rossum is a Budget Hathaway. But I digress. It seems there's a twist to this breakup story! According to Perez Hilton (via the NY Daily News), it seems like Emmy and Justin might have gotten secretly married at some point. The NYDN even sources a report from E! that claims that Emmy and Justin got a marriage license at one point.
Emmy Rossum is calling it quits with her husband, but who knew she was married anyway?

According to PerezHilton.com, the 22-year-old "Phantom of the Opera" beauty is parting ways with longtime love, Justin Siegel, 27, the man she married in secret two years ago.

Though the couple made no mystery of their relationship, a source said they kept their marriage under wraps.

"Emmy and Justin decided to keep that part of their relationship a secret and out of the media spotlight," the source said. "They wanted to keep it private in order to prevent their marriage from coming under scrutiny."

The couple even went so far as to pay to keep all records of their nuptials confidential.
Nonetheless, a source from the Los Angeles County Registrar Recorder's Office confirmed to EOnline.com that a marriage license was issued to the couple, though the date was not released.

The low-profile starlet and her music biz hubby went public as a couple in 2007.
[From the New York Daily News]
So is this report true? Did Rossum hide her marriage? Is so, for what reason? It's not like Rossum is Janet Jackson or something. People barely care about her. It's not as if she has people beating down her door wanting personal information. Even though it doesn't really make any sense, that's kind of why I think it's true. Emmy does seem like the kind of person who would take her "celebrity" so seriously that she "hide" her marriage, for fear that the ambivalent hordes would clamor for information.
Here's Emmy Rossum and Justin Siegel heading to Jay-Z's post-Grammy party at Katsuya in February. Images thanks to Pacific Coast News.