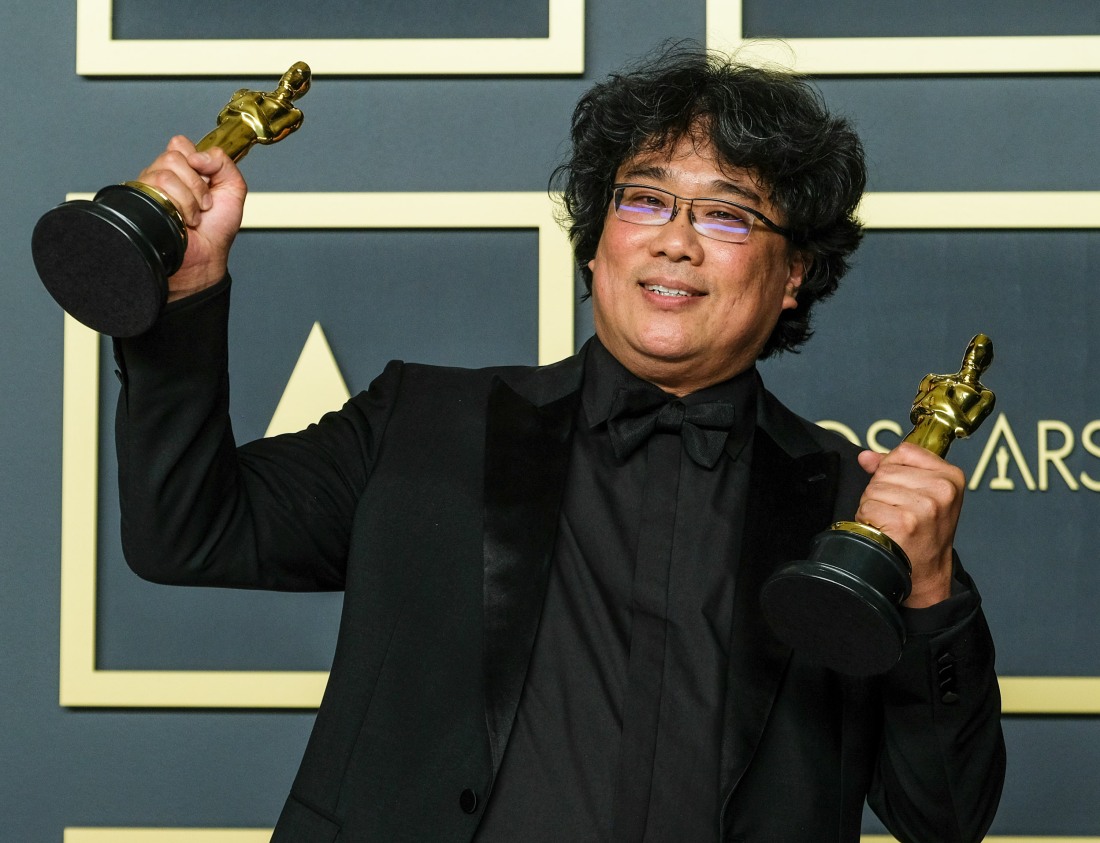 Parasite's Oscar sweep still makes me smile. It was so amazing to see the actual best film of the year win all of the big prizes – Best Screenplay, Best International Film, Best Director and Best Picture. Bong Joon Ho deserves the world. This clip has been going around – after a LONG awards-season, he finally got to return to South Korea. He received a hero's welcome:
VIDEO: 🇰🇷 Fresh from his Oscars triumph for '#Parasite', which won best picture, film director Bong Joon-ho returns to South Korea from the US pic.twitter.com/cXs2qdyY5D

— AFP news agency (@AFP) February 16, 2020
What I find interesting is that Bong's big return to South Korea really is a big deal because he had not been home in a very long time. As much as the Bong Hive wanted to claim that Bong Joon Ho dropped in, told Americans to suck it up and learn how to read, and ended up winning all of these Oscars simply because the film was that good, that's not what actually happened. I read this amazing Indie Wire piece about how the Parasite Oscar campaign started to come together basically at the Cannes Film Festival last year (where Parasite premiered). A publicist named Mara Buxbaum saw it there at Cannes and approached Bong and basically pitched him on the idea that she needed to help shepherd him through every stage of the Oscar campaign and that she believed it could win Best Picture. From the Indie Wire piece, after Mara "chased" Bong at Cannes:
A few months after Cannes, when the film won the Palme d'Or, Buxbaum got on a Skype call with Bong in Korea to finalize the deal to represent him and his movie, starting in Telluride. She told him: "I see a Best Director, Picture, Screenplay campaign. I believe you deserve to be on that path. I passionately want to help ensure that." Buxbaum was going with her gut, that what she experienced other people would share. And at Telluride, that faith was borne out. "I've been on tons of campaigns and projects where that is not always the case, and you wind up feeling alone because people don't always love it the way you do."

By Telluride, Neon's VP of Publicity, Christina Zisa, had set a promotional schedule for Bong around the film's October 11 opening in North America. Of course, it all came down to Bong's willingness to work hard, beyond the Toronto, New York, and London festivals; he and his family moved into a Los Angeles apartment. "He worked tirelessly not just for North America," said Buxbaum, "but throughout the world to bring this movie everywhere."

Neon pursued the beats of the campaign step by step (which included hiring Oscar consultants Perception PR, Ryan Werner's Cinetic, and Nancy Willen's Acme PR), and launching the awards campaign with the Hollywood Film Awards. The campaign evolved as the opening weekend delivered strong box office, with lines around the block. "This movie had a grassroots feel to it," said Buxbaum. "It was special, equally because as we believed it, others believed it too. The love for movie kept building like a snowball that got bigger."

[The SAG Award for Best Ensemble] meant the movie had support from the actors, but "Parasite" did not win the DGA or PGA. It did win Original Screenplay at the WGA and BAFTA. Bong himself was the special sauce.

"You have to make the journey easier so that people want to wrap their arms around you," said Buxbaum. "Bong is that person. People kept falling in love with him and his voice throughout his process." Even his rivals adored him, from old fan Quentin Tarantino and new friends Todd Phillips, Taika Waititi, and Martin Scorsese, who Bong movingly tributed on Oscar night. "They all loved him, but they also had such a good time," said Buxbaum. "He wants to talk movies with them."

The director always wrote his own speeches, delivered with a genuine smile, throughout. "He was tired," said Buxbaum. "But he showed up 100%. He doesn't look to anyone, doesn't fabricate any of it. He's a man wholly authentic and himself."
To me, this is a better story than "Bong Joon Ho the genius fluked his way to Oscar victory just on sheer talent." He absolutely is talented and Parasite is an incredible piece of art, but I love the fact that Bong Joon Ho bet on himself and bet on his vision and his film. He made the commitment to relocate to LA and to do all of the awards shows and events and screenings and panel discussions and… it worked. It's amazing, because usually it wouldn't work for a foreign film, you know?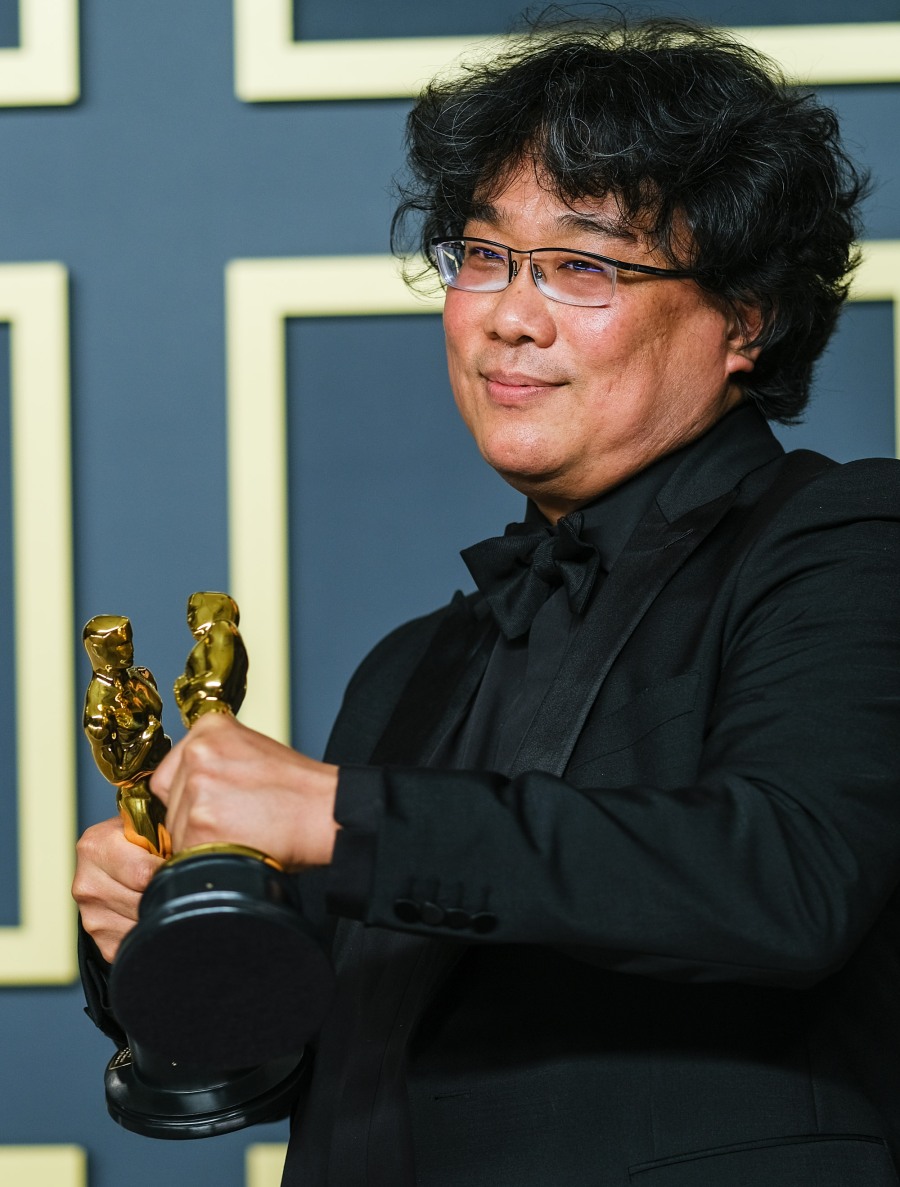 Photos courtesy of WENN.