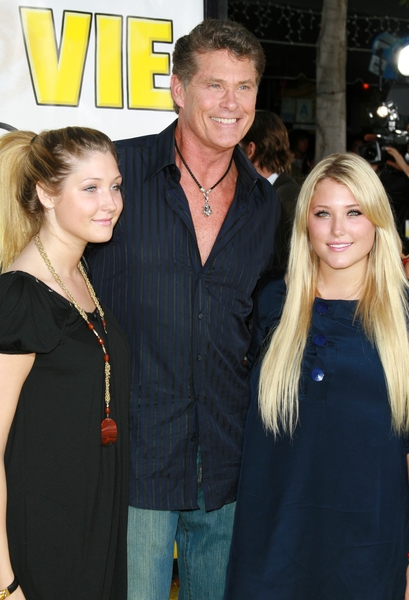 David Hasselhoff has a long history of drinking problems with a stint in rehab in 2002 and a 2004 DUI. He pled guilty to misdemeanor DUI in June, 2004 and was given three years probation, 200 hours of community service and ordered to attend AA meetings for six months. The Hoff's battle with alcoholism was seen around the world this May when a video came out of him wasted, laying shirtless on the floor and trying to eat a cheeseburger. One of his daughters is heard talking in the background as she's taping, saying "Tell me you are going to stop, tell me you are going to stop."
His daughter shot the tape to show Hasselhoff what he was like drunk to try and convince him to give up drinking. His estranged wife Pamela Bach is rumored to have released the video to smear him in the ongoing custody battle for their two teenage daughters, Hayley and Taylor. Hasselhoff handled the whole thing like a pro. He released a statement that didn't name names and accepted responsibility for his drinking problems, and he even joked about it afterward. It was thought that the video might hurt Hasselhoff in his custody battle, but just a few weeks after it got out he was awarded primary physical and sole legal custody of his daughters.
Now Hasselhoff has relapsed and is currently in Cedars Sinai Medical center in LA for detox treatment:
The 55-year-old actor has suffered a severe drinking relapse and was readmitted to a Los Angeles hospital to detox on Oct. 8, the NATIONAL ENQUIRER reports in its new issue.

"David does so well staying sober and then something kicks in and he's back drinking," a close source told the NATIONAL ENQUIRER.

Weak and trembling, David was readmitted to Cedar Sinai Medical Center, where doctors began the detox process.

"He looked awful when they brought him in," said the source. "His color was ashen. He felt sick. It was just so sad."
[From The National Enquirer]
Hasselhoff is a rare lower-eschelon celebrity that embraces his status and takes it in stride when people mock him. It's incredibly sad that he hasn't been able to conquer his demons.
He seems to be a decent guy and I would like to see him embrace sobriety and make a comeback with a television series. He was off filming in Romania for 6 weeks and the stress may have prompted him to start drinking again. TMZ says he was there working on Anaconda 3, while DavidHasselhoff online has him in Romania to shoot a new series for the Sci Fi Channel. It is unknown how his relapse will affect the custody status of his daughters, who have been with their mother while he was off working.
Get well soon, Hoff, we're all pulling for you.
David Hasselhoff and his daughters Hayley, 15, and Taylor, 17, are shown at The Simpsons movie premiere on 7/24/07, thanks to PRPhotos.