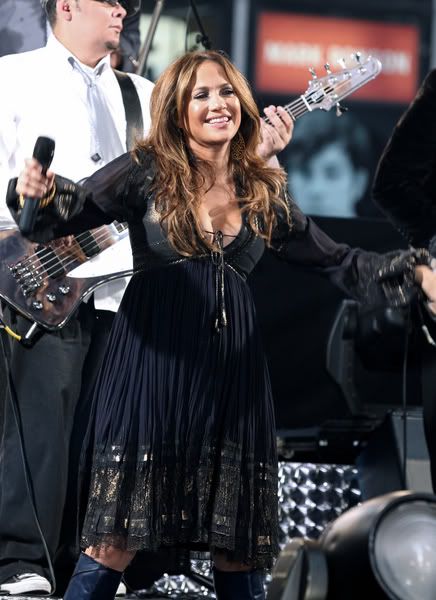 Jennifer Lopez smirked her way through David Letterman's baby blabber, and ignored Diane Sawyer's hints at how 'happy she was', but no direct baby questions were asked. Are we getting the impression that maybe some kind of pre-interview confidentiality agreement is out there? After all, David wasn't exactly polite to Paris Hilton last week about going to prison. Maybe J.Lo is scarier than Paris?
However, one person has signed nothing but divorce papers from Marc Anthony, and she has a word to say about J.Lo's pregnancy.
Jennifer Lopez is pregnant, says her husband Marc Anthony's ex-wife.

Dayanara Torres – who has two children with Marc – confirmed Jennifer and her singer husband are expecting their first child.

The former Miss Universe said yesterday (09.10.07): "I found out a day ago. I suppose they will be happy because when my sister had her baby they were happy."

Jennifer, who is currently touring with Marc, has remained silent about the rumoured pregnancy – instead choosing to disguise her figure in loose-fitting outfits.
I'm glad Jennifer's stepkids will like the baby, but here's a weird response J.Lo's publicist gave to Dayanara Torres' statement.
"What happened was that the day before I had shown Dayanara the pictures which have been spreading through the Internet of Jennifer, and I warned her that, as had been published, she might be pregnant. I did it in case the children asked her. The eldest is six years old, and he hears the comments at school and on the press. But the truth is we know nothing."
Er, what? If they publish enough pictures of your pregnant belly, it makes you pregnant?
I'm offering congratulations to Jennifer and Marc right now. I am hugely pregnant right now and sick of people pointing out how big and fat I am (and yes, people actually use the term 'fat'), so I can imagine that if she's not pregnant she's hating all the speculation. If she isn't pregnant, then I guess the belly explains the lackluster dance moves on her tour – too out of shape to groove.
Picture note by Celebitchy: Jennifer Lopez is shown outside the Late Show and performing on GMA on 10/9/07. She is also shown outside of MTV studios on 10/8/07. Thanks to PRPhotos.