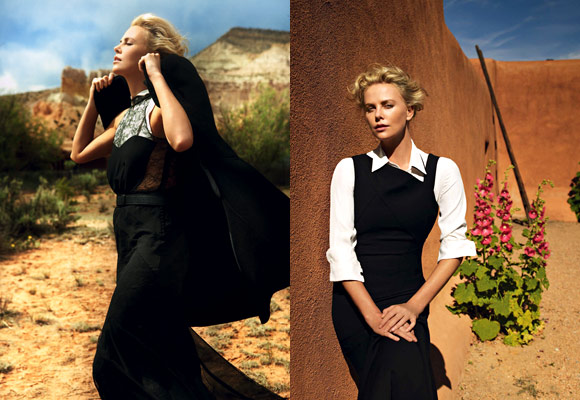 Charlize Theron is more interesting than people give her credit for. I've even fallen into that trap of thinking she was pretty boring and bland, but when she sits down for an in-depth interview, she's actually quite witty and funny. Such is the case for the cover interview for September's Vogue Magazine. First, the cover shot – I like it. It's not overdone, it's not over-styled. Just a beautiful woman in what looks like an interesting, pretty dress that compliments her. Maybe it's not high fashion, but it looks good. Inside, the photo spread is set at Georgia O'Keefe's desert Ghost Ranch, and several of the photos contain familiar homages to O'Keefe, like cow skulls and desert flowers. Charlize looks regal and lovely.
As for the interview, most of it is about Charlize's work, both past and present. Unfortunately, she doesn't talk that much about Stuart Townsend, her lover of nine years. The whole piece is worth a read, but here are some of the best parts:
On "mystery": "I feel like I always reveal too much…There's something sexy about the mystery. I don't know how to play that card, though."

On nude scenes: "That isn't about me. I don't look at the movie and go, 'Jesus, my ass is really saggy'."

On children: "I just know I'm going to have five boys."

On the old gay rumors: "I cut my hair really short in my 20s, and people were like, 'Hmm, wait a second. Is she gay?'"

On long-time love Suart Townsend: When she gets a call from Stuart Townsend, the Irish actor to whom she is famously not married ("We've been together for almost nine years, so by now we've kind of realized that we're going to take this journey together"), she teases him about never drinking at lunch. She listens, laughs, and interrupts their conversation. "He's like, 'I don't drink much, but when I drink, I drink a lot.'" She returns to him and says, "Keep that Irish thing going."

Charlize's Africa Outreach project: The project focuses on equipping trailers with computers and mobile health clinics, which then travel continuously through remote parts of South Africa, where teenagers have a nearly 50 percent chance of contracting HIV during their lifetime.

Fall films: In October, Theron plays "Wife" in the long-awaited film version of The Road, based on Cormac McCarthy's best seller about a father and son struggling to survive after an unexplained apocalypse. Her role took three days to shoot, she says, and the character dies soon after the off-screen Armageddon, but she appears throughout the film, in flashbacks, an involuntary vision of beauty and the impossibility of hope. And this month she stars in The Burning Plain as Sylvia, a sexual compulsive whose secrets lie at the heart of a multigenerational love story. The story takes place on both sides of the Mexican-U.S. border, and the production reflected that: The Mexican director, Guillermo Arriaga, who also wrote Babel, conceived of the movie with Theron in mind; she helped produce it.

On her mother killing Charlize's abusive, alcoholic father: "My trauma… That became like my f-cking tattoo."

Charlize's fears: She's afraid of flying… She's afraid of growing old and being alone. She's afraid of insulting people. She feels like she's shadowed constantly by a sense of remorse for some inappropriate thing she's just said. ("People tell me that cocaine makes you feel superhuman and you'll say anything. Then when you come down like all of a sudden you have guilt," she says. "But I have that feeling innately, even without the cocaine.")
[From Vogue]
Last month, there were several reports that had Charlize being hospitalized for something severe. Many claimed she was suffering "severe abdominal pains" and had caught some sort of intense virus. Others claimed she had a case of food poisoning. The incident goes unmentioned in the Vogue interview, either because it never happened, or it did happen, but just after the interview took place. In any case, it seems like whatever she was going through is over and she's fine. As far as her upcoming films go – well, I don't really want to see either of them. They sound totally depressing. Would it kill her to do a rom-com?
Pictures thanks to ONTD.