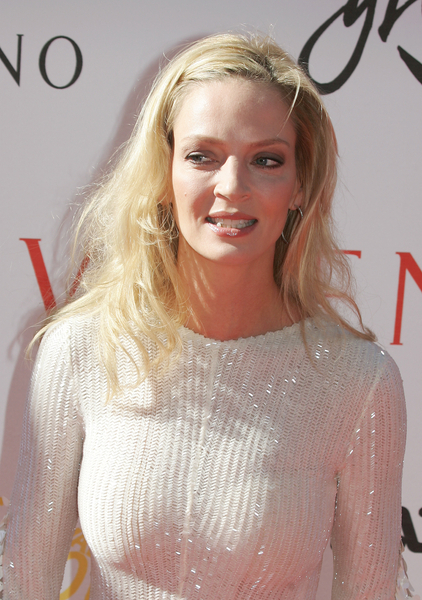 Uma Thurman's stalker has been arrested, he'll appear in court Thursday, after being held in lieu of $10,000 bail.
An obsessed creep has been busted for terrorizing sexy screen star Uma Thurman with a campaign of stalking that included camping outside her house, invading a movie set and penning a bizarre drawing in which she was depicted digging a grave, court papers allege.

Jack Jordan, 35, of California believed that he "loved" the "Kill Bill" star ever since he started stalking her two years ago. He eventually left a letter at her Manhattan apartment that contained a bone-chilling threat, the papers said.

"I feel afraid that if I see you out again with another man, I will want to kill myself. Maybe even after we meet," he wrote in the missive left at her building last month.
The report actually reads like a complete movie cliché of a stalker – the threats about killing themselves, seeing her with another man would drive him over the edge, time spent by the stalker in a mental hospital, before coming out and lingering near the victims home. Hopefully it doesn't act out like a Hollywood film for Uma, where her stalker would be deemed not a threat in the eyes of the law. Then he'd continue stalking the successful single woman, being rather more clever and not leaving any evidence for police, so when he breaks into her house and her distressed call is made from her apartment it's ignored. Then they battle it out in her house, running upstairs, when the exit is down, dramatically leaping down fire escapes, probably doing something nasty to her cat, before she kills him accidentally so she can never be prosecuted. Or she'll be recued by that guy who she isn't engaged to, and the movie ends with a wedding, and a man watching her creepily from the shadows. I always like a crap sequel.
I think I've missed my true calling. I feel a script coming on…
Anyway, I hope you're fine Uma. Maybe I'd cast you in my movie. In the meantime she's busy filming The Accidental Husband and My Zinc Bed, and hosting the Fashion Rocks for the Prince's Trust 2007 event.
Picture note by Celebitchy: Uma is shown in the header image on 7/7/07 at Valentino Garavani Fashion Show/