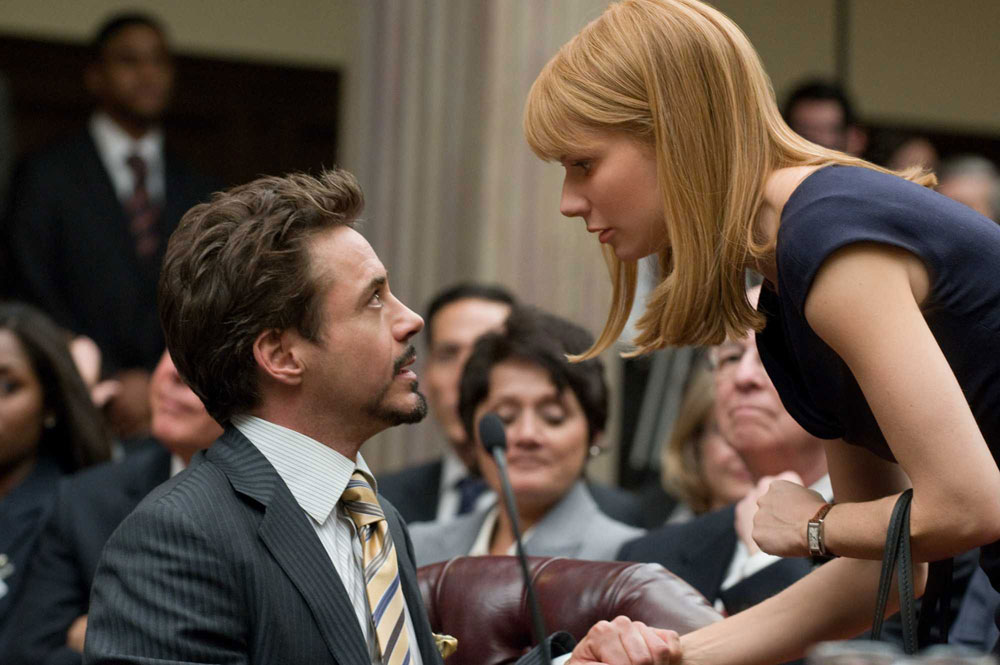 Fox News has a hilarious piece up about how Gwyneth Paltrow was almost universally hated on the set of Iron Man 2. We've heard some of this before – Gwyneth and Scarlett Johansson did not get along, Gwynnie was jealous of the attention ScarJo got, blah blah. The new twist is that some people on Team Iron Man want to kill off Gwyneth's character!
Gwyneth Paltrow is not making any new friends these days. The actress recently wrapped filming on "Iron Man 2″ (due to hit theatres in May 2010), where she wasn't a crew favorite, FOX411 has learned.

A source says some of the "Iron Man" team had secret hopes of her character being recast, or even killed in the movie, but are resigned to the likelihood that she is locked in as the character Pepper Potts.

Gwyneth did nothing to make friends with fellow superhero Scarlett Johansson, playing the Black Widow, says the insider, and crew actually preferred to be around her husband, Coldplay frontman, Chris Martin.

"Gwyneth is extremely cool at work. She's just a step above professional, too snobby," the on-set source tells FOX411. "Gwyneth is not friendly to anyone, and tends to make people feel awkward and uncomfortable. She wasn't outright rude to Scarlett, she just didn't ever speak to her. Gwyneth went out of her way to avoid Scarlett, and they had zero contact, at Gwyneth's choosing."

The source says that she also put undue pressure on the hair and makeup staff and other members of the crew. "Gwyneth would be very put out if hair and makeup were running behind or things were not on schedule. Usually, nothing was drastically late, but Gwyneth can instantly say something that lets everyone know she is put out," the source explains.

"Much of the crew didn't mind hanging out with her husband, Chris, but if Gwyneth ever came around, they scattered! Chris is so chill and relaxed and she is just the opposite. Chris has been a crew favorite since the filming of the first movie."

And while the insider says there are definitely people on the movie who would love to see her replaced, Pepper Potts is a very important character to Robert Downey Jr.'s Tony Stark. "She is not going anywhere," sighs the source. "As long as Gwyneth wants to be in the movies, she will be, and the crew has to learn how to handle her."
[From Fox News]
ScarJo isn't Gwyneth "Goop" Paltrow's only competition! Celebrity stylist Rachel Zoe is trying to steal the goopy thunder – literally! Rachel Zoe has just launched The Zoe Report, which seems like a wickedly bad, budget version of the Goop site we know and love to hate. By "budget version" I don't mean that the stuff Zoe is recommending is actually cheaper than the stuff Gwyneth has recommended. I'm using "budget" to describe the overall feel of The Zoe Report – because who really wants to look like Rachel Zoe, a celebrity stylist known mainly for her emaciated body and her cokeface? To give Gwyneth some credit, she's still very pretty (in that snotty, WASPy way), and I can see why some people would want to take tips from her.
Zoe intends to go head-to-goop for the niche pretentious-celebrity-lifestyle market. I hate to say it, but Team Gwyneth. Through the months of Goop we've withstood, Gwyneth has grown to understand that she has to do a few suggestions that are affordable, like roasting a chicken. Rachel Zoe's "AMAHZING" suggestions include $1325 boots and $300-400 cuff bracelets, all modeled by Zoe. To give Zoe a little credit, it seems she recommends the expensive stuff, but then shows a similar budget version from a knock-off site or brand. Maybe it's not so bad after all.
When Hollywood actress Gwyneth Paltrow started dishing out fashion advice and lifestyle tips directly to the public via her own website, Goop, she was generally derided. But Paltrow weathered the mockery, and now her web-based project has received the ultimate accolade: a celebrity rival.

Rachel Zoe, famed stylist to the stars and proud possessor of her own reality TV show, has now launched her own lifestyle advice website, the Zoe Report. It has set the stage for an online celebrity battle for the hearts and minds of a global public.

Goop has followed the trajectory of any other successful internet start-up. It began life as an obscure outlet for Paltrow occasionally to blog her thoughts and suggestions on where to shop, or what to eat, or where to go on holiday. It was greeted with initial hostility, especially as Paltrow's tastes appeared far out of the reach of most people. Gossip website Gawker posted a story about Goop in which it advised Paltrow to abandon the project "before she embarrasses herself further". Its headline? "Gwyneth Paltrow should get out of web publishing".

Instead, Paltrow persevered. In some ways, Goop has become a web-based version of successful celebrity magazines such as Martha Stewart's Living and Oprah Winfrey's O. Recently Paltrow confessed to People magazine that PR firms and corporations were sending her items in the hope that she would plug them in the weekly newsletter that the site sends to fans.

"Corporate America is knocking on my door," she told the magazine. Paltrow, it appears, has turned Goop from a joke into a potentially lucrative business venture.

That certainly seems to be the motivation behind Zoe's decision to launch a rival. The stylist, who has worked with the likes of Cameron Diaz, Anne Hathaway and Keira Knightley, has become an increasingly prominent voice in the world of fashion. She has also provoked controversy over her skinny frame: critics have accused her of promoting an unhealthy body image.

Zoe now aims to follow in Paltrow's footsteps and broaden her presence beyond being a celebrity stylist, instead becoming a lifestyle guru to her audience. Like Goop, the Zoe Report will offer its readers tips and advice, though it will be focused mainly on fashion and style. It comes out in a daily email, compared to Goop's weekly format.

The rival websites have in common a taste for the high-end prices that other people might feel are a little out of reach. In some of her first tips, Zoe suggested readers snap up a "capelet" costing $2,400, or splash out on a pair of sunglasses that cost more than $500. The Zoe Report has also dished out suggestions for buying the right shoes and choosing luxury jewellery and makeup.

The online battle has already set some internet hearts fluttering. "Is there room in your life for two missives from famous people who really want you to go shopping?" asked New York Magazine, in a feature comparing and contrasting the two websites. According to Zoe and Paltrow – and an army of publicists praying for free plugs – there is.
[From the Guardian]
It's the fact that Zoe is modeling the stuff herself that kills me. She's really delusional if she thinks her image will help sell anything. People may take her advice on what to wear and how to wear it – because Zoe does know a lot about fashion, and her styling is usually pretty good – but people won't want it if they see the stuff on her. Just my opinion – perhaps there are a few fashionistas out there who think Rachel Zoe looks incredible. I hope there aren't many.
Stills from Iron Man 2, thanks to Allmoviephoto