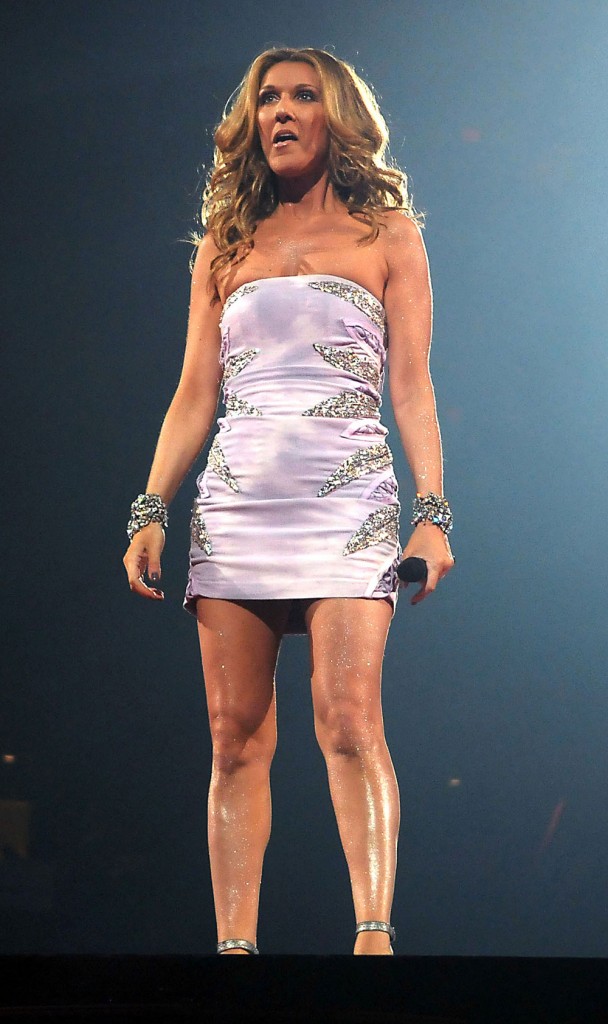 Singer Celine Dion, 41, and her husband Rene Angelil, 67, are reportedly expecting a second child. Celine said in December, 2008 that she had a frozen embryo left over from the fertility treatment that resulted in her son René-Charles, 8, and that she would love to have another child:
"We'd love to extend the family," the singer – who herself is the youngest of 14 children – told CBS Early Show host Julie Chen.

Asked if she has a frozen embryo, Dion, whose son was conceived by in vitro fertilization after six years of trying, replied, "Yes, we do have a frozen embryo."

Only, one may not be enough. "I started to talk to René-Charles about it. He said 'Can we have four and five?' " said Dion.

"So if we're blessed again, I will be very happy to come back and do another interview with you and talk about it. I will be the first one to be extremely happy."
[From People, December 4, 2008]
Dion probably had more than just one embryo, and it sounds like in vitro worked for her and that she's expecting a sibling for Renee. We're still waiting for confirmation from her, but I hope this is true if she was hoping for it:
Celine Dion is reportedly expecting her second child.

A report in Tuesday's Journal de Montreal states that the 41-year-old superstar and her husband, Rene Angelil, 67, conceived with the help of a team of fertility doctors in New York. The couple's first child, Rene-Charles, was born in January 2001. Angelil has three other children from two previous marriages.

Dion, who has publicly expressed a desire to expand her family, has not yet confirmed the pregnancy on her official website.
[From Montreal Gazette]
Until I started covering celebrity gossip and reading up on fertility treatments I didn't know much about all the options available. It looks like Dion could be having another baby – using her own fertilized egg from nine years ago. That's kind of amazing when you think about it.
Dion finished her last tour, Taking Chances, in February after a year performing around the world. She previously had a five year run in her Las Vegas show, A New Day, which grossed $400 million, and ended in December, 2007. Dion certainly has an incredibly successful career, and now she could be adding to her family. Congratulations to Celine and her husband.
UPDATE: Celine's rep just confirmed to "various media outlets" that Celine is, in fact, pregnant. The rep says, "Celine and Rene [Ang[e]lil] are very happy… They are crazy in love over the news and … they are overjoyed." Congratulations to the happy family!
Celine, Renee and René-Charles are shown on March 23, 2009 below. Credit: Splash News. Celine is shown in the header performing in Miami on 1/23/09. Credit: WENN.com