i've never clicked on a video so fast @somegoodnews pic.twitter.com/wZ1913D1gt

— name is still blank (@stantings) May 11, 2020
After last week's Graduation episode, this week's Some Good News theme was "love." In addition to all of the sweet stories of people expressing love during quarantine, host John Krasinski introduced us to John and Susan. John and Susan stood out to John K because John Not K reenacted The Office's Jim Halpert gas station proposal to Pam Beesly. When they sent the clip in, the couple asked John K if he would attend their wedding. He went one step further by officiating at their surprise virtual wedding right then and there. After linking in family and friends as witnesses, John K announced he would stand up as best man and that Pam/Jenna Fischer would stand in as Susan's maid of honor (it was cute how dressed up Jenna was). Following the quick service that included country star Zac Brown singing his new song for Susan and her dad's processional, John pulled out his last surprise, the rest of the cast of The Office who recreated the dance number from Jim and Pam's wedding episode, all from the safety of their own homes.
John Krasinski and Steve Carell virtually reunited again — this time with more The Office costars!

The cast reunited to surprise a newly married couple Susan and John, who held their wedding virtually with Krasinski, 40, serving as the officiant. "Perhaps my favorite love story of the week was a couple down in Maryland, whose wedding proposal was oddly familiar," Krasinski said as he replayed the couple's The Office-inspired proposal.

"Just like Jim, he couldn't wait any longer," the bride said of their proposal.

Then, Krasinski invited their families to join them via Zoom. "But we have someone else in mind," Krasinski said after surprising the couple with their best man and maid of honor. The actor nominated himself to also be the honorary best man and introduced Jenna Fischer as the honorary maid of honor.

Country star Zac Brown performed a special song during the virtual ceremony.

After officiating their ceremony and making their marriage official, Krasinski and Fischer were joined by Carell, Mindy Kaling, BJ Novak, Rainn Wilson, Angela Kinsey, Ellie Kemper, Kate Flannery, Brian Baumgartner, Ed Helms, Phyllis Smith, Oscar Nunez and Creed Bratton.

"There's only one way out of this wedding. And Susan and John, because you elegantly ripped off our proposal, I think it's only fitting that you rip off the wedding too," Krasinski said.
The episode is linked below along with the original Office dance clip. It's hard to tell the reactions of SGN guests sometimes. It's exactly how I would react, kind of in a stupefied acknowledgement, which is how Susan and John looked during their "wedding." Their parents look more excited than they do. And the best friends/witnesses embody Anna Camp's line to Pam during Pam and Jim's wedding, "I begged them not to." I felt a little bad for Zac Brown because it looked like some those folks didn't know who he was. It was a nice song, though, and anything is better than having Chris Brown played at your wedding.
Only, Chris Brown was played, since he was the unfortunate choice for the original episode. And when the cast joins in, I think it makes it worthwhile to the couple. Plus, the cast really commits, including Dwight/Rainn Wilson's accidental face kick to the bridesmaid. It's very sweet and if I had to get married, on the spot, virtually, I'd probably want the cast of The Office there too.
The Original:

The virtual reunion queued to the dancing: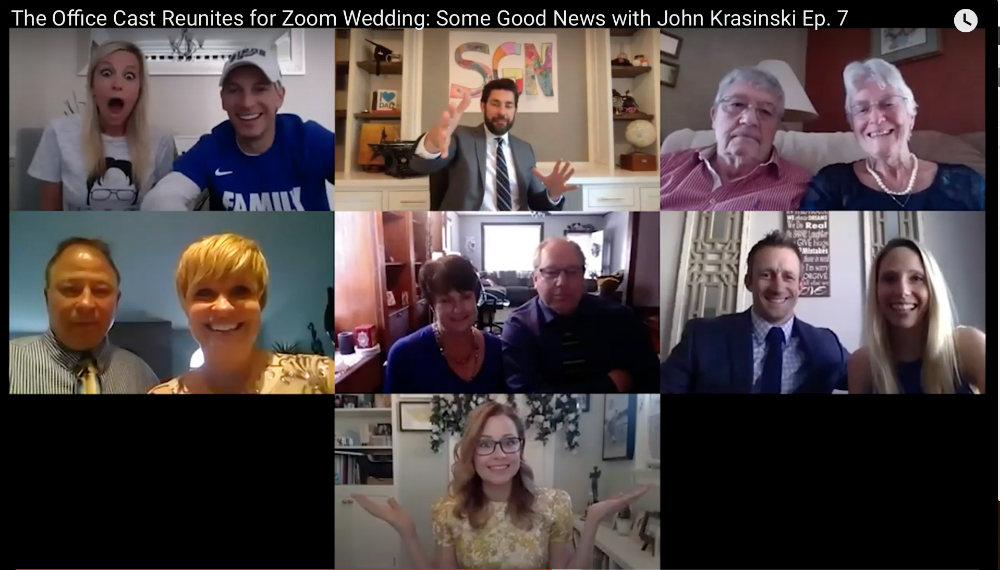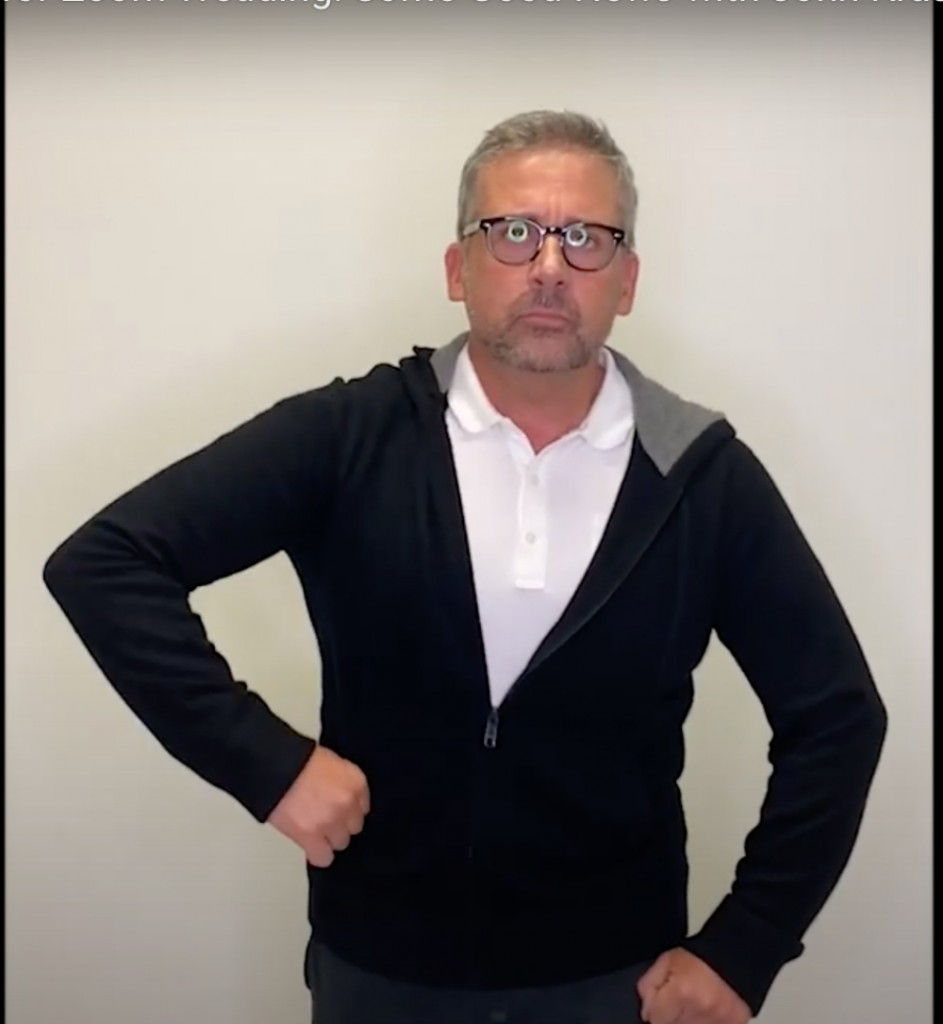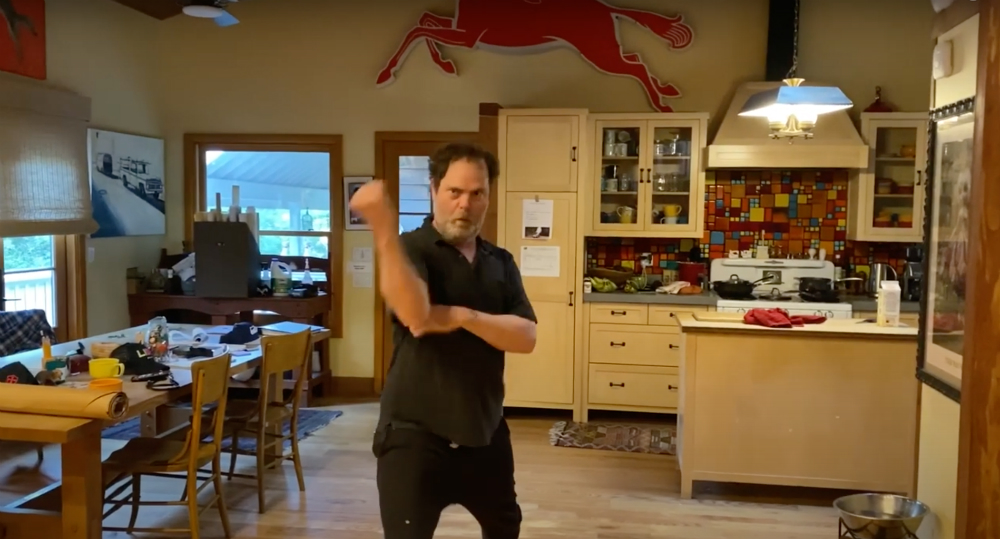 Photo credit: Twitter and YouTube