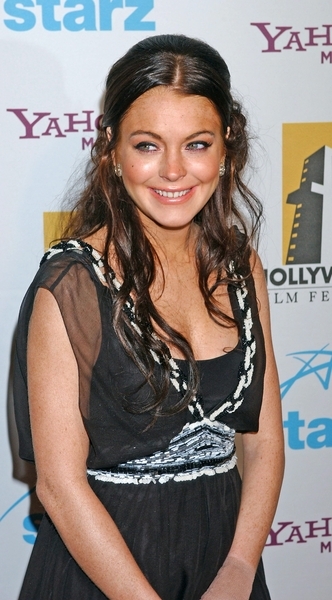 While I'm not a big Lindsay Lohan fan and kind of sometimes maybe hope bad things happen to her (hey she steals cars, runs over people's feet, and then chases women through the streets of LA!) for some reason I'm kind of glad she's countersuing a busboy who sued her after the two got into a car accident that was ruled the other guy's fault. Lohan slammed into Raymundo Ortega on October 4, 2005 after leaving the Ivy. Ortega filed a negligence suit on June 14, 2007 against Lohan and the Ivy (who he says served her alcohol even though she was underage) for at least $200,000. The Los Angeles County Sheriff's Department's report on the incident says that alcohol was not a factor in the crash and that Ortega was the one at fault for making an illegal U-turn right in front of Lohan. In the report, Lohan was referred to as an "innocent victim." But Ortega has recently sued Lohan, pretty much using the argument "Once a drunk, always a drunk." Even though there's no evidence that Lohan had been drinking (and she was 19 at the time) Ortega's claim hinges on the fact that she's since become a notorious alcoholic who pops in and out of rehab. I really don't think he has a legal leg to stand on, especially since he's the one who made the illegal u-turn that caused Lohan to crash into him. But apparently a judge disagrees with me (weirdo) and is letting the case proceed.
So what does Lohan do? She countersues him. And while I don't side with her ever (because she's a moron) I think she's right in this case. I won't deny that Lindsay Lohan has probably spent 23% of her total life drunk, and may well have knocked a few back that day. But it was already ruled that alcohol wasn't a factor in the crash. I don't know if that's because they gave her a breathalyser and she was sober, or because they ruled she was sober based on visual evidence or a field sobriety test. But either way, we can't go back in time to double-check, so the sheriff's report will have to stand. It sounds like Ortega essentially got lucky by doing something illegal to someone famous, and now he's trying to profit off it. I really hate this guy, because he's making me have to defend Lindsay Lohan, which makes me hate myself. Jerk. So now Lindsay is suing him for the cost of repairs to her car, the cost of a rental, and her hospital bills. And for some reason that makes me question my system of ethics and morals, I completely think she should.
"The recently rehabbed Lohan filed her own suit against Ortega in Los Angeles Superior Court Thursday, exactly one month after a judge rejected a request by her lawyers to dismiss Ortega's suit altogether. She claims that Ortega, along with an unspecified number of defendants that have yet to be named, were the ones to blame in the headline-grabbing smashup.

"The 21-year-old is seeking $75,000 from the busboy, considerably less than the $200,000 he's asking for in his suit, claiming he was 'negligent in the ownership, operation, repairs and maintenance' of his van. The damages she's seeking account for the cost of the repairs to her car, a black Mercedes-Benz SL-65, funds for renting other vehicles and cash to cover her hospital bill. Following the accident, which took place Oct. 5, 2005, on the celeb-habituated shopping enclave of Robertson Boulevard, Lohan complained of leg and back pain and was taken to Cedars-Sinai Medical Center."
[From E! News]
Considering the sheriff ruled the accident to be Ortega's fault, I'm pretty sure Lohan has every right to sue the guy. Especially since he's trying to get money out of her for his own poor driving. So I really hope she wins, and he loses. Because he made me defend Lindsay Lohan. And that's indefensible.
Picture note by Jaybird: These pictures are old. I just can't bare to look at any more pictures of Lindsay in those ridiculous hoodies. Images thanks to PR Photos.