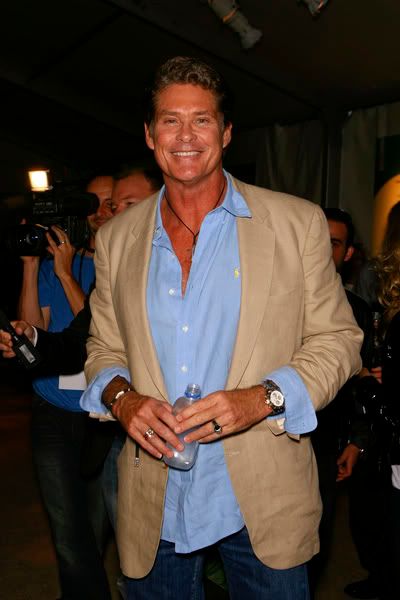 Last week the news got out that troubled actor David Hasselhoff checked into the hospital looking frail and shaky after another major relapse with alcoholism. He was in Cedars Sinai Medical center in LA starting October 8 for detox, and was speculated to have fallen off the wagon due to the stress from filming in Romania for a few weeks without his daughters.
Just over a week later and Hasselhoff is out and looking fit and well. He was spotted at the Dina Bar-El fashion show in LA yesterday, and was seen goofing around with Jackass's Steve-O and giving singer Brandy a hug and a kiss on the red carpet.
Maybe it's the subtle plastic surgery that makes The Hoff look so youthful and fit, but if I didn't know he had trouble with alcoholism it would never have occurred to me. It goes to show that looks can be deceiving, but in The Hoff's case I hope it means he's well on the way to kicking his demons and getting back to the campy roles that we all love.