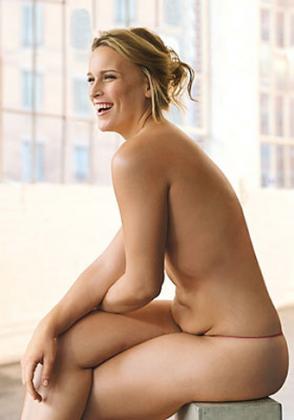 From Glamour, September 2009
Lizzi Miller is going to be all over the news this week. She's a 20-year-old model who weighs 180 pounds. Considering she's nearly six feet tall, her proportions are great, and she looks healthy and… well, normal. Like a very pretty girl you would meet at a party. Lizzi was hired for a gig at Glamour Magazine - one photo to go along with an article in the September issue about having a healthy body image. The photo taken was of Lizzi in profile, wearing what looks like a g-string. I suppose the big deal is that she's not sucking in her stomach, and she's got a small tummy. She's also got extremely realistic thighs. Lizzi's smiling and laughing at something off-camera, and it's simply a gorgeous photo. The photo went online, and became something of a sensation – people all over the world left comments, overwhelming positive, about how great she looks:
A single photo used for an article on self confidence in September's issue of Glamour magazine has caused a buzz in the modeling world.

Meet Lizzi Miller: a 20-year-old, 180-pound, 5-foot-11 bombshell whose size 12-to-14 body matches that of the average American female.

After she was captured smiling and showing a bit of a tummy, the Glamour website was immediately overrun with positive comments, inspiring editor-in-chief Cindi Leive to reconsider the models shown in the magazine's pages.
[From the Huffington Post]
Lizzi and the Glamour editor have been doing the publicity rounds – yesterday they went on the Today Show (video is below) and CNN. They'll probably hit all the major networks before the week is out. While I'm thrilled that people are reacting positively to Lizzi and her body, I do tend to think this "controversy" was manufactured. At the very least, it shouldn't take this kind of thing to make an editor realize that weight diversity in models is something that should happen every month, in every issue.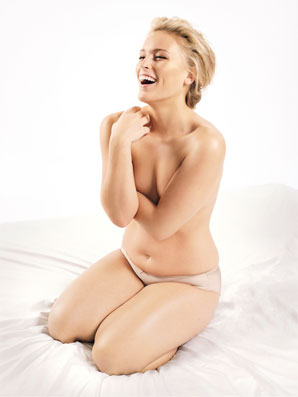 From Glamour, April 2009