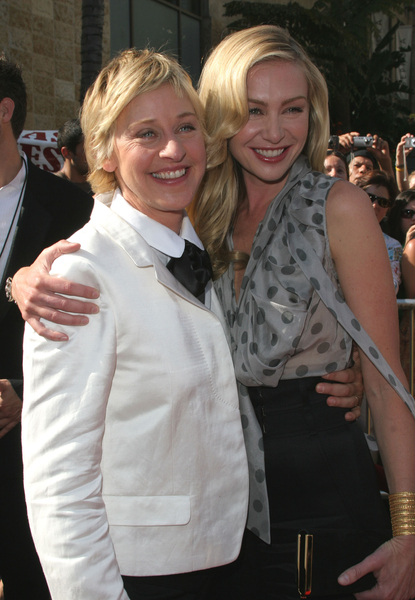 The Ellen DeGeneres story about her dog is incredibly heart breaking. I don't think I've ever seen someone melt down in such a raw, emotional way on television. It just made me ache for her, and anyone that would be so heartbroken. You can tell that she really is a good, honest, decent person to be so upset that she accidentally caused pain to children. I feel terribly for her. I also am pretty pissed off at the adoption agency she used. They sound disorganized, unethical, and incredibly vindictive. The lady who runs the adoption agency lied to the family Ellen gave the dog to. She told them she was just coming over to look at their house and make sure it was okay for the dog, but then called the cops and took the dog away. The only reason she was even able to do this was that the family did the right thing and filled out an adoption form online. And because DeGeneres has given the dog to a nice family, the lady was infuriated and vindictive and did what made her feel good instead of what was best for the dog or the family. Apparently she's now getting death threats.
The attorney for Mutts & Moms tells "The Insider" that ELLEN DeGENERES' formerly adopted dog has been placed in a new home. On her show Wednesday, Ellen addressed the importance of micro-chipping pets to insure proper ownership. She contends that the reason she cannot claim ownership of her adopted dog, IGGY, is because his identity chip was still registered to the rescue agency.

Sources tell ET that while the agency claims Ellen broke her contract by giving him away to a trusted co-worker, the Mutts & Moms owners themselves have not followed all the rules set by their company. They allegedly did not require Ellen or her partner PORTIA DeROSSI to fill out an application, nor did they change the registered owner information as they said they would. Additionally, it is said the contract in question does not contain an age clause, another reason given by Mutts & Moms for taking back the dog.

Our sources also tell us the family Ellen gave the dog to — her hairdresser, her husband and their two pre-teen daughters — did fill out an application online when the dog took up residence with them. It was at that time the agency said they would come out to inspect their property as part of the adoption process. Instead, they reclaimed the dog and calling the police. As Mutts & Moms were officially registered as the owners by the chip, authorities turned over custody to them.
[From the Insider]
This is so sad. I worked at a vet clinic for a year, and came across a lot of different people that dealt with animals. Though most of them were really nice and caring, there was this bizarre subset of people that were really stuck up and full of themselves and very, "I know what's best for your dog, not you." Like I said, there weren't many of them, but they tended to be so rude and arrogant and similar to each other that they really stuck out.
When I adopted a cat a few years ago, the shelter explained to me that she had already been microchipped, and that they had a policy of not changing the name and address on the chip to the new owners. Their reasoning was that people move a lot and rarely remember to update Home Again (the microchip company) with their new address. Thus if the dog is lost and found, the chip is useless. The shelter's logic was that they would keep the address in their name, so that if the cat was lost, she'd at least be returned to them instead of euthanized. And then, theoretically, I could call the shelter and get the cat back. Slightly convoluted logic, but it works. But they also made a point of telling me all of this, even thought it was in the very long contract I signed. They also made me sign that I wouldn't give the cat away to anyone, but would bring it back to them. Again, because the contract was so long, they pointed out these important things so I knew them. It sounds like no one did that for Ellen, and why in the world would you know that if you don't work with animals all day long? It's just not something a person would think about; when you take on an animal as your responsibility, you naturally assume it's your job to find them a new, good home if it comes to that.
I really hope this doesn't turn people off from how great it is to adopt shelter pets. It is a wonderful thing to do, you're saving a life and bringing something fluffy in to your home. Don't let one bad place scare you off.