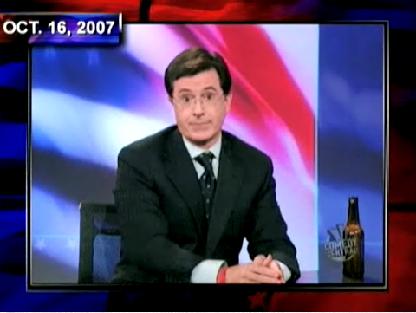 Stephen Colbert may be on the short list of famous men who have the potential (honor, really) of becoming my husband. So far it's Andy Samberg, Anderson Cooper, and Colbert, in that order. Though Anderson Cooper might get bumped to the head of the line after he visited Sesame Street yesterday and gave his news report from a garbage can. So the other two guys are really going to have to work, and I think Stephen Colbert is trying, because he understands nothing is sexier than power. And with that in mind, he's thrown his hat into the ring and is running for president of the United States. And it's unclear if he's totally and completely joking, because he's messed with some important social stuff before (like Wikipedia).
Colbert for 2008? Stephen Colbert has announced his candidacy for president. "I shall seek the office of the president of the United States," the Comedy Central host, 43, declared Tuesday on his show, The Colbert Report, as red, white and blue balloons rained down around him.

"After nearly 15 minutes of soul-searching, I have heard the call," he told the audience. Colbert said he planned to run in his native state of South Carolina, "and South Carolina alone" as both a Democrat and Republican, explaining, "I can lose twice." He listed his running mates as Colbert-Huckabee, Colbert-Putin or Colbert-Colbert.
[From Us Weekly]
All well and funny, but I will point out that Stephen has a crazy following that just could accidentally get him elected.
Colbert eventually coined a neologism to reflect this truthiness in action: "Wikiality," which he defined as "a reality where, if enough people agree with a notion, it becomes the truth." To demonstrate, Colbert told viewers he was going to silence the endangered-species lobby by claiming that the population of African elephants had increased threefold in the previous six months. Within hours, so many changes had been made to Wikipedia, the popular, communally edited, online reference site, that its administrators had to restrict access to its "elephant" and "Stephen Colbert" entries.
[From Vanity Fair]
So I'm just saying, it's pretty damn funny, and I'm sure you'd do a hell of a lot better than the current president, but there's a chance you may actually end up in the Oval Office. Be careful what you wish for.