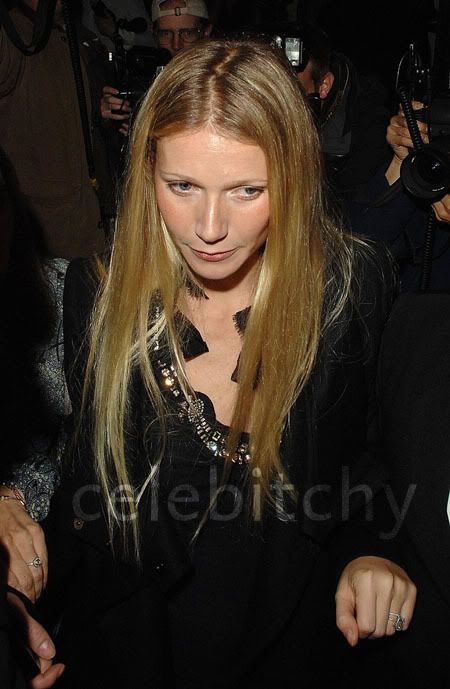 People have been whispering that Gywneth Paltrow's four year marriage to Coldplay frontman Chris Martin is on the rocks for some time. The two haven't been seen together at an event or family outing in quite a while and seem to be going their separate ways.
While Paltrow and Martin have said that they make a point not to go to events together and try to keep their public life out of the press, there seems to be more to it than that. Back in September it was reported that the two must be having problems because Paltrow was reluctant to talk about Martin in casual conversation.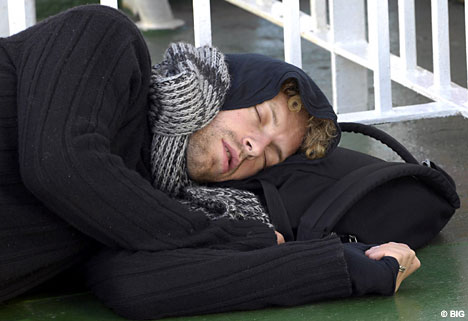 Last week Martin attended the funeral of a family member by himself, and was seen sleeping on the deck of a ferry, looking lonesome and haggard. Martin's 55 year-old uncle died of cancer, and he made it a point to attend his funeral, but Gwyneth and their two children, Apple, 3, and Moses, 18 months, were nowhere in sight. It's possible that the journey was considered too difficult for the children and that Gwyneth stayed back to be with them:
The millionaire Coldplay star made the journey to St Molio's Church in Shiskine, Blackwaterfoot without his actress wife Gwyneth Paltrow and children, daughter Apple, 3, and 19-month-old son Moses.

He told the Sunday Mail: "I'm very upset. My uncle has just died and I've been to his funeral. It's very difficult."

He had travelled from his north London home to attend the emotional event, and the rock frontman's hit song Fix You was played during the funeral ceremony.

Martin was reported to have been close to Angus, 55, who died last Monday, months after being diagnosed with cancer.

A family friend told the Sunday Mail: "Chris had a strong bond with his uncle and he was devastated to hear of his death.

"He made a huge effort to get to Arran, taking time out from his hectic schedule, and it was well appreciated by everyone.

"He looked totally exhausted going back to the mainland on the ferry."

Chris's uncle Angus, a chartered accountant, had lived in Blackwaterfoot, on the west coast of the island, with wife Caroline.
[From The Daily Mail]
On Thursday of last week Gwyneth went out to meet friends at a gallery opening for Stella McCartney's brother and then to a casino afterwards, when Martin was presumably back home from his trip to his uncle's funeral. Martin did not accompany her. She wore a black mini skirt and tights and rocked that terrible 60s flat parted-in-the-middle hair that she sometimes styles but refuses to cut.
They may just be busy with separate friends and projects. While Chris is hard at work on a new Coldplay album produced by Brian Eno and Timbaland, Gwyneth is working on a cooking reality series set in Spain to air next year.
Still, it seems as if something is going on with their relationship. The last time I can remember that they were out together was September, 2006 when they were partying in London with Beyonce and Jay-Z.
And to make matters worse, Martin flipped out at a Coldplay press conference in Mexico City this March when asked about Paltrow. A female reporter asked him if he planned to do a duet with Gwyneth and he shot back at her, asking what her favorite sexual position was, as if the two questions were equivalent. Why was he so touchy about it?
They're both still wearing rings, though.
Thanks to WENN for these pictures of Gwyneth on 10/11/07, and to The Daily Mail for the picture of Chris sleeping.