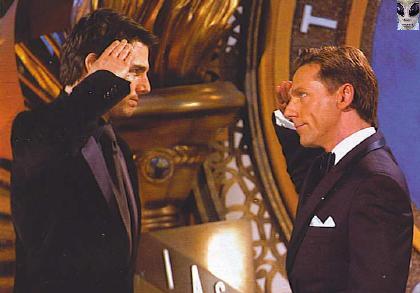 This story is huge and is sure to be all over the tabloids next week. It's somewhat complicated so I'll try and give some background first. In late June, four former very high up members of the "church" of Scientology gave explosive tell-all interviews about the workings of the organization to the St. Petersburg Times in Florida. (The Scientology world headquarters are located in Clearwater, Florida, about a half hour drive from St. Petersburg.) All four of the former high ranking Scientologists were willing to go on the record with incredible stories of abuse committed by Scientology head David Miscavige, a personal friend of Tom Cruise. Miscavige regularly physically beat the crap out of people working for him, threatened them, and subjected them to weeks of confinement. The culture of the organization involves abuse, fear and intimidation, according to these defectors, who also admitted having beaten staffers on Miscavige's orders. (If you'd like to learn more about this, you can read the Scientology expose on TampaBay.com or watch the video below.)
One of the former Scientologists who revealed the inner workings of the cult was "Inspector General" Marty Rathbun. Rathbun told the St. Petersburg Times that he's the person who audited, or helped indoctrinate, Tom Cruise. Rathbun never gave details of Cruise's "confessions" during the auditing sessions, and only mentioned that he worked with him. As a result, Cruise's lawyer sent a letter to Rathbun criticizing his choice to go public with this information, claiming that auditor/parishioner relationships were similar to those between a priest and parishioner. The important thing about this letter is that it essentially confirms that Rathbun was Cruise's auditor:
Dear Mr. Rathbun:

I represent Tom Cruise. Apparently you have repeatedly announced to the public that you were Tom's "auditor" at the Church of Scientology, and you have used that announcement, including Tom's name, on your website to promote your business or profession.

This is not only a serious invasion of Tom's privacy and a violation of the priest-penitent relationship, it is the unauthorized use of Tom's name to promote a business or professional venture, which is a clear violation of Tom's common law and statutory rights.

Just imagine a Catholic Priest leaving the Church and then trying to drum up business as a lay-therapist by advertising that he had been Frank Sinatra's confessor. Most people would consider that disgusting and reprehensible. Yet, what you are doing is exactly the same.

It just shouldn't be done Mr. Rathbun. So please stop.

Sincerely,

Bertram Fields
[From Mark Rathbun.com]
Tom Cruise abused members; His divorce from Nicole Kidman was coordinated by Scientology
So now we know for sure that Rathbun was a high-ranking Scientologist and that he worked with Cruise, because Cruise's lawyer is confirming it. Rathbun's letter in response to Cruise's lawyer, posted on his blog, details the abuses committed by leader Miscavige and the ways that Cruise was manipulated and controlled by the cult. Rathbun, who works as a counselor for former cult members, claims that he's worked with people who have been personally abused by Cruise. This type of abuse was endemic in Scientology and Rathbun openly admitted doing the same and attacking people on Miscavige's orders.
What's more is Rathbun alleges that it was Miscavige who arrange for Cruise's divorce from Nicole Kidman, and it was Miscavige who had Tom's agent fired and replaced by his sister, which ended up a public relations disaster for the star. Rathbun's claim that Cruise had to be audited right around the time of his divorce is completely consistent with fellow defector Jason Beghe's statement that Cruise was "out" of Scientology for 10 years, during the time he was married to Kidman, and that it was Miscavage who brought him back into the fold. It looks like Miscavige convinced him to dump Kidman too.
This letter is long and we're just including a segment. The pertinent parts are bolded:
Unfortunately, you apparently have been misinformed about my public utterances as well as my web blog reference. Nowhere have I used my past relationship with Tom for purposes of promoting either a business or profession. I do not run any business. I have never used Tom's name in a promotional context. I am a person who helps many people who have been abused by David Miscavige.

That includes someone you know personally, Mike Rinder, whom I witnessed Miscavige savagely beat on at least a dozen occasions. Bert, I am not talking about an isolated incident. I am referring to more than a dozen incidents wherein David Miscavige performed aggravated assault on the same person you and your lovely wife dined with at the Celebrity Center. Three witnesses to this type of activity on Miscavige's part corroborated me a series of articles published in the St. Petersburg Times 21-23 June. You can view that multi-media presentation at the following link:

http://www.tampabay.com/specials/2009/reports/project/

Since that initial series another eleven eye witnesses to Miscavige's human rights violations have stepped forward and gone on record. Their accounts can be seen at the following link:

http://www.tampabay.com/news/scientology/article1023717.ece

Each public utterance I have made concerning Tom has been made in his defense. I witnessed Tom's career and public image plummet following Miscavige orchestrating the firing of Pat Kingsley and replacing her with Tom's Scientologist sister so that Miscavige could manipulate Tom's public discourse and censor Tom's exposure to information concerning Miscavige's human rights abuses. I have defended Tom – while keeping his confessions sacrosanct – by emphatically emphasizing that Tom's questionable public behavior in 2004 and 2005 was simply a reflection of Miscavige's influence; and that prior to Miscavige imposing himself into every aspect of Tom's life he was a caring, loving family man, dedicated to worthy social causes, and was the nicest person anyone would ever want to meet.

"This is not only a serious invasion of Tom's privacy and a violation of the priest-penitent relationship, it is the unauthorized use of Tom's name to promote a business or professional venture, which is a clear violation of Tom's common law and statutory rights."

I have not and would never disclose any confidences of Tom's nor anyone else's whom I have counseled. If Tom has concerns about that type of activity he should be very concerned about the activities of Miscavige. He has shown he is willing to do precisely what you have mistakenly accused me of doing. Miscavige and his Church sycophants have been roundly criticized for the wholesale public disclosure of coerced confessions in response to the whistleblowing actions of myself, Mike, Tom Devocht and Amy Scobee (reference the St Pete Times Truth Rundown Series).

For more on Miscavige's proclivity for using confessions for purposes of blackmail, coercion and control please see my video taped interview segment at: http://www.tampabay.com/specials/2009/reports/project/rathbun.shtml

If Tom is worried about me mentioning his name and the fact of my having audited him, again his concern should more properly be directed at Miscavige. Not only did Miscavige direct the public release of confessions, he suborned the perjury of a number of his underlings, and specifically had them state under oath that I never had a position of authority within the Religious Technology Center and had no training as an auditor. The best evidence of that perjury is that in 2001 through 2003 Miscavige personally assigned me as Inspector General RTC – the second highest ecclessiastical position in the religion – to coordinate Tom's divorce from Nicole and to serve as his auditor.

Notwithstanding the fact Miscavige has directed his people to publicly call me a "f'ng lunatic", "psychotic", "thug with an emeter", "apostate", "deprogrammer", and "hit man" you and Tom have enough experience with me to know I can maintain my composure under pressure. I have done just that to protect Tom at every turn.
Dozens of former Church members have turned to me livid about Tom's continuing public support for Miscavige. I have dissuaded each and every one of them from attacking Tom publicly. I have also counseled people who were abused by Tom personally – in matters that eerily resemble the behavior of Miscavige – to give Tom the time to get educated and do the right thing which I have convinced them he ultimately will do.
[From MarkRathbun.com]
Glosslip, a celebrity site which often runs in-depth articles exposing Scientology, claims that Rathbun isn't explicity stating that Cruise beat people, but that "I have since been informed that it is unlikely Tom Cruise has physically assaulted any public members of Scientology, but rather used his power and influence within Scientology to humiliate, embarrass or otherwise destroy individual's reputation or lives within the organization." I don't know. Given all we've heard about the hundreds of instances of abuse committed by Scientology leaders, along with Rathbun's admission that he personally attacked members on many occasions, I don't think it's so far-fetched to believe that abuse means physical abuse in this case.
Does this mean that Cruise is an abusive person and does he control his young wife with physical violence? We know that the head of Scientology is a crazy, abusive, power-hungry person who will stop at nothing to control people. He also happened to be the best man at Tom Cruise's wedding. It's not that much of a logical leap to wonder if Cruise is emulating his spiritual leader Miscavige in some very scary ways. On the other hand, I've also heard that great pains are being taken to shield Cruise from the darker, slimier aspects of Scientology. It's possible it's all wheat fields, free vacations, and smiling blank-eyed sycophants for Cruise. Either way, the guy is in pretty deep with a criminal organization.
Here's an interview with Marty Rathbun in which he talks about Miscavige's abuse:

[Thanks to Dr. Dave Touretzky and Glosslip for the tip]