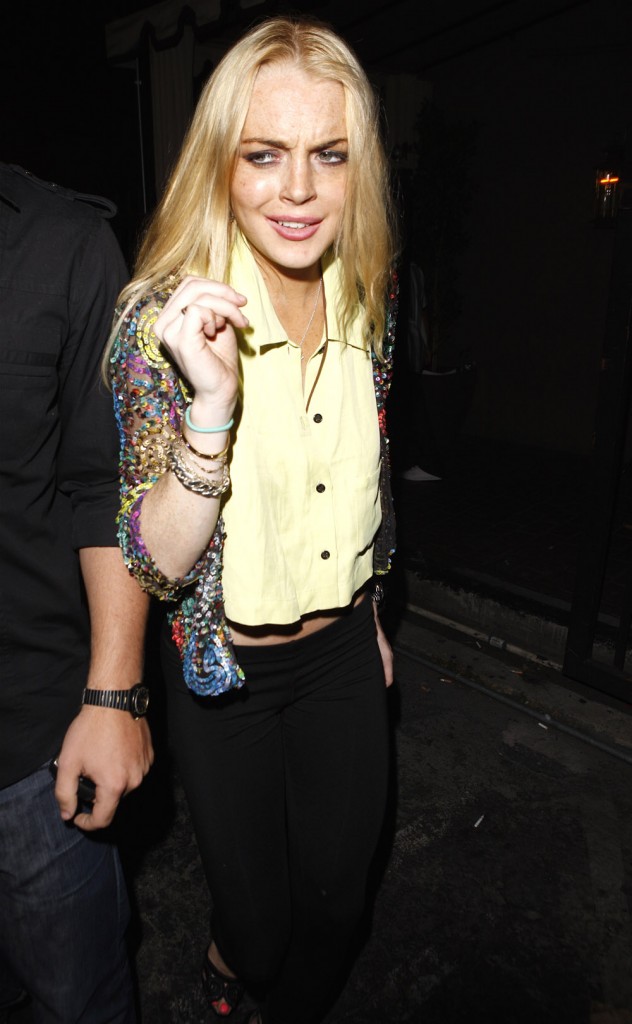 Another interesting twist has unfolded in the Lindsay Lohan robbery debacle. Lindsay posted on her Twitter that she believes the thieves were people she knows in some way, because they only took things that mattered to her (and some strange things like doors) instead of high-end electronics and more commonly stolen items. Then it was hinted in the Chicago Sun-Times that the stolen safe contained sex tapes, based on Lindsay's Tweet which said "that's how i know it was not a ROBBERY. electronics weren't taken… just things that a certain old friend knew meant a lot to me." Now there's a new angle – maybe she meant things that literally meant a lot. Turns out, Lohan had $2 million worth of jewelry on loan from XIV Karats, which she now claims were in the stolen safe.
Lindsay Lohan is in hot water yet again after being accused by a jewelry store of 'losing' over $2 million worth of jewels.

Lindsay had the jewels on loan from swanky Beverly Hills store, XIV Karats, from over two months ago but when asked to return the pricy baubles the Mean Girls star fessed up that she didn't have them.

"Lindsay claimed that they had been stolen from her safe," a source tells RadarOnline.com "They've disappeared. XIV are not happy about it.

"The jewels were in Lindsay's care and they were only on a loaner, they were expected to be returned. If something is not resolved soon there will be legal action taken."

Lindsay's rep denies the story, but Lindsay's dad, Michael Lohan, tells RadarOnline.com, "Lindsay didn't take anything from them. They lent her jewelry and she has to give it back to them. That's all I know. She has no intention of keeping any of it. So I guess they're sorting it out."
[From Radar]
This brings up a few good points. According to the source, Lohan claims that the jewels were stolen FROM her safe. Not that her safe was stolen and the jewels were in them. Saying they were stolen from the safe means that the jewels were taken from the safe. Which also makes it sound like there was a separate robbery involved. However it's also possible Radar's source simply isn't very careful speaker and wasn't paying attention to their phrasing. But it's something to consider.
Secondly, if what the source meant was that the jewels were in Lohan's recently stolen safe, why didn't she immediately report to the store that they were stolen? Instead, she didn't say a word until they called to request that she return them. Caught with her back to the wall, that's when Lohan confessed.
This leads me to wonder if perhaps the real target was the jewelry. Maybe the robbers knew about it and the other stolen stuff was just a bonus. Maybe Lohan – with a long-track record of just taking the things she wants – decided she wanted to keep the jewelry but not pay for it, so she got someone to break into her home and steal things.
Or, perhaps she lost the jewelry. I mean she's drunk enough and she's stupid even when she's sober. I doubt she gets better at keeping track of her stuff after five shots. Maybe Lohan genuinely lost the jewelry and got someone to break into her home (via an unlocked door no less) and steal the safe so she could say it wasn't her fault. If she dropped them down a drain, that's her fault. If someone breaks into her home and takes them, then she's just a victim. Or so it should appear. Obviously this is all conjecture on my part, but I'm just throwing a few theories out there.
Either way, Lohan is responsible for the jewels. They were in her care. I'm assuming they were still insured by the store even when someone else has them, or they wouldn't let $2 million of jewelry out of their site. But regardless of what actually happened, Lohan must still be considered ultimately responsible or they'd be filing a claim with their insurer, not threatening legal action against Lohan. This may end up being even more epic than the Elle photo shoot jewels, or the fur coat Lindsay definitely stole (then returned without an explanation or an apology, or the $10,000 worth of clothes she stole from Lauren Hastings, or the idea for her spray tan line she likely stole, or the car she stole. But I'm sure we should take Lindsay at her word and she's just a victim here.
Here's Lindsay leaving Bardot nightclub in Hollywood last night. Images thanks to WENN.com .