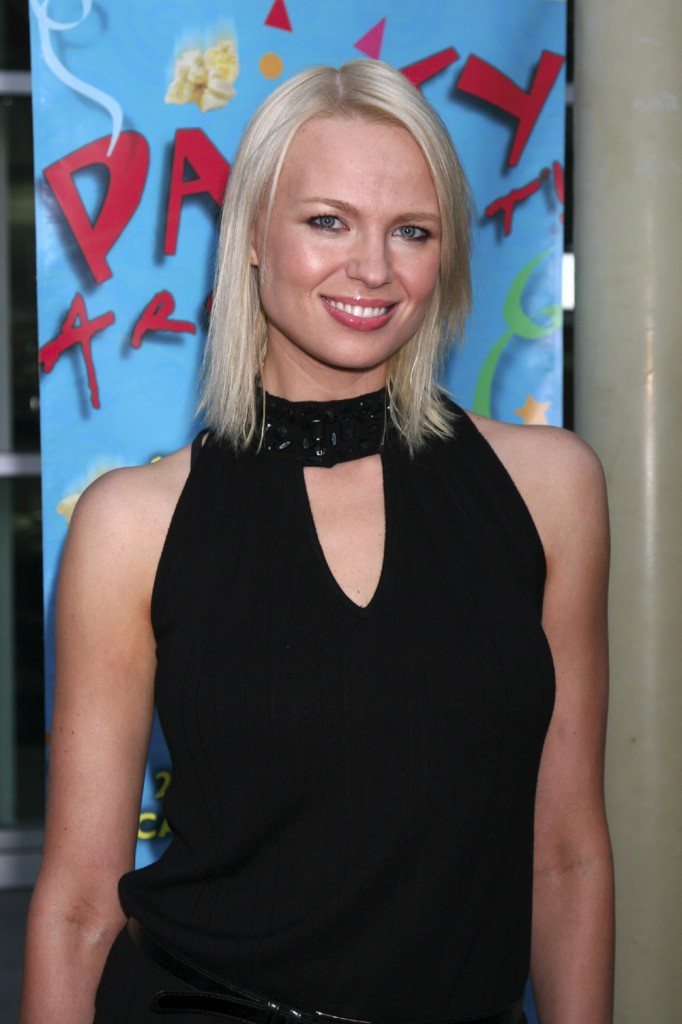 I've never understood what the big deal is with Entourage. It's a show, it's there, I tried to get through the first season. But I emphasize "tried" – it took effort. It wasn't the worst thing I've watched (anything family friendly on ABC can claim that dubious prize), but I don't see what's so epically great about it. I find the characters just so wholly unlikeable that it isn't worth it. When it comes to Entourage, I subscribe to the Seth Rogen line of thought.
It didn't come as much of a surprise to me, but apparently the actors are the show are pigs. Former Playboy Playmate Irina Voronina was fired from the show – she says for rebuffing the actors' advances. Voronina says they were constantly hitting on her and totally incapable of doing anything else. They objectified her and were impolite at very, very best. She bruised their fragile egos and got booted from the show.
Irina Voronina was once a Playboy Playmate, is a regular on Adult Swim's first ever live action show Saul of the Mole Men on the Cartoon Network and has graced the pages of men's mag "Perfect 10," but the Russian model said the worst treatment she ever received was from HBO's "Entourage" boys during a guest role earlier this year.

"They were very rude and unprofessional and I was fired from the set along with another girl," Voronina told Tarts. "Technically we were told there wasn't space for us to be in the shot anymore, but we knew we were fired because we weren't nice to the actors. They just treated me like a piece of meat without any respect and every conversation would start and end with "what are you doing later?'"

The 31-year-old bikini beauty turned comedy queen said she's worked on the show several times before but the harassment had built to a point where she simply couldn't take it anymore.

"I decided that I was just going to be very reserved and rude and preferred never to talk to them, we wouldn't give them the time of day or any hope of there being an after party and we did not express that we were remotely interested in hanging out with them at any point, so I guess that made them upset and bitter," she added. "If there is a shot where we're all in the limo and the camera is rolling, it's us all having fun, they have their hands all over us and then when the cameras stop I expect them to reel back to being normal, but they continued the partying off camera and we made that clear."

HBO did not respond for comment but has previously dismissed the allegation as "unfounded and unsubstantiated."

The stereotypical "Hollywood" male experience seems to have had a lasting effect on Voronina who now advises females to go inland for a good guy. "The nicest boys are in Detroit and Dallas," she said. "People there are not spoiled by celebrities and actually appreciate it when you shake their hand and sign a picture. Guys with good manners!"
[From Fox News' Pop Tarts]
I think Irina is simply showing that she's got some class by not actually naming names. I'm not familiar enough with the show to guess who the major offenders probably were, aside from Jeremy Piven. But most of the others strike me as capable of being slimy. They probably thought that because she used to be a Playmate that meant she had nothing going on upstairs and would consider it totally normal if her only interactions with them were of a sexual nature. However she wasn't on the show as a former Playmate but as an actress.
It doesn't sound like the worst sexual harassment I've ever heard of, but I get the feeling that Voronina isn't given the most explicit examples out of a sense of decorum. Just a hunch on my part, but that's how it reads to me. I don't think there's anything all that surprising about her story, but that doesn't mean she should have known to expect it or had to put up with it.
Hopefully there's a nice boy for her in Dallas.
Here's Irina Voronina at the 'Towelhead' premiere in Los Angeles in September. Images thanks to WENN.com .