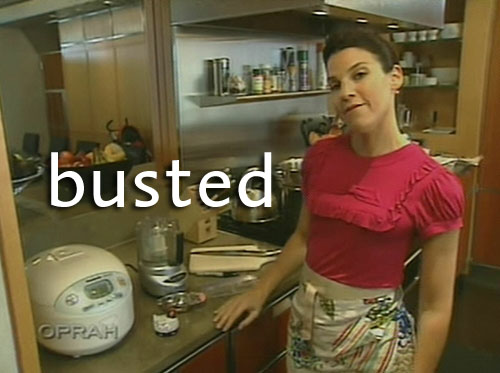 When we covered the story of how Jessica Seinfeld kissed Oprah's ass for making her new cookbook a best seller, I mentioned that commentors on Amazon were saying that the book was not as good as an earlier one that also had recipes to trick your kids to eat vegetables by sneaking them into other foods, The Sneaky Chef. It turns out that not only is the idea for Seinfeld's book unoriginal, the recipes are suspiciously similar to that Sneaky Chef book, which came out this April.
Seinfeld's book Deceptively Delicious is the top selling book in the US now, and she might need the proceeds from sales to pay for hefty litigation from Missy Chase Lapine, the author of The Sneaky Chef.
Just listen to how close the earlier book's recipes are to Seinfeld's:
But chef and baby-products mogul Missy Chase Lapine came out in April with a book, "The Sneaky Chef: Simple Strategies for Hiding Healthy Foods in Kids' Favorite Meals." Lapine baked her spinach brownies with Al Roker on the "Today" show; Seinfeld shared her spinach brownies with Oprah on that show last week.

Mothers on Oprah.com and parenting sites have noted similarities after perusing the puree-spattered pages of both. Some wondered whether the wealthy Seinfeld didn't have cooks who helped cook up her recipes.

Seinfeld writes about having an epiphany that, "While I was cooking dinner, pureeing butternut squash for the baby and making mac and cheese for the rest of us, I had the crazy idea of stirring a little of the puree into the macaroni. … The colors matched -you couldn't really see the squash in there -and the texture was perfect."

Lapine, who founded the Baby Spa natural products line, writes: "If you want to hide something in macaroni and cheese, you have to match the color of the dish. You could easily introduce white bean puree in the mac and cheese."

Seinfeld and Lapine both have recipes for mashed potatoes with hidden cauliflower, grilled cheese with secret sweet potatoes, green eggs made with pureed baby spinach, and carrot-laced tacos.

Lapine stayed hidden herself when we called, but Craig Herman, an executive at her publisher, Running Press, said ominously: "I won't be able to comment until next week."
[From NY Daily News]
I could see if Seinfeld had one or two of the same recipes as the earlier cookbook. You might independently come up with a couple of the same combinations if you're using that concept, like cauliflower with mashed potatoes or spinach in brownies. But green eggs with pureed baby spinach, carrots in tacos and grilled cheese with sweet potatoes? That's too unique to be a coincidence.
One commentor on Amazon said she did a taste comparison with her friends and their kids of those recipes Seinfeld ripped off from Lapine's book, and the original Sneaky Chef won for every recipe that Seinfeld copied for Deceptively Delicious. There was just one draw, for a peanut butter and jelly muffin recipe.
I hope Seinfeld has to give a high percentage of the proceeds of her book to the earlier author. It's not fair that celebrities and their relatives can go into any field they want and become instant successes on name power and insider connections. (Thanks Commentor Granger for bringing this up on the earlier post.)
The author of The Sneaky Chef, Missy Chase Lapine, is a chef on the faculty of The New School in NY City, and is the former publisher of Eating Well magazine. She also founded a natural baby care product line called Baby Spa. What did Jessica Seinfeld do other than leave her rich husband right after her honeymoon to hook up with an infinitely richer husband? Oh that's right, she was in marketing at Tommy Hilfiger, and she has kids. That must qualify her to write a cookbook.
Maybe this will make publishers and financial backers think twice before greenlighting projects by celebrities who think that they can go into anything on a whim. Seinfeld probably read The Sneaky Chef and thought "I can do that too, and if I change the recipes a little no one will ever know."
Update: People Magazine reports that Seinfeld told The Wall St. Journal "I've never held that book in my hands, and I swear that on my life." That's a curious choice of words, especially considering that the full chapter listing of all recipes is available for The Sneaky Chef online at Amazon.