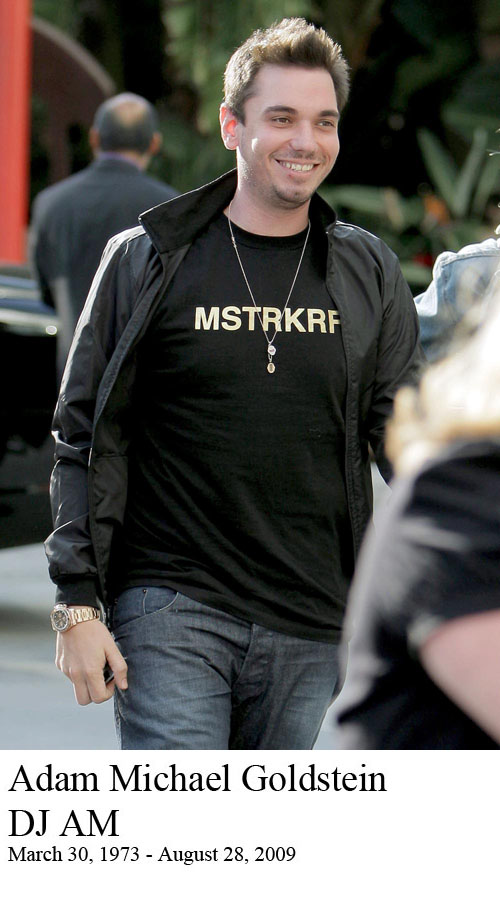 Adam Goldstein, best known as DJ AM, was found dead in his NY city apartment yesterday afternoon. He was just 36. AM was a survivor of a fatal small plane crash last September along with his friend and collaborator, Travis Barker. Four others perished in that crash, including two friends and co-workers of AM and Barker. AM suffered burns on his hands and head, for which he required skin graft surgery, but he recovered quickly and was working again a month after the accident.
AM was addicted to crack cocaine years ago, but recently said that he was sober for 11 years. People who knew him said he never drank alcohol. He even had a reality show coming out on MTV this fall in which he helped families of addicts stage interventions. AM explained in an MTV interview, video below, that the idea for the show was something he came up with. He said that he bought a crack pipe while being filmed to demonstrate how easy it was to get one, but that holding it brought up a lot of old cravings. In interviews with AM about the show on MTV's website, he speaks with such feeling and passion about helping addicts that I have a hard time believing he went down that route again. The Associated Press reports that prescription drugs and a crack pipe were found in his apartment, but his representative emphasizes that the circumstances of his death are still unclear. I don't think we should jump to any conclusions about what happened to him. No matter how he died it's an incredible tragedy and a great loss.
Here is a People article about AM's death and his struggle with addiction. Other reports say he was not seen for several days and a friend called the police when they couldn't get into his apartment. AM's last tweet is ominous in light of his death. He wrote on August 25 at 2:57 pm "New york, new york. Big city of dreams, but everything in new york aint always what it seems." AM was also said to be distraught over a recent breakup.
DJ AM has been found dead in his New York City apartment.

Det. Brian Sessa tells PEOPLE that at 5:20 p.m. on Friday New York Police Department officers entered an apartment on Lafayette Street in response to a 911 call about a man who hadn't been seen for two days. Inside, they found the body of a white male in his 30s. Another police source confirmed to PEOPLE that the dead man was DJ AM.

The cause of death has not been released by the medical examiner, although N.Y.P.D. Deputy Commissioner Paul Browne said there was no apparent evidence of foul play. A police source said prescription drugs where found in the apartment.

Goldstein's publicist released a statement Friday confirming the news of his death. "The circumstances surrounding his death are unclear. Out of respect for his family and loved ones, please respect their privacy at this time," the statement says.

DJ AM (real name: Adam Michael Goldstein) was 36. He narrowly escaped death in a 2008 jet crash with Blink 182's Travis Barker.

"There's no reason why I lived and they didn't," DJ AM said last month at the Television Critics Association summer press tour, referring to the others who died in the crash. "It's something that I struggle with every day, you know, kind of wondering. But I've just realized I'm never really going to know. I'm alive, and I'm here, and I have another chance. So I have to do something better with my life this time."

DJ AM's Last Days
On Thursday, Goldstein Tweeted, "New york, new york. Big city of dreams, but everything in new york ain't always what it seems."

DJ AM was scheduled to work Friday night at Rain nightclub at the Palms in Las Vegas, where he has a standing gig. He was the deejay at the club last weekend. "He never drinks alcohol – ever," says a source who has seen him there. "Every time he's there he drinks Fiji water and Red Bull – six Fijis and six Red Bulls every night."

Goldstein had just played Dusk at Caesar's Atlantic City on Tuesday night. He was part owner of the club, which will be closed Friday night. In a statement, Dusk management said, "We are devastated by the loss of Adam Goldstein, our dear friend and valued member of the Dusk family. Our thoughts and prayers go out to his loved ones. He was a true talent who will be greatly missed."

His Past Struggles
Goldstein was a popular deejay in the Hollywood, New York and Vegas club scene, and had struggled with weight, drugs and depression.

"Drugs became my identity," he said in 2005. "I would deejay until 2 a.m., go get drugs and stay up until 10 in the morning doing drugs alone in my apartment." During his early 20s, his weight reached 300 lbs.

A critical turning point in his life came in 1997, when Goldstein considered suicide. After a night of doing cocaine, Goldstein, 24 at the time, sat before a mirror and "could not move away from staring at myself," he said. He put a gun in his mouth and, sobbing, said, "God, please help me."

"I pulled the trigger, and it jammed," DJ AM said, recounting the story again at the TCAs last month. "And I remember sitting there thinking, 'You know, I can't even kill myself.' " He said the next morning, a friend, who had managed to kick drugs, stopped to check in on him. "He said, 'Dude, you're coming with me. Let's go." And I just listened for once, and I went and I did everything he told me to do. That was 11 years ago."

After vowing to get off drugs and lose weight, Goldstein underwent gastric bypass surgery and dropped 115 lbs.

He dated Nicole Richie and got engaged to the reality TV star in 2005, though the two called off their plans in December of that year. Goldstein most recently dated model Hayley Wood but according to reports called it quits earlier this month.
[From People]
The NY Post has a very touching story from a friend of AMs who said he rescued him from drug addiction four years ago and saved him at a time when he had no will to live. "He reached out to me, talked to me for hours. He'd be there every single time I would call. He would be there no matter [the] situation, he would answer calls at 5:30 in the morning. He just want[ed] to help people out."
As trivial as it is, I remember DJ Samantha Ronson saying in an interview that AM once gave her an entire hard drive filled with music, something that was incredibly generous considering that they were technically in competition with each other.
People remember AM as a true friend who cared about others and was always willing to help. Our thoughts go out to his friends and family. He will be sorely missed by so many.
AM on his new reality show in which he stages interventions for drug addicts:

AM shows his sneaker collection. He loved Nikes and Adidas and had over 600 pairs. I love how he says that shoes to him are what jewelry and purses are to women.

DJ AM at work at the Palms in Las Vegas

Photos are file photos of AM. The ones in the last three rows are the most recent. Credit: Fame Pictures and WENN.com