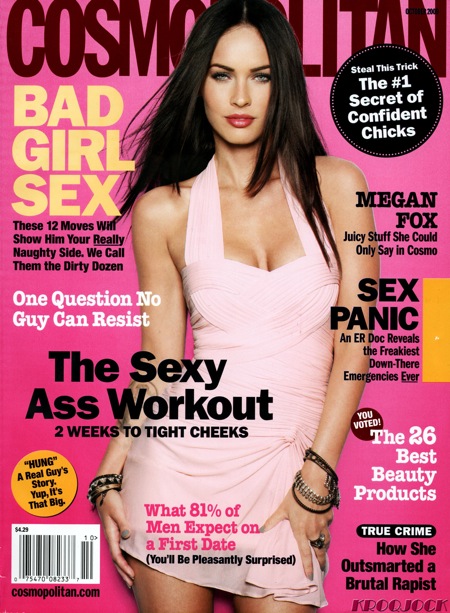 Megan Fox is the cover girl for the October issue of Cosmopolitan. Sigh. Yes, we are at the beginning of yet another Megan Fox media tour, so be careful. The last one took four months… and Megan wasn't even the lead of Transformers: Revenge of the Fallen. In Jennifer's Body, she's actually got the lead, so that means more interviews, more red carpets, more thumb, more insanity. For this interview, Megan name-drops Andy Samberg, Jonah Hill and Brad Pitt. She also uses the words "diarrhea" and "Women hold the power because we have the vaginas." More words of wisdom, via Just Jared:
On her weirdest phobia: "Touching newspaper."

On the one thing she's always wished she'd said "yes" to: The Hannah Montana Movie

On her ideal date: "A sexy sandwich with Andy Samberg and Jonah Hill…"

On the most scared she's ever been: "Everytime I go on stage — instant diarrhea."

On being able to count the number of guys she's gotten naked in front of on one hand: "I never call them guys. I always called them boys. Maybe it's a superiority complex–my needing to keep them down."

On women having the power in a het relationship: "Women hold the power because we have the vaginas. If you're in a heterosexual relationship and you're a female, you win."

On being a firm believer in monogamy: "I have no problem with commitment–you can't have a real relationship without it. I can flip on a switch in my brain, and even if the next Brad Pitt is standing next to me, I won't look at him. but I can also turn that switch of, and then I collect attractive boys." (She's currently dating Brian Austin Green.)

On not going for the typical Hollywood types: "It's fun when someone intends to put you in his back pocket, but instead, he walks away wounded. I make it a mind game so they don't know if I'm hitting on them or mocking them. Male actors drop lines about their private jets, trying to seem powerful, but I don't give a s—. I don't need someone else's power. I'm obtaining my own."
[From Just Jared]
"…Even if the next Brad Pitt is standing next to me, I won't look at him." Yeah, right. I know I've been accused of hating on Megan Fox for being dumb and budget and all of that, so I'll try something new – I'll give her credit for something. I think she's being honest when she says she doesn't "need someone else's power". Unlike many young actresses who date who their management teams pre-approve, I don't think Megan is like that. Her agent and publicist can't be happy she's still with Brian Austin Green, so I give her credit for sticking with the guy she loves, rather than forming a more media-friendly "relationship".
Header via CoverAwards. Other photos of Megan Fox are from the Teen Choice Awards on 8/9/09. Credit: PRPhotos