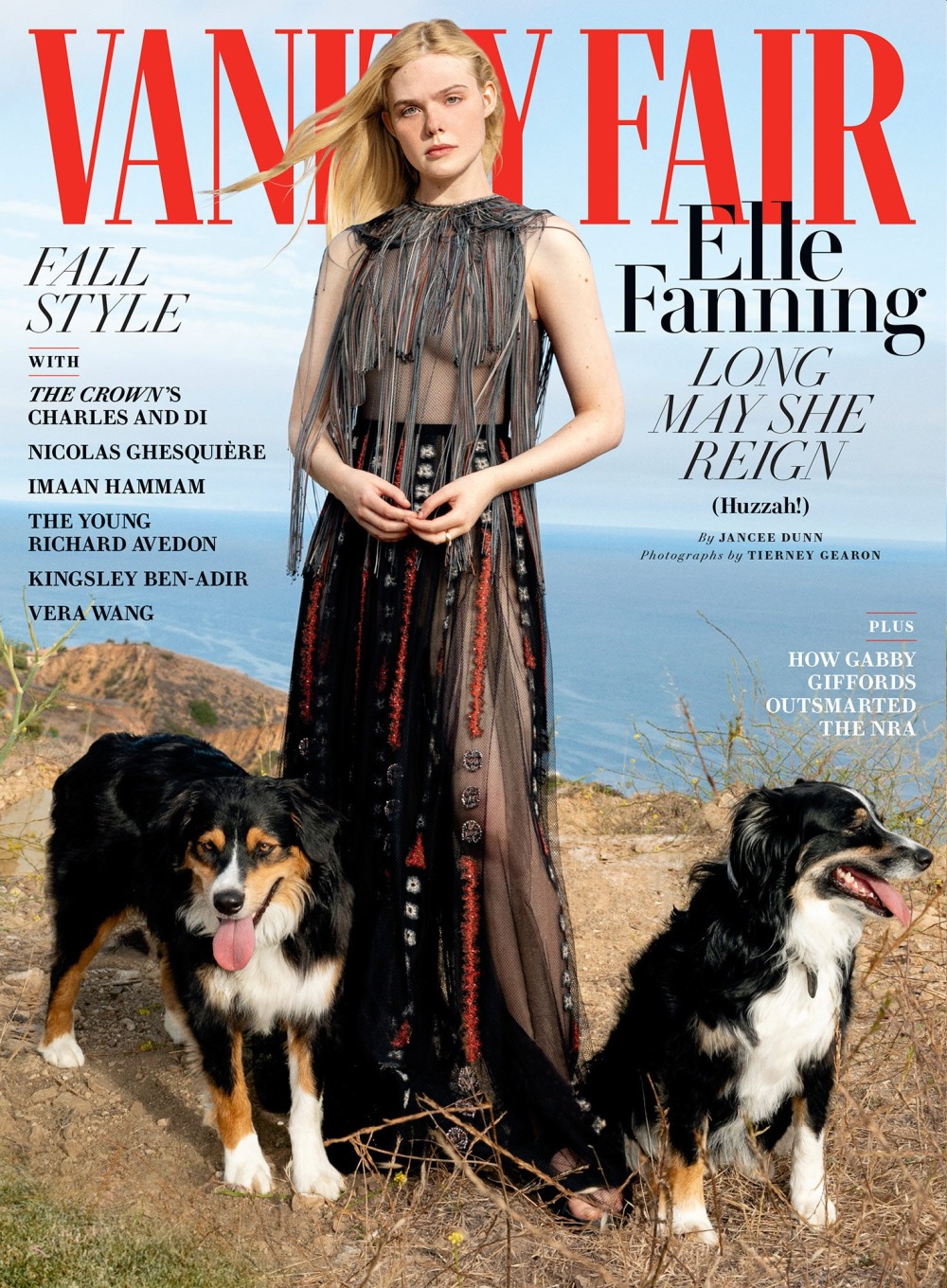 Look at those beautiful doggos! So pretty. Elle Fanning covers the October issue of Vanity Fair. I remember when Dakota Fanning was, arguably, the most in-demand child actor of the day, and everyone thought Dakota would effortlessly transition to adult actress and win a million Oscars. Now her little sister is the one getting all of the juicy roles in film and television. I like both Fanning sisters, but I do think Elle ended up being the more talented sister, weirdly. She's promoting her starring role in The Great, where she plays a young Catherine the Great to Nicholas Hoult's Emperor Peter III. The ads make it look like a cousin to The Favourite – the same kind of absurdity-at-royal-court vibe. You can read the cover story here. Some highlights:
Spending her 22nd birthday in lockdown with her mom, grandma & sister: Her mom got her a Strawberry Shortcake-themed birthday cake. "My mom got me a Strawberry Shortcake children's coloring book one day from the grocery store too," she adds, then winces. "I sound like I'm five. But you know what? It's a luxury that we're all together and taking a breath."

Growing up partly in Georgia: "We have very Southern values, like manners and respect for elders."

Filming The Beguiled as her first adult film: "I was 18 and my mom didn't have to be on the set with me anymore, which was kind of a big moment for me. My mom knew Sofia from when I did Somewhere, and [The Beguiled costar] Kirsten Dunst is a friend of ours, so she was like, 'Okay, I feel safe that you're on your own with people that I know.' Kirsten and I would have slumber parties. It was the first time I wasn't the youngest person on set, because there were girls younger than me in the film who had their moms there, and had to go off and do math homework when they wanted to hang out with everybody, just like I used to have to do."

On Catherine the Great's liberated sexuality: "The real Catherine the Great was very free sexually and people put her down for that. Sex is a big part of this show, and I was excited to explore that side of the work. Personally, I love being naked. I walk around naked, like, all the time. It's a part of life!"

The Great doesn't just star a bunch of white people: "The people at Hulu asked us, 'Are we being completely period-accurate with exactly what Russia would have looked like?' We wanted to go in the opposite direction of period-accurate. Who wants to watch a boring period show with a bunch of white people? We've seen that, and it's so dull."

On BLM: "Black Lives Matter cannot be a trend. This is a movement that has to stay alive, and every day we have to commit." She wants to focus on encouraging voter turnout in local elections, which, of course, inform the larger ones that seem more and more like life-or-death moments. "I've dedicated myself to learning what local officials stand for, because voting in local elections is so important."

On day-dreaming: For all her precocity and productivity, Fanning loves to just hang out in this bedroom, following her thoughts down random rabbit holes. Daydreaming, we agree, is a waning art. "I can sit and just think for hours. My mind can go to endless odd worlds and weird places. I think it tells me that I'm in the right profession, because acting is so much about the imagination. For me, it's the key ingredient, because it's just hard to describe"—air quotes here—"your 'process.' "
Daydreaming IS important. It's important for kids and for adults. I've noticed this even more as I get older and see everyone with their noses buried in their phones or iPads or whatever – people today feel the need to be constantly stimulated, constantly doing things or watching things or texting or whatever. It's refreshing when someone can just sit in a room and daydream and let their mind wander and just *think*. As for her vibe… you can tell that she's young, but I see where the "old soul" stuff comes in with Elle too. She seems like she goes back and forth between girlishness and eccentric grandma. She's a sweetheart though, I love her. She's adorable.
Cover & IG courtesy of Vanity Fair.