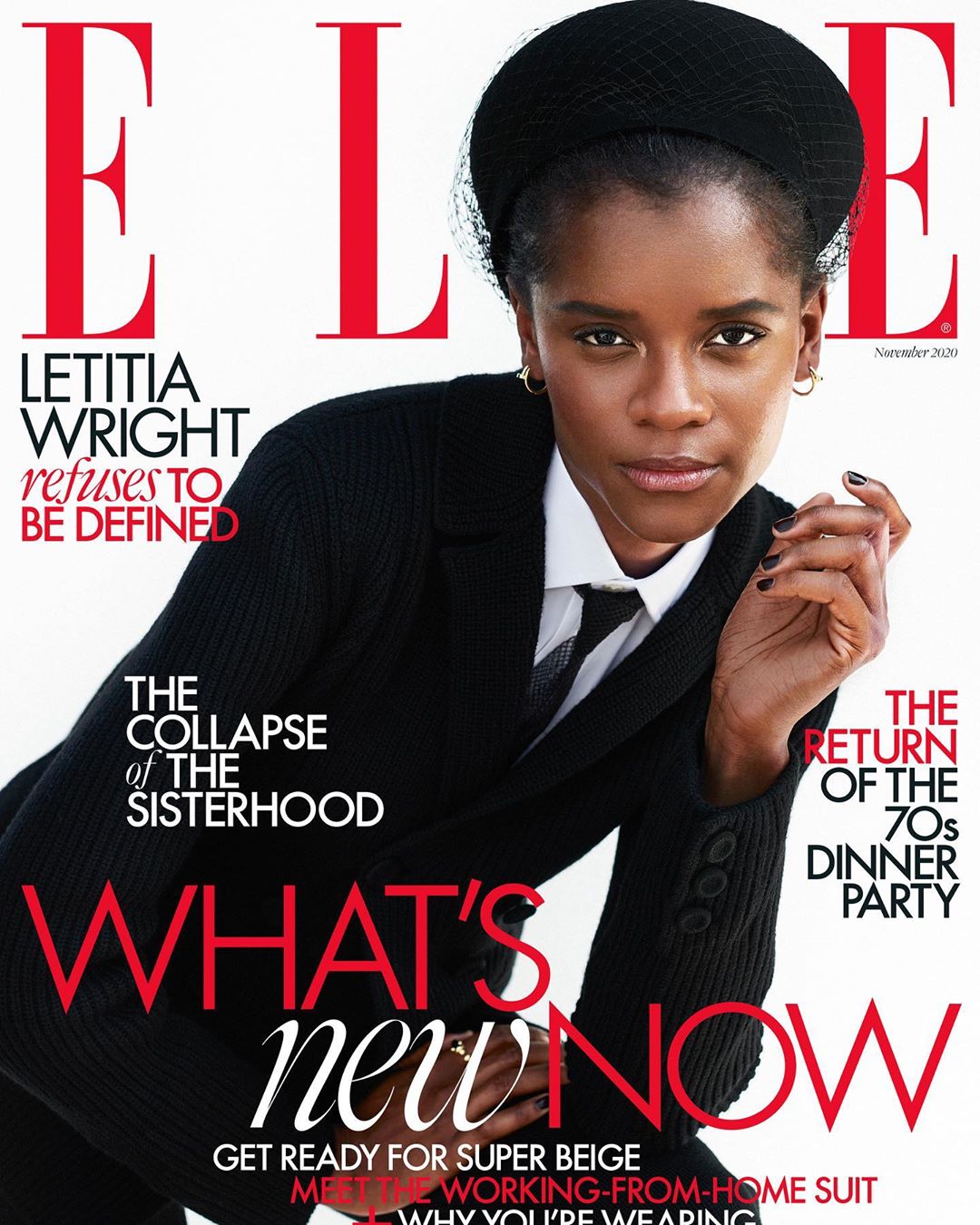 Letitia Wright has become the Black girl nerd icon because of her role as Shuri, Wakanda's science and tech genius and sister of King T'Challa. Letitia was quite close to her Black Panther co-star Chadwick Boseman and posted a moving tribute to him on her Instagram a few days after the news broke of his death.
COVID ground a lot of production to a halt but Letitia has kept busy with creating her production company, 316 Productions. She hopes to provide opportunities for Black and Asian actors in the U.K. and Hollywood. She will soon be releasing her first project, Things I Never Told My Father, in which she explores grief. She is also starring in Steve McQueen's Small Axe alongside John Boyega which will be released on BBC (in the U.K.) and Amazon Prime November 20th. Letitia has a new interview with Elle UK, where she covers their November issue. Here are a few excerpts:
On the notion that there's only space for one Black woman
It's sad and it hurts. But, the funny thing is, if you actually step aside from that mentality and go, No, there's space for all of us [to succeed], we just have to keep building a wall.

The bricks at the bottom have to be laid first before the bricks on the second row can be laid. So, if you say, OK, you lay your brick there, and I'll lay my brick in the next two months. Let me make sure that your brick that's laid is good and solid and paid well… Then, soon, you have a wall. Yes, I stole that from Will Smith. I've listened to that since I was 16, but he has a point: we have to be bricks, we have to be that solid foundation for each other or else what's the point?'

On how she deals with the industry and her image
I really pride myself on the circle that I keep and it's a very small circle, it's almost like a dot. I remember I asked actor Naomie Harris a few years back for some advice, and she met with me and said, "How you carry yourself is how people will respond to you." So, if I turned up and I have a Gucci bag or [I'm] in the club every day – there's no problem with that, if that's your vibe – but I'm very quiet and all about the work.'

I think back to back years of living the same way and thinking the same thoughts and the pressure I would put on myself… I remember analysing every single thing. If I went on a red carpet, I'd analyse the picture. If I did an interview, I'd analyse the video. If I spent time with friends, after I left, I'd think to myself, Why did I laugh like that, why did I show teeth. It was just back to back. I started to realise that, you know, it's not about me, it's not about how much people can validate me and I started to see the power of God and not the power of man.'

I'm on another layer of a self-love journey, taking a step back to re-evaluate loving myself even better than I did a year ago. This whole isolation thing is not new to me because I've been doing it since I was 16. I retreat, I work, I retreat. I go back on the field. I retreat.

She wants to move to Guyana
It's perfect because, if I need to go to the US, it's quick. It's not as complicated as it seems. It's so funny – last night, some stuff popped up on YouTube about African Americans relocating to Africa and how happy they are. I was like, This is actually the way to be. Why are we fighting these people? Why are we shouting at them to give us space when we can go to our motherland and have space there?
Letitia to me stole the whole show in Black Panther. It was like she came out of nowhere and was the star. Many fans of the franchise, including me, think that the mantel of Black Panther should be passed to her in light of Chadwick's death. Plus Shuri becomes the Black Panther for a while in the comics.
I am so loving how many of these Black actors are saying, "ok, you won't give me a seat at the table so I will create my own." This has been the thing that I have been screaming for quite some time. I do not believe in begging or even fighting for a seat at a table never created for me. I would rather use my energy to create my own and invite others to it.
Letitia seems to be very grounded for 26 and a bit of a firecracker and I love it. I have also considered moving to Africa. Ghana, Cameroon, Tanzania or Tunisia specifically, but after much digging, I found that the process is extremely difficult so I am looking into other places.
Anyhow, I hope to see more of Letitia and I will keep watching to see what Marvel will do with the role of Black Panther going forward. It would be cool to have a young Black woman be the lead in a major action franchise.