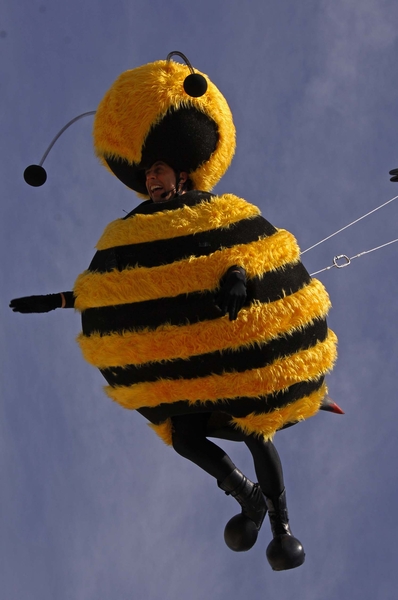 I always knew Jerry Seinfeld was funny, but I had no clue he was that funny. The man behind the show about nothing actually says that Scientology made him a better comedian – and not because it's all so ridiculous that it makes for good material. For once, Jerry is being pretty serious, and says that he took some Scientology courses on communication, and they helped him with his act. Once in a blue moon… someone will say something about Scientology and not mock them. I just didn't think it be coming from a comedian.
Bee Movie star Jerry Seinfeld says that studying Scientology made him a better performer — and not because it gave him some good material. The 53-year-old comedian tells Parade magazine that a teacher in high school turned him onto the religion almost 30 years ago. "It was interesting. Believe it or not…it's extremely intellectual and clinical in its approach to problem-solving, which really appealed to me." Though Seinfeld has not continued with Scientology, he tells Parade that it helped him get his start in comedy. "In my early years of stand-up, it was very helpful. I took a couple of courses. One of them was in communication, and I learned some things about communication that really got my act going."

Could the same be said for the rest of Scientology's Hollywood devotees? The Church counts musician Beck, John Travolta, and of course, Tom Cruise, among its members. Seinfeld explains that as an entertainer, Scientology "really helped me onstage to understand how you have to invade the space of the audience a little bit…Not too much, because then it's obnoxious. But you can't be short of them either, or you won't control them." Another draw for Seinfeld — the gadgets. "They have a lot of very good technology," he tells Parade. "That's what really appealed to me about it. It's not faith-based. It's all technology. And I'm obsessed with technology."
[From Us Magazine]
He has an interesting point, in that Scientology is the only religion I can think of that isn't based just on faith, it's based on technology. Notice that I said technology, not science. I would argue that it is still faith-based, as I don't think there's any technology that reaches Xenu – though I can't swear to it.
Picture note by Jaybird: Speaking of great Scientology technology, here's the Hubbard Electrometer, also known as the e-meter. According to Wikipedia: "An E-meter is an electronic device manufactured by the Church of Scientology at their Gold Base production facility. It is used as an aid by Dianetics and Scientology counselors and counselors-in-training in some forms of auditing, the application of the techniques of Dianetics and Scientology to another or to oneself for the express purpose of addressing spiritual issues. A 1971 ruling of the United States District Court, District of Columbia (333 F. Supp. 357), specifically stated, "The E-meter has no proven usefulness in the diagnosis, treatment or prevention of any disease, nor is it medically or scientifically capable of improving any bodily function." Header image of Jerry doing some funny (mildly degrading in a good way) promotion for "Bee Movie."
Update By Celebitchy: He's just licking Tom Cruise's ass. (That wording is deliberate, and I wanted to make it more explicit, but you get the point.) Scientology is a cult and a sham and you're better off buying any dimestore psychology book from the last 50 years than taking a single one of their courses and becoming a target with a dollar sign on your head. If I didn't hate the Seinfelds enough after Jessica ripped off that cookbook, they just gave me another reason.
Maybe some personal information about Seinfeld got "audited" and he doesn't want it released by the Scientologists, they routinely blackmail people like that, or maybe he wants Tom Cruise to greenlight the movie project his wife comes up with once she's exposed as a fraud and a plagiarist. Either way, he could have paid $50 to see a shrink for one session or picked up a Carl Rogers book and gained infinitely more personal insight. (Those references are deliberately dated because he said it was in the 70s.)
I wonder if the Scientology "organization" gave Jerry and Jessica access to one of their exclusive vacation resorts reserved for celebrities in exchange for this comment. They once planted an entire field of wheat using slave labor to help Tom Cruise woo Nicole Kidman.
It makes me sick that he would say this. Scientology is a cult that ruins lives. It should not have tax free status as a religion in the US and when celebrities make idiotic statements that imply that its benign and helpful they end up sucking in thousands more hapless victims.
Here is more information about how Scientology gets celebrity endorsements through commissions and luxurious vacations.