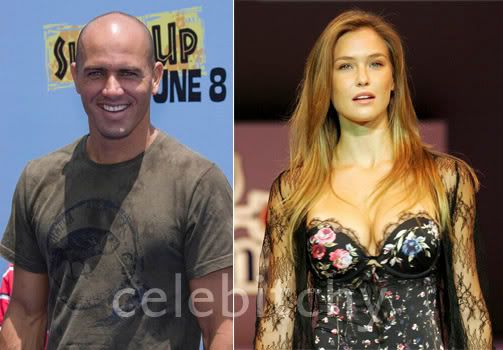 In case you were wondering if Leonardo DiCaprio and Israeli model Bar Rafaeli were still together after a rumored breakup and reconciliation, we may have our answer. Everyone's favorite rebound eye candy, surfer Kelly Slater, got into a scuffle with photographers in Israel while out with Rafaeli. The scene sounds eerily similar to a fight in March between Leonardo DiCaprio's bodyguards and Israeli paparazzi, who were trying to get photos of the famous couple at the West Wall.
Ironically, Slater was in Israel as part of the group "Surfing for Peace," which promotes peace between Israelis and Palestinians through surfing:
Police detained eight-time world surfing champion Kelly Slater early Saturday after a scuffle with photographers who were trying to take pictures of him with an Israeli supermodel, police said.

Israeli photographers were waiting outside as the American surfer and model Bar Rafaeli left a hotel in the Tel Aviv suburb of Herzliya before dawn Saturday, police spokesman Micky Rosenfeld said.

Slater pushed the cameramen in an effort to prevent them from taking pictures, a photographer at the scene told Channel Two TV.

"A brawl broke out and Slater was taken for questioning and later released," Rosenfeld said.

It was not the first time foreign guests of Rafaeli have scuffled with journalists. Earlier this year, Rafaeli and her then-boyfriend, actor Leonardo DiCaprio, created a media storm when he visited her in Israel…

Slater, who is of Syrian descent, was visiting Israel for the first time as part of efforts by the group "Surfing for Peace" to promote reconciliation between Israelis and Palestinians through the sport.
[From Yahoo! Sports via ONTD]
35 year-old Kelly Slater has consoled many hot famous women after high-profile breakups with celebrities, including Pamela Anderson, Cameron Diaz, and DiCaprio's other ex, Gisele Bundchen. Slater is "the most successful professional surfer in the the history of the sport," according to Wikipedia. If anyone can bring peace to the Middle East while boning Leonardo DiCaprio's model ex, it's Slater. He's not going to let a little scuffle with photographers keep him from his important mission.
Bar Rafaeli was widely quoted a couple of weeks ago saying she wasn't about to serve in the Israeli army, as is compulsory for 18 year-old men and unmarried women in the country, and that she doesn't regret it. She supposedly said "I am not sorry for not serving in the army, because I profited in a big way… Why is it good to die for one's country? Isn't it better to live in New York?"
Rafaeli denies making those statements and is suing Israeli newspaper Yedioth Ahronoth for reporting those quotes. Her lawyer says the paper slandered Rafaeli and encouraged a "public lynching" of her.
Kelly Slater is shown at the premiere of Surfs Up on 6/2/07 thanks to PRPhotos. Bar Rafaeli is shown on 10/17/07 on the catwalk for Selmark Lingerie Spring-Summer 2008, thanks to Splash News.