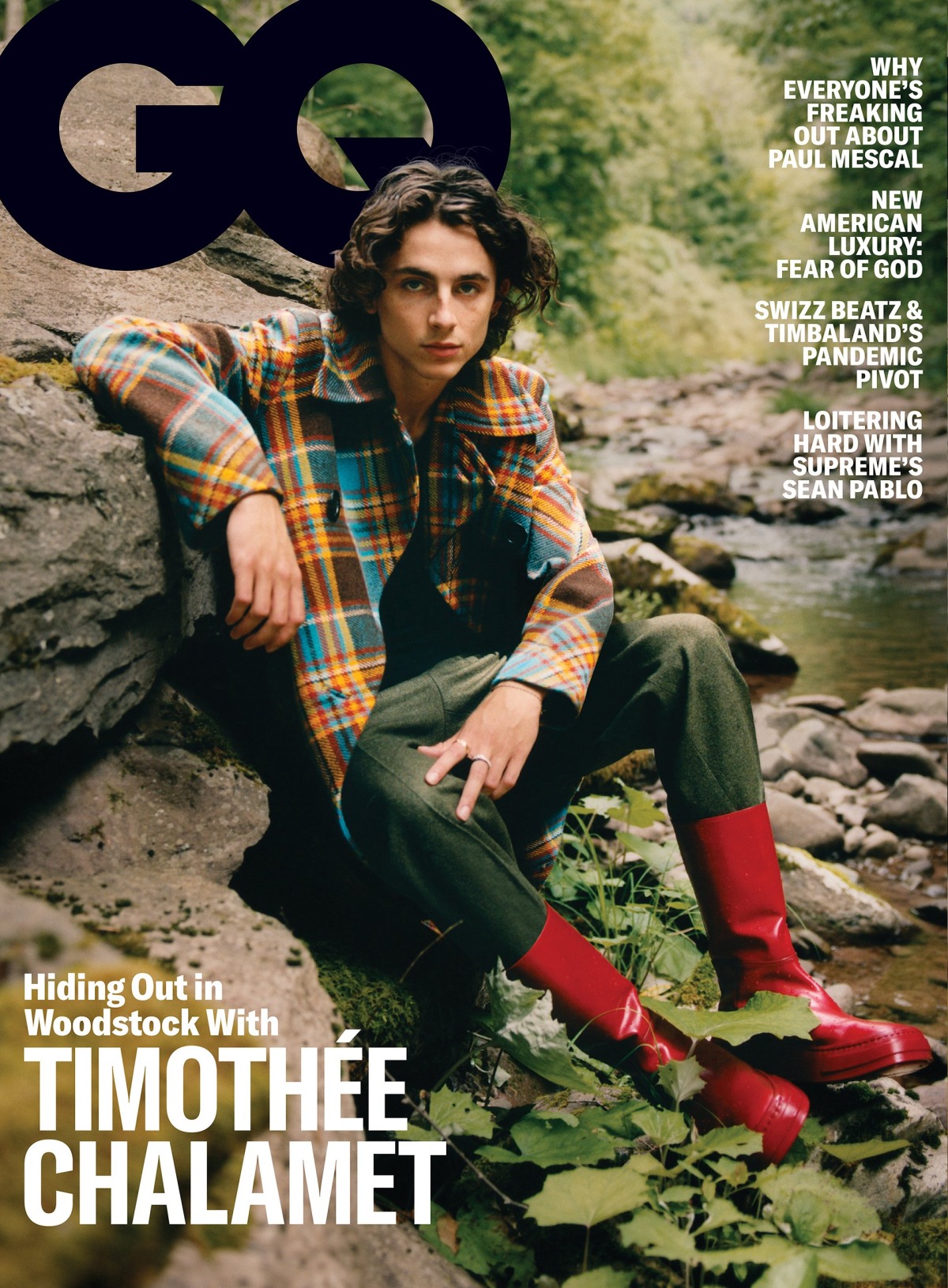 Timothee Chalamet covers the latest issue of GQ to promote The French Dispatch and Dune. The piece is very… thorough. It actually made me really nostalgic because it's very much an interview with a young star who is on the cusp of absolute super-stardom, and you can feel that in every line of the GQ profile: we're still going to be talking about Timothee Chalamet forty years from now. Timmy has been chilling out in Woodstock during the pandemic, and he's been quietly preparing to play a young Bob Dylan and that preparation work has overtaken him. It's pretty cute. Mostly, Timmy just comes across as a very intelligent, curious, interesting young man who seeks out friendships with older mentor-figures. You can read the full piece here. Some highlights:
After his first Oscar campaign for Call Me By Your Name: "My world had flipped. But if I kicked it with my friends, things could still feel the same. I was trying to marry these two realities. But I don't even think I knew that was what I was doing. That dissonance was real. And thank God. Because I feel like if I'd caught up to it immediately, I would've been a psychopath or something."

Working with Frances McDormand on The French Dispatch: "We'd shared an agent. And it was no disrespect to me, but I hadn't been in any movies yet. What business do I have talking to Frances McDormand? But now, and this is the gift of acting, I really feel myself coming into my own as a community of thespians, as opposed to actors. And man, that sounds pretentious, but I just mean it's not about the f–ked-up ladder of success and un-success, and being the guy or the girl, and then being off the list… That's not what I'm talking about with her on set, that's not what she's espousing to me. She's talking about a long career. She's talking about marriage with a creative partner and consultant. So to be able to have conversations like that and then a story line in the movie where they're kind of on an equal field? Even if she's an experienced, wise woman and he's an idealistic, naive boy? That's the exact relationship of exchange I want with my intergenerational peers."

Those yacht photos where he made out with Lily-Rose Depp: One image, in particular, circulated in which they were making out on the deck of a boat. Timothée is contorting himself into the kiss and looks a little awkward. Many people had their laughs. And some even suggested that the photo was staged for publicity. "I went to bed that night thinking that was one of the best days of my life. I was on this boat all day with someone I really loved, and closing my eyes, I was like, indisputably, 'That was great.' And then waking up to all these pictures, and feeling embarrassed, and looking like a real nob? All pale? And then people are like: This is a P.R. stunt. A P.R. stunt?! Do you think I'd want to look like that in front of all of you?!"

On Saoirse Ronan: "She is like a superhero when it comes to this sort of thing, going through it so healthy—with the asterisk being excellent work across the board and four Oscar nominations. I think her, like, DNA of self is really morally right…. Saoirse's one of my best friends in the world—at least I think we're best friends. And she's never judged me for…the Coachella of it all."

On participating in the racial-justice protests: "After a day of protests. I'd ask friends if they 'felt good.' If we do, is it a good thing to feel good, or does that mean we're doing it for the wrong reasons? How much do I want to put on social media? Is it a virtue signal to put it on social media? But all social media is performative, right?" I heard him ask dozens of self-interrogating questions like these. He cares so genuinely about doing the right thing, about doing well by his family, his friends, and his fans. But he didn't want to misuse his privilege or his platform, to overreach so that the gravity of his fame sucked up anything from anyone else whose moment it was to speak. He didn't want to take up room; he wanted to help center other voices. On Instagram, he posted videos each day during the first week of marches in Los Angeles—no directives into camera, just an implicit charge to his followers: Show up. Listen. Be a body. "I have so many thoughts on so much of it, but I don't see the benefit of putting it down for consumption until I've really worked out exactly how I feel about it all. Who benefits from my half-baked ideas? I care so much about this stuff. But I would never want my caring to be misconstrued. I don't want my caring to be about me in any way."
"The Coachella of it all" and "Intergenerational peers" cracked me up. I love this kid so much, even though he's not a kid! Dude is 24 years old. We think of him as a kid because he still looks so young and because he seems to hang out so much with much older people. Anyway, the entire GQ piece was a great read and Timmy came across very well – basically, everyone he's ever worked with adores him completely, Jason Momoa wants to adopt him, Greta Gerwig talks to him on the phone constantly, and everybody's looking out for him because they know he's really special.
Cover and IG courtesy of GQ.