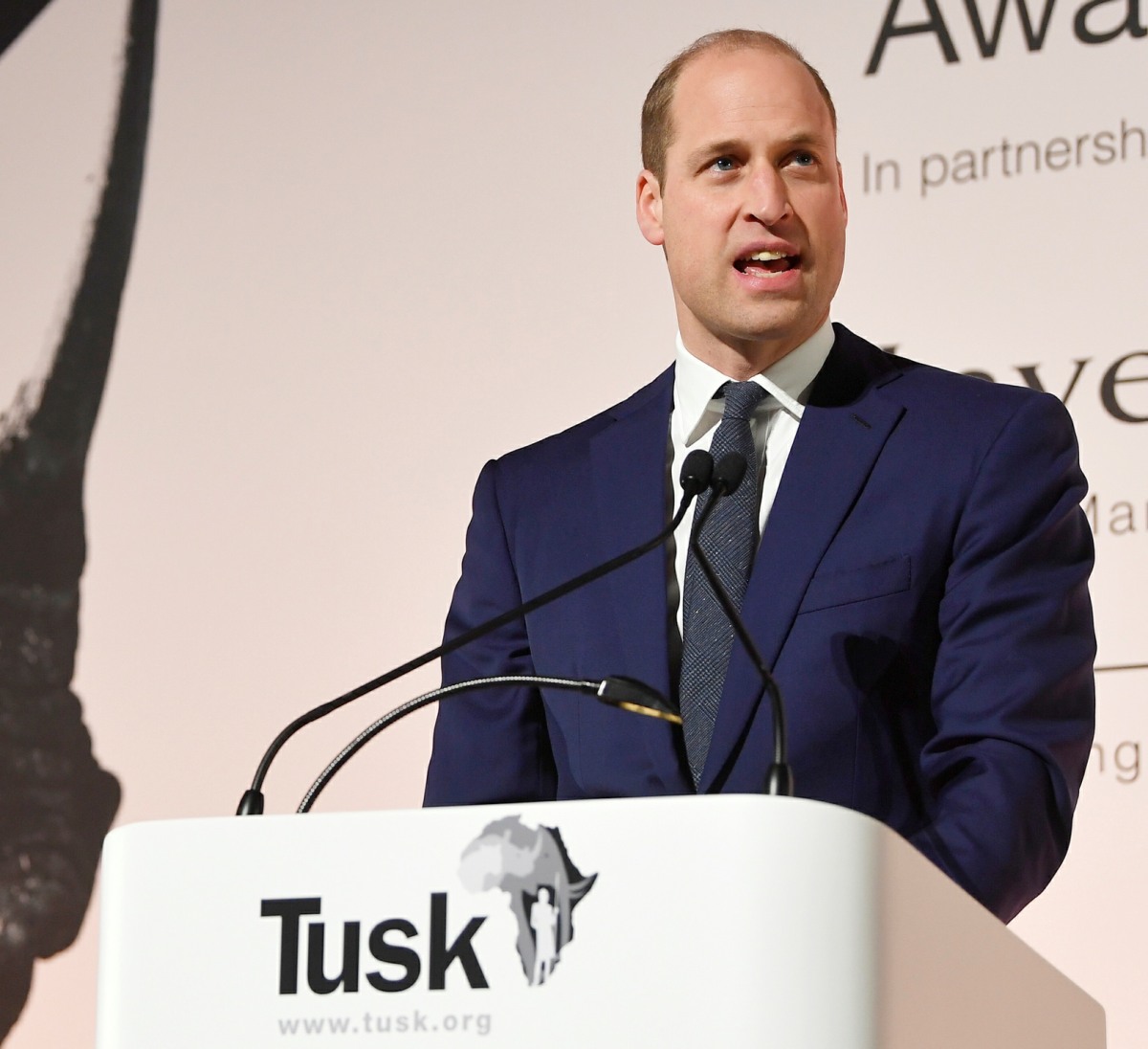 It's an old saying that British people prefer animals to people. Perhaps that is doubly true of British royals. The Windsors will do the most to represent any animal charity or animal-related organization, all while ignoring a lot of important causes related to the human condition. I also think that the "apolitical" royals think that "animal stuff" will always be a less political cause. Speaking of! Prince William continues to "prepare to be king" by talking about how he's keen to be an environmentalist and a conservationist. While William rarely takes on any patronage previously held by another royal, he's making an exception here: he's the new patron of Fauna & Flora International AND the British Trust for Ornithology. He's taking over those patronages from the Queen and Prince Philip respectively.
Prince William has been granted two new patronages from his royal grandparents. William, 38, is now the patron of two wildlife conservation organizations that were handed down by his grandmother Queen Elizabeth and grandfather Prince Philip — adding to his ongoing campaign to aid and protect the natural world. The royal has been given the Fauna & Flora International (FFI) and the British Trust for Ornithology (BTO), aligning with his "longstanding work around conservation and support for communities protecting their natural environment for future generations," his office at Kensington Palace says.

To mark the event, Philip's office at Buckingham Palace released two rarely-seen images of the royal on a trip from 1956 to 1957 that inspired his own commitment to preserving wildlife and habitats. Philip's journey took him to the southern Pacific Ocean, between New Zealand and the Antarctic, and is said by the palace to be when his "fascination with ornithology was born." He was the first member of the Royal Family to cross the Antarctic Circle. This trip, and a second ocean voyage across the Central Pacific in 1959, inspired his book, Birds from Britannia, which was published 1962, and from which the newly-released photos were taken.

His "interest in ornithology has continued throughout his career, with His Royal Highness taking the opportunity to study birds in the wild while on visits around the world, including Africa, Iceland, South America, Canada, and the Galapagos Islands," the palace adds.

The Queen had been patron of FFI for almost 70 years. The organization focuses on protecting biodiversity, which underpins healthy ecosystems and is critical for the life-support systems that humans and all other species rely on. It also works to protect threatened species and ecosystems around the world, helping find solutions that are sustainable, based on sound science and that enhance human well-being – and it is also a founding member of Prince William's United for Wildlife.
This is just another reminder (to me) that William and Kate really haven't done much of anything in the past decade. There was some idea – a theory, promoted by royal reporters – that William and Kate would add patronages to their portfolio every year until they both built up portfolios reflecting of their Future King and Future Queen status. What ended up happening is that W&K barely did any work with their dozen patronages (some of which even closed down) and they instead threw their weak support behind various newly-minted busy-work causes, like the Five Big Questions survey, or Heads Together, or William's Earthshot Prize. The purpose is not to support a worthy charity, it's to look busy and important. It's crazy that Philip and Liz haven't handed these patronages to William before now. It's crazy that Philip – who is almost 100 damn years old – still has more patronages than William currently. Also: I mean, yeah, William is a hunter. So is the Queen, Philip, Charles, Camilla, Kate, all of them. They all have animal patronages too.
Here are those photos of Philip chatting up some friendly birds. "Do you come here often? Who is your father?"
The Duke of Edinburgh has been succeeded by The Duke of Cambridge as Patron of @_BTO.

The Duke of Edinburgh has been Patron for over thirty years, and has been fascinated by ornithology – the study of birds – for over six decades.

📸 HRH with ornithologist Peter Scott, 1963 pic.twitter.com/fo0o2qkttV

— The Royal Family (@RoyalFamily) October 19, 2020
#DidYouKnow The Duke's interest in ornithology began as HRH travelled across the Southern Pacific Ocean in 1956?

🐧 HRH would identify and photograph native seabirds, including the Adelie Penguins in Antarctica.

📷 The Duke in Antarctica, and a photograph taken by HRH, 1957 pic.twitter.com/Zj0ZU4WwVp

— The Royal Family (@RoyalFamily) October 19, 2020
Photos courtesy of WENN, Avalon Red.