Emily Ratajowski is knocked up! She got to announce it with a very personal essay on the cover of the digital issue of Vogue. The father of her child is obviously her husband, Sebastian Bear-McClard, and he features heavily in her essay. The essay is about gender and expectations and patriarchy, and it's sort of cracking me up? I'm not EmRata's biggest fan or anything, but I don't think she's completely vapid. I applaud her for trying to talk about some deeper sh-t other than "pregnancy is all sunshine and roses and spon-con." You can read her essay here. A few highlights:
On the baby's gender: When my husband and I tell friends that I'm pregnant, their first question after "Congratulations" is almost always "Do you know what you want?" We like to respond that we won't know the gender until our child is 18 and that they'll let us know then. Everyone laughs at this. There is a truth to our line, though, one that hints at possibilities that are much more complex than whatever genitalia our child might be born with: the truth that we ultimately have no idea who—rather than what—is growing inside my belly. Who will this person be? What kind of person will we become parents to? How will they change our lives and who we are? This is a wondrous and terrifying concept, one that renders us both helpless and humbled.

The idea of having a daughter: "To be perfectly honest," I tell my husband over dinner, "I'm not sure that I even know that I want a girl. I guess I'd just never really thought about having a boy before. " "I do worry a girl will have a lot to live up to as your daughter," he replies. "That's a lot of pressure." I wince and think of my own mother and her tales of being homecoming queen, the way I knew the word jealous at the age of three (I pronounced it "jealoust," telling my mother that her female colleagues were "just jealoust" of her), and the early understanding I had of how beauty could equate to power. I prayed for beauty, pinching my nose tightly on either side before falling asleep, willing it to stay small.

She already resents Sebastian: My husband likes to say that "we're pregnant." I tell him that while the sentiment is sweet, it's not entirely true. I resent that his entire family's DNA is inside of me but that my DNA is not inside him. "It just seems unfair," I say, and we both laugh. It's kind of a joke, but just like the remark we make about our child's gender, there is truth behind it.
The rest of the piece is funny too – she talks a lot about how worried she is that she'll have a boy who will have all the privilege of yet another white man, or that her son might end up playing football. She quotes a mom friend, who told her that she resented the hell out of how peacefully her husband slept during her pregnancy: "There is nothing worse than the undisturbed sleep of a white man in a patriarchal world. It was hard to come to terms with the fact that I was bringing yet another white man into the world. But now I adore him and can't imagine it any other way." So, yeah, it doesn't sound like Emily is going to find out the sex of the baby.
Em did a paparazzi photoshoot outside of her apartment last night too: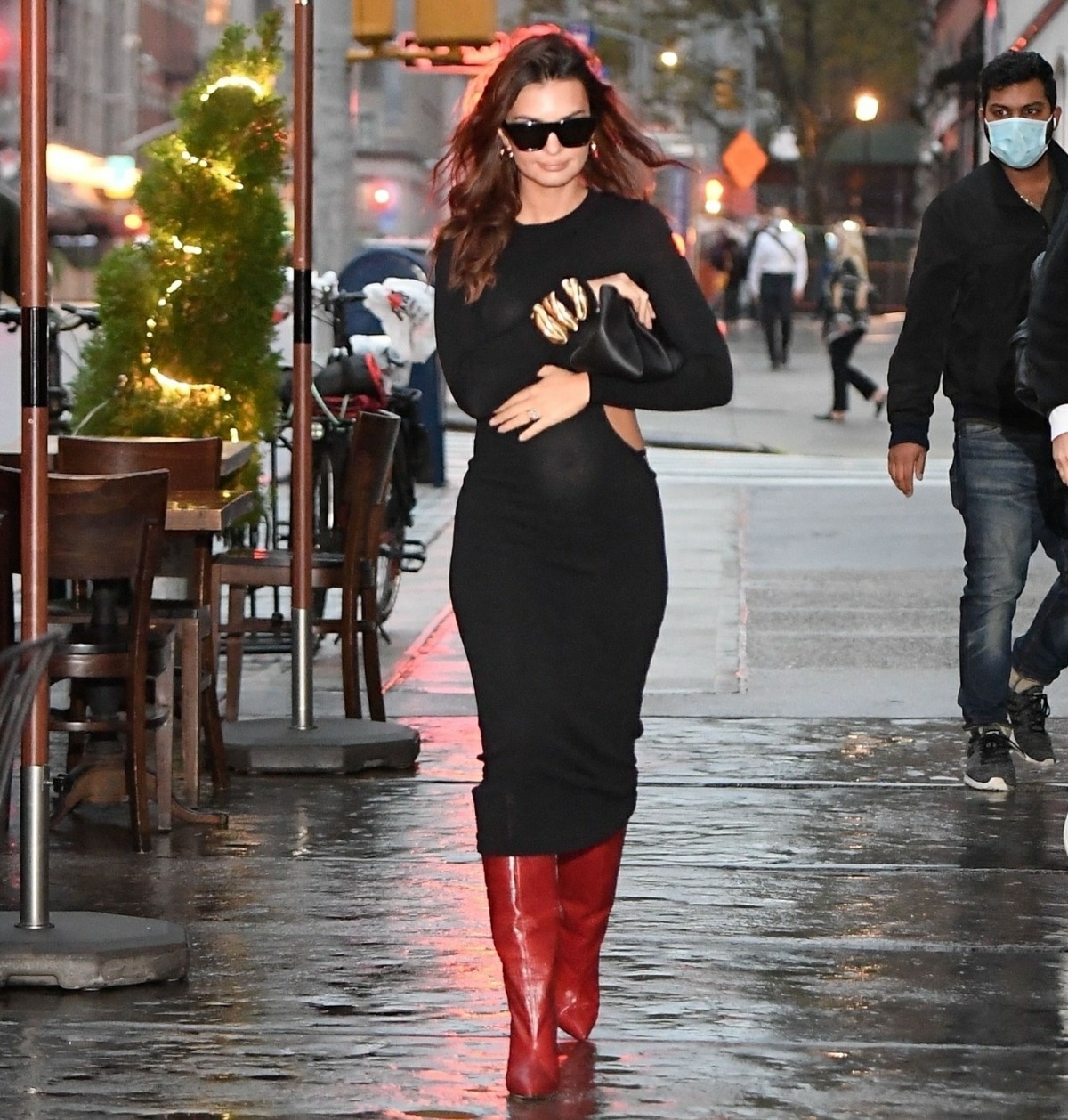 Photos courtesy of Backgrid, Vogue.