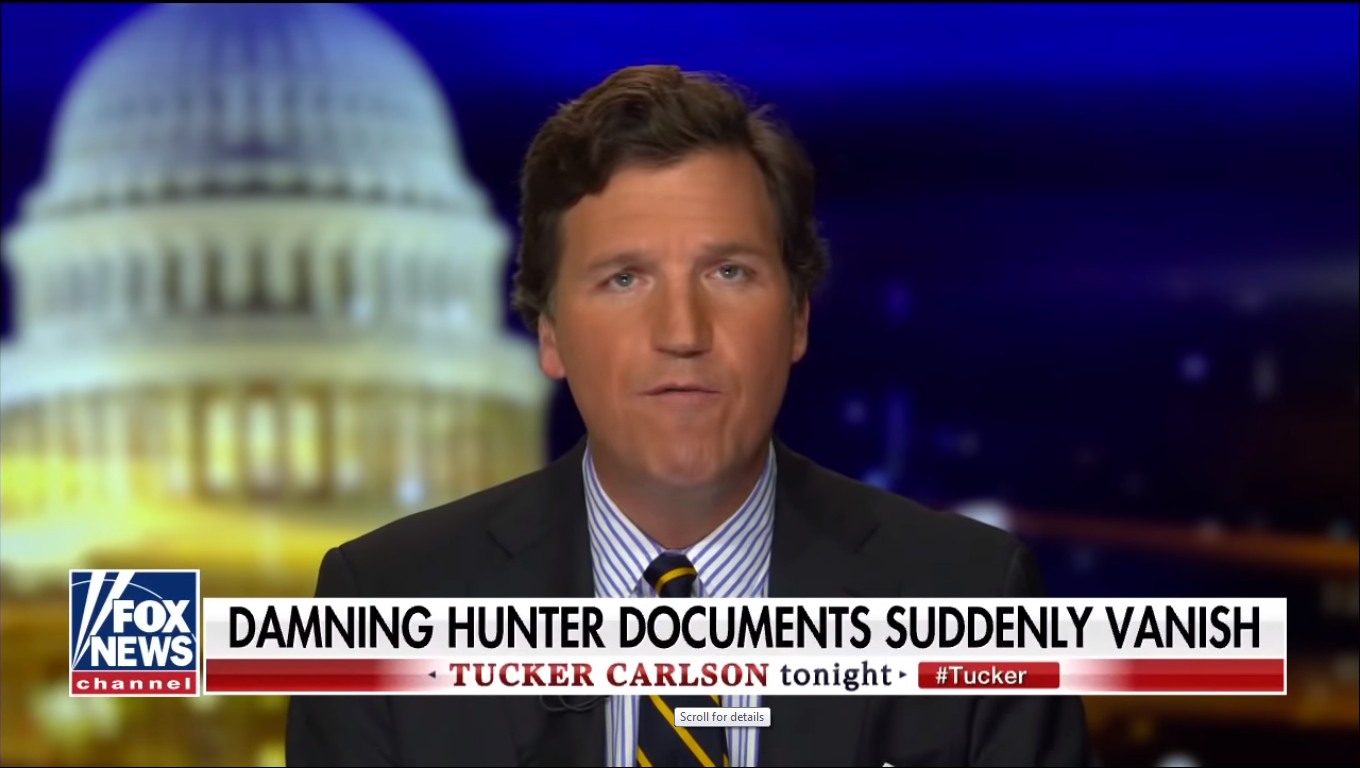 The Republicans were desperate to make "the Hunter Biden emails" into a thing, and I didn't even follow the convoluted story of how Rudy Giuliani and some computer repair person got their hands on a cache of emails which definitively proved that… Hunter and Joe Biden had a close relationship and that Joe sticks with his son, even through drug addiction and rehabilitation. Scandalous! Anyway, the emails were a bust, and only the NY Post took them at all seriously. Even the other major Rupert Murdoch-owned New York-based publication, the Wall Street Journal, rolled their eyes at Rudy and Trump's latest ratf–king scheme. Still, various Fox News personalities – mostly Sean Hannity – have tried to make it a bigger story. Hilariously, they turned it into a process story – they cover it by saying "why isn't the mainstream media covering this explosive Hunter Biden-email story?!?"
Anyway, I knew in the final week of the campaign, there would be more ratf–king to come and here we are. Tucker Carlson went on camera last night with perhaps the greatest piece of performance art of 2020:
LMAO. Where to start? So, *someone* was given a cache of physical documents which were extremely damning to Hunter Biden, and that someone was in New York (hint: Rudy), and the documents were given to one of Tucker's producers, and the producer took photos of the documents but never thought to make duplicates of these incredibly important documents. No, there only needs to be one copy of these documents, documents which will blow the campaign wide open in the final week. So the NY producer sends the documents through UPS or FedEx… and they disappear. Obviously, Hunter Biden, Joe Biden, Hillary Clinton, Alexandra Ocasio-Cortez and Nancy Pelosi are in cahoots, and they organized an Ocean's Eleven-type multi-level scheme to steal back the documents from a mail-sorting facility in the dead of night. There's no other explanation, sheeple.
The thing that absolutely sells that Tucker bit is that he plays it *entirely* straight and doesn't break even for a milisecond. Absolute art.

— Chris Hayes (@chrislhayes) October 29, 2020
LEAVE TUCKER CARLSON ALONE pic.twitter.com/iIkMPgMlhS

— Brent Terhune (@BrentTerhune) October 29, 2020
So Tucker Carlson's producer didn't read and summarize the documents before mailing them? He/she didn't scan, fax or copy them? The thief managed to infiltrate Fox's mail room? There's no security video or visitor log? The person who sent it originally doesn't have another copy? https://t.co/9yKkDAUh2v pic.twitter.com/Qe2QDXAqt9

— Shannon Watts (@shannonrwatts) October 29, 2020
Tucker should have never let his guard down. 😂😂 pic.twitter.com/zmmiFsvVNh

— Sondi (@SquiddyMuffin) October 29, 2020
Screencaps from Fox News.