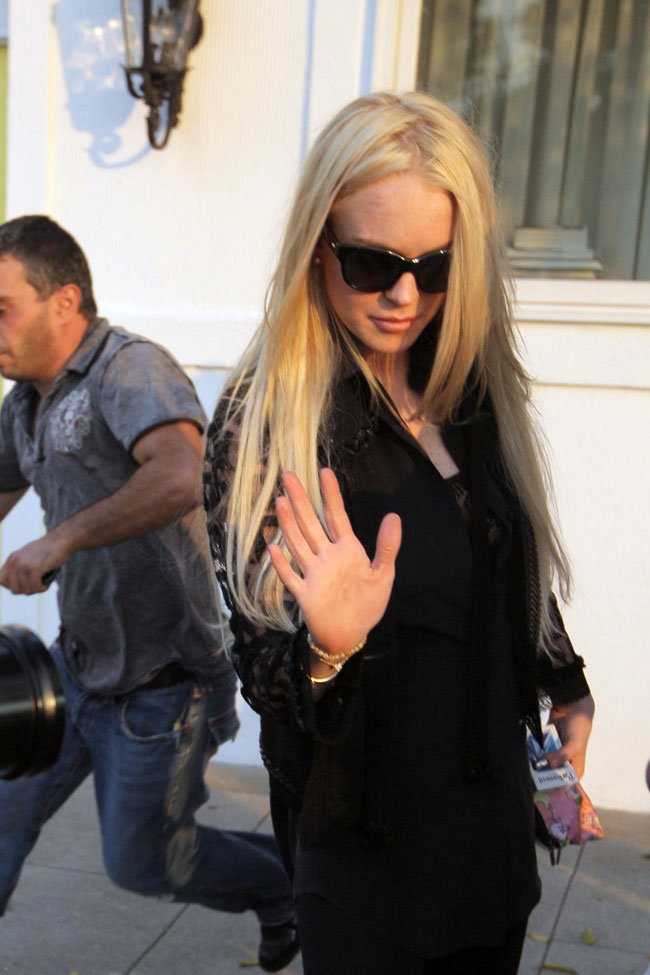 Lindsay Lohan has a busy couple of weeks, what with all of the break-in drama and moving out of her burgled home, and… you know, the normal crackhead stuff that can be so utterly draining. So, do we want the good news or the bad news first? Let's start off slowly and have the good news. It seems that those rumors of burgled sex tapes were probably nothing. The Enquirer is reporting that, yes, of course Lindsay has a whole collection of photos of her and Sam Ronson, maybe other girls, and many men. It seems Lindsay can't hookup with someone without taking a picture of the two of them in bed together. Anyway, it seems that this stash of photos was not taken in the burglary:
Lindsay told her pals she freaked after coming home to find her Hollywood Hills home had been burgled for the second time in three months, raced inside, quickly checked her secret stash of sexy pics clicked over the years – and literally gasped with relief when she discovered the thieves hadn't dug up her naughty treasure trove.

"Lindsay admitted there were girly poses of her and Sam, scantily clad," said a source. "Other photos showed her in compromising poses with both girls and guys. She never exactly said any of the shots were pornographic, but she kept repeating how she'd been absolutely frantic that they'd end up splashed over the Internet. For a girl who's already experienced the shock of seeing no-pants photos of herself flashed on the Web, she seemed super-worried – acting like some of the shots might be way over the line. She was just totally relieved the thieves hadn't snagged her snagged her bag of goodies."
[From the National Enquirer, print edition, September 14 2009]
It's totally weird that the burglars didn't take the photos, isn't it? Although I never really thought the photos/sex tapes were stolen, because we would have seen that stuff about two seconds after it was taken. But it is strange that the burglars went right for the $2 million in jewelry, rather than a classic investment in crackhead erotica. It's a case for Sherlock Holmes, I swear. Or we could go the simplest theory – that Lindsay burgled herself (are there photos of that?!?):
When grainy photos of the burglars who broke into Lindsay Lohan's LA home were released, no one could deny that one looked remarkably like La Lohan herself! Would Lindsay really rob her own home? It seems doubtful, but it would help avoid returning $2 million worth of baubles loaned to her two months ago by jeweler XIV Karats. Lindsay insists they were in a safe taken during the Aug. 23 burglary.

Also, after fighting with Sam Ronson in the early hours of Aug. 27, Lindsay spent the day downing vodka drinks poolside at the Sunset Marquis hotel in LA – and fresh slash marks were visible on her left arm. "They were really nasty," says an eyewitness. The next day, Lindsay chillingly refernced her emotional and perhaps physical pain in a Twitter post: "Last weekend and this week have definitely left some unforgettable scars."
[From Star Magazine, print edition, September 14 2009]
Christ, is Lindsay cutting herself? Or were the cuts burglary-and/or-crack related? Anyway, back to the burglary – yeah, I do think Lindsay had something to do with it. Maybe she didn't technically burgle herself (hehe), but she might have known her burglars to some extent – they could have been her dealers or something. I don't know.
Ready to end on a high note? There's this little report from Star – Lindsay and Sam were in Italy recently, and Lindsay requested an "all female" staff to wait on her at the club: "It's official: Lindsay Lohan does not like men! While partying with galpal Samantha Ronson at Fiat Playa in Sardinia, Italy, she asked for males to be banned from the club! Management complied with her request – even making sure that only women were on staff – and the ladies spent the whole night of Aug. 18 dancing on banquettes. That's amore!"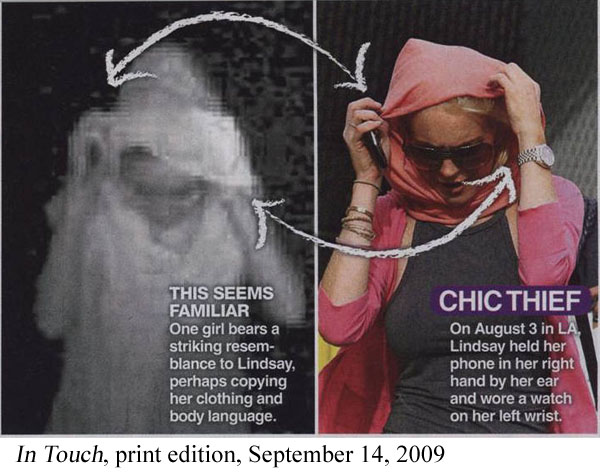 Lindsay Lohan is shown out shopping with Sam on 9/3/09. Credit: WENN.com. Image above is a scan from In Touch