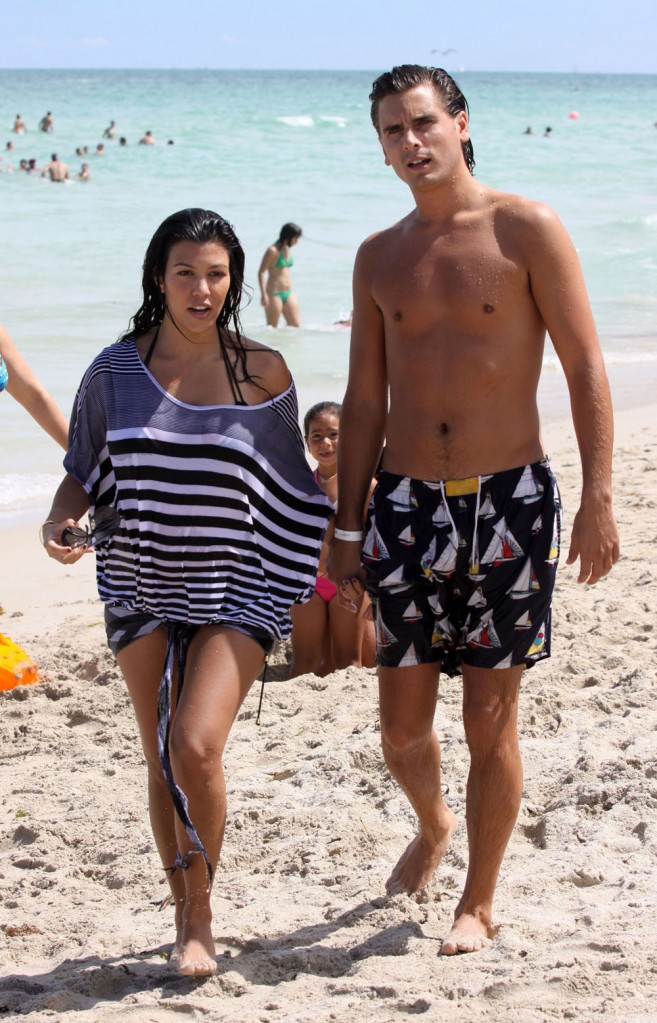 After the initial announcement of her pregnancy, Kourtney Kardashian went on a media binge like no other. She gave "exclusive" interviews to every major outlet, tabloid and television show. We heard about how Kourtney forgot her birth control, how she considered abortion, that she's going to breastfeed with implants, and that she's going to use this pregnancy to launch herself in a big way (shocking). And those were just some of the bigger stories. For about a week, People and Us Weekly was giving us hourly updates on her food intake, and her bowel movements.
Of course, along with that kind of crap coverage, we also got some reports about the lingering worries that baby-daddy Scott Disick is still pretty much a douchey womanizer. The latest report just solidifies that image to a ridiculous point – Scott Disick threw himself a "man-shower" (a baby shower for men). This "man-shower" was held in Miami. With Kevin Federline. K-Fed even gave Scott "some cute advice about being a father." Oh. My. Gawd.
While Kim Kardashian plans sister Kourtney's baby shower, the Kourtney & Khloe Take Miami star's boyfriend, Scott Disick, had his own daddy-to-be celebration of sorts this week in Miami during an evening of dining and clubbing Kourtney jokingly dubs a "man-shower."

On Wednesday, while Kardashian, 30, and Disick, 26, were in Miami – where she and her famous sisters own the store Dash – the on-again couple attended a dinner at the Fontainebleau hotel's steakhouse Gotham Steak with Kevin Federline, 31, his girlfriend Victoria Prince, musician Cisco Adler and rapper Shwayze.

Afterwards, Disick and Federline headed to the hotel's nightclub LIV to watch Adler and Shwayze perform.

"We were joking that it was Scott's 'man shower,' like his version of a baby shower," Kardashian tells PEOPLE. "Guys get excited too about having a baby, so they should do something too. One of our friends started calling it a 'man shower,' but I was like, 'Guys don't have tea and open presents!' But for them, dinner and then going to a nightclub is a 'man shower.' They thought it was funny."

As for the male bonding, Kardashian says Federline gave her beau "some cute advice about being a father, he was really sweet, saying how Scott's life will change."

Kardashian says that evening is where the "man shower" festivities will likely stop. "That was it," she says. "That's as far as guys will ever plan unless they need an excuse to go out! I had no desire to go. I was relaxing, chilling. If they want to go have a 'man shower' in Miami, then go ahead!"

And did the boys behave? "Yes," she says. "And it's downstairs, so if I needed anything, it's close. I totally chilled."

The previous night, Federline and Prince visited The Gansevoort South hotel's Louis Bar Lounge, where they shared a table with Disick and danced to tracks by Prince, The Rolling Stones, Jay-Z and The Ting Tings.

Federline was in Miami co-parenting his kids with ex-wife Britney Spears, who performed a sold-out show at American Airlines Arena on Wednesday night.
[From People]
Is this really so terrible? Not really. It's just B-List, sad and funny. Here's the thing – I don't even think K-Fed is that terrible a father. I used to think he was awful, but I still have some vaguely pleasant recollections about how well he behaved during Britney's crazy period.
I also wanted to point out something else I've noticed since Kourtney made her pregnancy announcement – Kim and Khloe seem to be out of sorts, don't they? I mean, Khloe is used to not getting any attention, since people really, really don't care about her, but Kim is used to be the Kardashian that gets all of the press, and she's been doing anything she can to stay in the press. Kim even told the paparazzi that she "wants a baby too!" Of course you do, honey. Baby = attention. Meanwhile, it seems Khloe is trying something new – a high-profile relationship with LA Lakers' forward Lamar Odom. They've been spotted all over LA, and Odom told Us Weekly, "Khloe is smart and beautiful and that is very hard to find." What's that again? Anyway… people still don't care about her, do they? Well, I'm happy for her. Odom is so huge, he makes Khloe look petite.
Kourteney Kardashian and Scott Disick are shown on the beach in Miami on 9/6/09. Credit: KADENA PIX/bauergriffinonline.com. Khloe Kardashian and Lamar Odom are shown out with Khloe's mom, Kris Jenner, on 9/5/09. Credit: PER/Fame Pictures