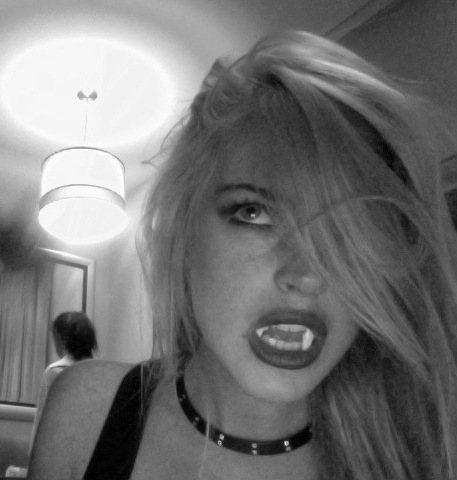 As we reported last week, Lindsay Lohan is something of a True Blood addict. My first reaction when hearing the news was "CB is going to have a fit." Nothing like a Lohan endorsement to destroy your favorite show. Now it seems that Lindsay isn't simply content to destroy the pleasure True Blood fans get from their show, now she's doing some kind of open audition for a part, via Twitter. To show her devotion to the show – and perhaps to show True Blood's producers what a crackhead vampire would look like – Lindsay donned vampire fangs and posted a picture of herself on Twitter. As for the pic… well, it's not the worst picture of Lindsay I've seen in even the past week. And I do think her personality is pretty vampiric, so maybe it's not the worst idea.
In other Lohan news, it seems Lindsay and her 16-year-old sister Ali decided to go clubbing in LA over the weekend. Because, you know, Lindsay is such a great influence on her 16-year-old sister, and because Mother Lohan wasn't available to pour drinks down her 16-year-old's throat at a club at 3 a.m. Oh, by the way – Lindsay and Ali were both "dressed for attention" in tight tops and "booty shorts". While Lindsay and Ali were out, they bumped into How I Met Your Mother star Jason Segel, and he and Lindsay decided to party all night. So… there goes my crush on him:
It's nice to see there's no sibling rivalry between Lindsay Lohan and her sister Ali but then again, maybe their togetherness shouldn't include bringing underage Ali into LA clubs!

For the second time in a week the sisters hit the nightlife together; Friday night RadarOnline.com spotted them at Teddy's, which was packed with star power. And while Lindsay hung for most of the night with Ali, things quickly changed when they bumped into Jason Segel.

Both Lindsay and Ali were dressed for attention, with Lindsay wearing a tight jumper and lots of makeup. Ali wore a vest as a shirt and booty shorts.

The sisters danced wildly and when they came off the dance floor Lindsay was chainsmoking inside the lounge, a definite no-no. But like a good big sis, Lindsay took Ali and introduced her to various promoters who were in the club. (No one said, "Hey, you're 16, how'd you get in here?" Ok, we did, but nobody answered.)

The highlight of the night for Lindsay and Ali was when they bumped into Segel (Forgetting Sarah Marshall, Knocked Up, I Love You, Man). All we know is the Lohan sisters freaked out they were so excited, and told Jason he's "awesome" among other complimentary terms. Jason seemed a little embarrassed by the encounter but was gracious. And the night didn't end there for Lindsay and Jason. They left Teddy's and partied at Adam Levine's until nearly 6 a.m. when they were then spotted at the Chateau Marmont, with Jason getting out of the car.

Hmmm…new couple alert? Or just party pals?
[From Radar]
What goes through a guy's mind when a booty-short-clad, cracked-out Lindsay Lohan and her little sister come racing up and start gushing? Can a guy just demure gently, hoping to not awake the crazy, and quickly walk away as soon as possible? It sort of sounds like Jason was trying to be nice, but it also sounds like he might have been up for some Lohan action. Gross. I can't even imagine.
Thanks to I'm Not Obsessed for the Lohan Twitter pics