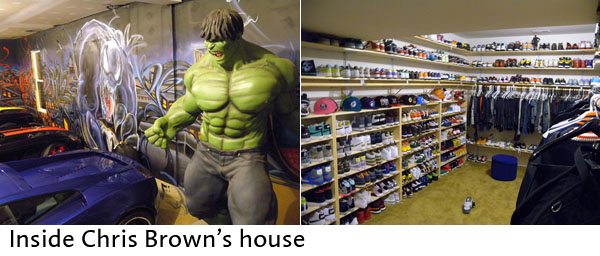 In case you were wondering if Chris Brown is suffering at all after his half-assed apology on Larry King Live and five year probation sentence for his relentless attack on Rihanna, the answer is a resounding "no." The singer posted photos of his home and some of his toys on his official Twitter account, and he's doing fine. In fact he has three cars in his garage, hundreds of shoes in his closet, custom graffiti throughout his home, and a life-size replica of the Incredible Hulk. Because that's what a known woman-beater needs as his favorite superhero, a normal guy who turns into a big green monster when he gets mad. Brown included a pic of himself on a tiny bike, and wrote "THIS BIKE COST 2000 BONES… RANDOM RIDICULOUS_NESS.LOL." He also shared a photo of his dog, which looks like a pit bull to me. (No offense to pit bull owners, I've heard that they're very good dogs when properly trained, but they're better known for being aggressive.) Brown tweeted that his upcoming album, "Graffiti," is "HANDS DOWN … MY BEST ALBUM." Some would say it doesn't take much, but I guess they're all haters, right?
Maybe you might think that Chris isn't bragging by letting us in on his very privileged existence, but he manages to yell that it's all about how great his life is, and tweets "IM BUILDING A FANTASY FACTORY BEHIND MY HOUSE!!!! GONNA BE CRAZY!!!!! STUDIO.. BASKETBALL COURT.. SWIMMING POOL… GRAFFITI.. FOAM PITS.."
Yeah, that sounds like justice right there. At least he'll have to do hard labor for six months. He also got in an accident over the holiday weekend and tweets "wrecked my four wheeler… scrapped my lag and back up a lil bit" but assures us that "it was funny as hell… im good." I'm sure that there are people who were hoping for a less favorable outcome, not that I would wish ill on anybody.
[Thanks to TMZ for the tip] All photos from Chris Brown's Twitter