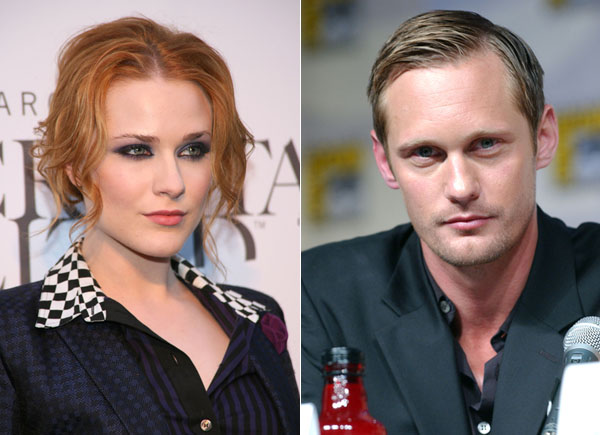 Lainey over at Lainey's Gossip is reporting that hot Swedish actor Alexander Skarsgard, 33, who plays the conniving viking vampire Eric on "True Blood," is dating his new costar, Evan Rachel Wood, 22. Evan and Alex have reported taken pains to keep their new relationship under wraps. Evan made her debut on True Blood as Lousiana's vampire queen Sophie-Anne in last week's episode. The final much-anticipated episode in the second season will air on HBO this Sunday. In an interview with E! Online ahead of her debut, Evan said that she was "Team Alex" in the epic battle for lead Sookie Stackhouse's affections between vampire Bill and vampire Eric. She quickly corrected herself, saying she was team "Eric, whoops." I guess she's team Alex in more ways than one:
Evan Rachel Wood and Alexander Skarsgard are dating.

Am told exclusively by an infallible source that it's been several weeks now. And that she flew to Shreveport, Louisiana on Friday to visit him. Skarsgard is there working on Straw Dogs with Kate Bosworth. Smart Evan. Kate has a way of throwing herself inappropriately at other people's boyfriends. See Jim Sturgess.

As for Evan and Alex – they met, of course, on the set of True Blood, and were able to keep it low key, very underground while they were in LA, never venturing out to pap friendly locations, only sighted a few times discreetly, and so far the relationship is progressing well, they're having fun together.

What happened with Shane West?

Came and went. Two individuals going in different directions. Shane is idling. This is not attractive in the end. Believe me I know. I've dated my share of losers.

And Alexander Skarsgard is not a loser.

Oh ladies. Don't hate. And stop with The Swears. Let the Twi-Hards own the market on the crazy. True Blood fans are much more sane?
[From Lainey Gossip]
I've watched a few interviews with Alex Sarsgård since developing my new-found crush on him, and I've been impressed with how smart, down-to-earth, and humble he seems. He's done several long interviews with fan sites in which he seemed genuinely pleased to answer in depth questions about his character.
Kaiser sent me this article and I kind of shrugged and thought "oh well." I don't have anything particularly against Wood, and although she stupidly dated Marilyn Manson and then went back to him after they broke up the first time, I was willing to give her the benefit of the doubt. Kaiser schooled me that Wood is "as conceited and self-absorbed as Megan Fox," but "actually kind of smart." I dug up a couple of Wood's recent interviews to see, and Kaiser is right –Wood is pretty far up her own ass. Her voice sounds like Lindsay Lohan's too. At least Lohan didn't get her clutches on Skarsgard. You know she would love to.
Alexander Skarsgard is shown at Comic-Con on 7/25/09. Evan Rachel Wood is shown on 6/25/09. Credit: PRPhotos.