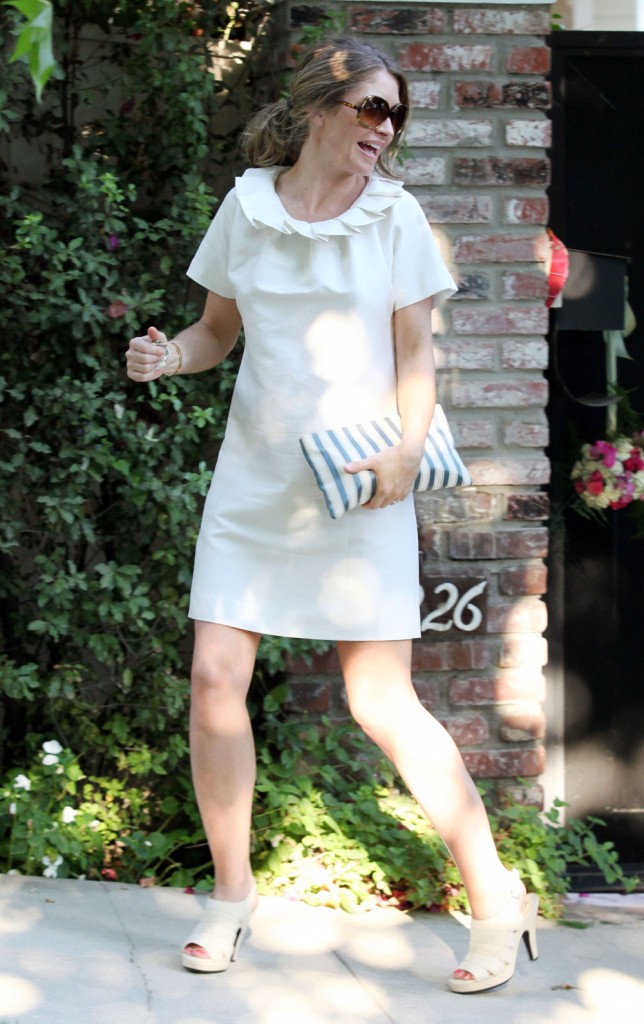 A few weeks ago, Eric Dane and Rebecca Gayheart got caught up in a minor scandal. A video was released online featuring the married couple with Kari Ann Peniche, a former beauty queen-turned-hooker/madam. There was no sex on the tape, but they were naked, hanging out, and smoking something. Most people were kind of "meh" about the scandal, but it seemed to me like Eric and Rebecca were really worried the tape would affect their careers. Within a week, there were some fresh pregnancy rumors for Rebecca, as if a wholesome, vanilla, pure, non-hooker-related baby was just the ticket to get back to some clean, fresh career path. Now Page Six is reporting another addition to the baby rumors – when Eric and Rebecca went to DJ AM's funeral, Eric made sure people spotted him "putting a protective hand on Rebecca's stomach." Because that's the way babies are made, silly. Fertilization through the Sperminator McNudie hand.
ERIC Dane was very attentive to Rebecca Gayheart at DJ AM's memorial — fueling rumors she's expecting their first child.

Dane was repeatedly seen putting a protective hand on Rebecca's stomach during last week's service at the Hollywood Palladium, also attended by Nicole Richie, Lindsay Lohan and Samantha Ronson.

Sources say the "Grey's Anatomy" star and his wife — who made their first pub lic outing since their nude tape was re leased — have been trying for some time to become parents.
[From Page Six]
If it's true, I don't begrudge them a baby, I really don't. And the state of Rebecca's womb has nothing to do with me. If she's pregnant, God bless. But the rumors of her excessive drug use (addiction?) have been pretty steady, and I think they're going to stick around. There are going to be questions about whether she's still using through her pregnancy… but probably not by any of the major media outlets, like People or Us Weekly. We'll see!
Update by Celebitchy: PopSugar has photos of Eric and Rebecca out shopping yesterday and she truly looks pregnant! Congratulations are in order I guess.
Rebecca Gayheart is shown outside Ellen Pompeo's baby shower on 8/29/09. Credit: Fame Pictures. PopSugar also has recent photos in which she's looking pregnant.