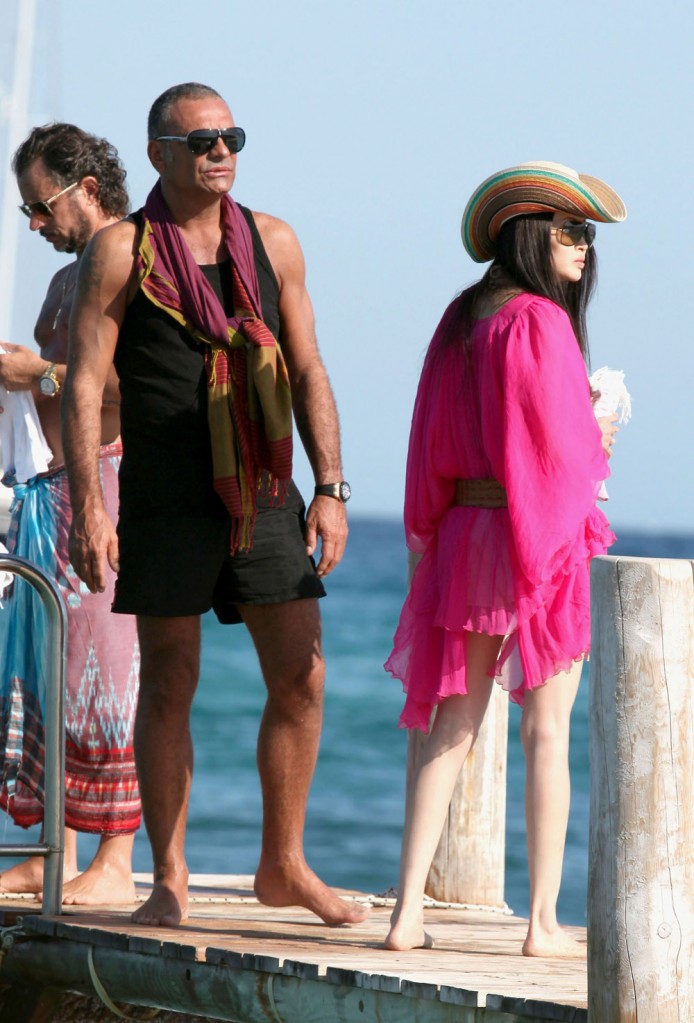 So Christian Audigier is officially my most disliked person in the world. Yeah I know there are criminals and general evil-doers out there, but I don't have to hear about them as much as I have to hear about this loser and look at his absolutely hideous "designs." And I can't look away – every moron on the subway is wearing those shirts, thinking he/she looks cool. Or at least (presumably) thinking they don't look like a douchebag, which they absolutely do.
Anyway, the prince of crap has decided people aren't saying his name enough lately. Due to the unfortunate combination of everyone suddenly regaining their vision and everyone else suddenly hating Jon Gosselin, no one really wants anything to do with Christian. So what'd he do to get some more press? The natural thing of course. Something good for charity that'll cause everyone to take note? Absolutely not! He's renting Michael Jackson's last home, so now he has a place to devote himself fulltime to the worship of Jon Gosselin's curvy calves.
Christian Audigier will not transform Michael Jackson's former home into a public space.

Michele Elyzabeth, a spokeswoman for the Ed Hardy clothing founder, said Audigier would move into the sprawling Holmby Hills mansion at the end of Jackson's lease on Dec. 15.

He also said that Audigier had no plans to turn the rental property where the King of Pop collapsed and later died into a public space.

The estate is owned by Ed Hardy CEO Hubert Guez.

Jackson was entombed Thursday night at the Forest Lawn Memorial Park in Glendale, Calif.
[From the Huffington Post]
Oh thank goodness. I was sooooooooo stressed about Christian Audigier's housing/famewh*re situation. Seriously, lots of sleep lost and whatnot. Michael obviously only rented the place for a little while, and Audigier's doing the same. And while I've never cared for Michael Jackson's "I am Christ"-sense of décor, I guarantee you it was a hell of a lot more attractive than whatever Audigier's going to do to the place. Lots of paintings of skeletons wearing tattoos? Tattoos of skeletons? Audigier strikes me as the kind of guy who totally gets how stupid and useless he is, so I'm sure he'll be able to mock his "design" sense in his art.
Frankly this isn't all that bad. I half expected to read that he'd bought Neverland. Then started emblazoning all the zoo animals with wicked edgy Ed Hardy designs.
Here's Christian Audigier hanging out/admiring his calves in Saint-Tropez on Sunday. Images thanks to BauerGriffinOnline.