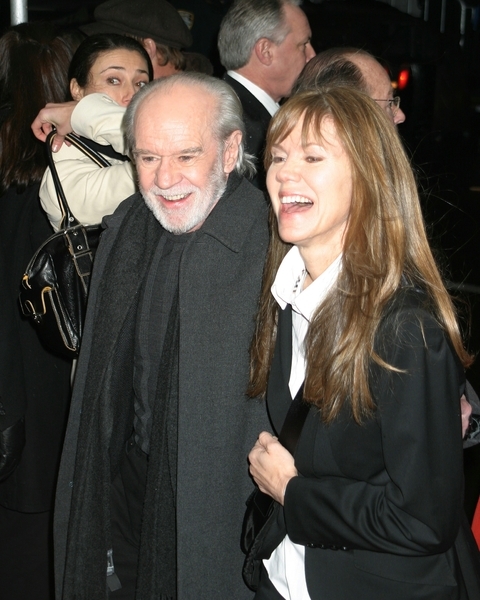 The California wildfires have caused massive devastation throughout much of Southern California. The blazes have led to the evacuation of over half a million people, the largest in California's history. In San Diego County alone, officials estimate the damage will come to at least $1 billion just for the homes. There are currently over 10,000 firefighters on the fire lines, and 585 square miles are currently burning. A lot of celebrity and expensive homes are in danger of burning to the ground – but thousands of regular people's homes are in danger too, including a lot of people who don't have insurance and can't afford to "start from scratch" like some can. So while this affects our dearly beloved celebrity community, it resonates on a far deeper level, as it can do severe damage to people from every economic class.
George Carlin was on "The View" today and talked about his belief that the fires are the result of man-made problems.
Comedian George Carlin and actress Jamie Lee Curtis this week both suggested that the devastating wildfires raging in Southern California should not come as a surprise to a population that ravages the environment. Offering his provocative opinion on "The View" Wednesday morning, Carlin paraphrased an old comedy rant of his, and characterized the fires as cosmic payback from a planet stretched to its breaking point. "People are selfish," he said. "These people with the fires and the floods and everything, they overbuild and they put nature to the test, and they get what's coming to them, that's what I say."

Joy Behar replied, "That's a little harsh, George." But the 70-year-old comic continued: "People think nature is outside of them. They don't take into [themselves] the idea that nature is a part of them." Pointing to his chest, he said, "Nature is in here, and if you're in tune with it, like the Indians – the balance of life, the harmony of nature – if you understand that, you don't overbuild, you don't do all this moron stuff."
[From People]
I have heard a lot of experts saying the land and the air is the driest it has ever been in California. Though people have different view on why this is, most (but not all) chalk it up to global warming brought on by humans. Jamie Lee Curtis voiced an opinion similar to Carlin's on "Entertainment Tonight."
Speaking with Entertainment Tonight, Jamie Lee Curtis gave a similarly grim assessment of the situation, suggesting people are in "ultimate denial" about what they're doing to the environment. "Global warming, combined with people building houses in places they shouldn't, et cetera, et cetera, et cetera," she said. "It just compounds to become, as they call it, a perfect storm experience here. It's not by accident. This isn't an act of God. This is an act of man."
[From People]
I wasn't much of an active environmentalist until a few years ago. I was one in theory but didn't put any actions behind my words. I think that a lot of people (myself very much included) are starting to really understand the impact of our actions, and hopefully the tide is turning. Let's cross our fingers that it's not too late.
Picture note by Jaybird: Here's an image of the California Wildfires from NASA. Header image of George Carlin at the "Jersey Girl" premiere. Image thanks to PR Photos.