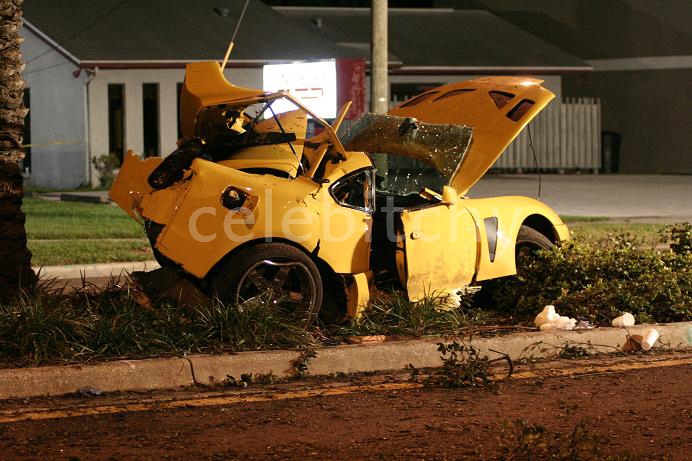 Remember Nick Hogan, the most selfish and terrible of all the celebuspawns out there? Well he's finally broken his silence about his drag racing car crash in which he caused his passenger, John Graziano, to be on life-support for the rest of his life. Experts say the most Graziano can ever hope for is to be able to open and shut his eyes once in a while. The Hogans have been nearly silent about the issue – I'm guessing because they know they're going to get sued (crossing fingers). You'd think that – if for nothing else than the sake of their public image – they would have made some statements of remorse. Well now, we finally have a word from Nick, via his MySpace blog.
"omggggg its been forever since i blogged…hell i dont even know what blog means but i guess its where you write stuff for people to read

anyways my last one was before i even drove for mopar, if you check my pics youll see that i did end up driving for them for my amateur season and most of my pro rookie season. i recently left the mopar team tho…things didnt work out to well

but!….i picked up a new title sponsor…POLAROID! and started my own team with twin 350z's pretty cool i know

anyways id like everyone to wish my luck for my 08 season and keep john graziano in your prayers"
[From TMZ]
Wow. I really hope Hulk and Linda Hogan are proud of the son they've raised. As much as everyone hates on Brooke Hogan, her singing has yet to permanently incapacitate someone, so I'm pretty sure she's the lesser of two evils. I would be so humiliated to have given life to this creature. I can't even call him a human. He's clearly beyond just spoiled and narcissistic, and is instead a full-out sociopath. I hate to be a total jerk, but I'm not capable of writing about something like this and just staying neutral. I really hope Nick Hogan goes to prison (doubtful) and terrible, terrible things happen to him there.
Picture note by Jaybird: Here's a picture of John Graziano, a US Marine who returned from his second tour of duty in Iraq last October. Header image of Hogan's crash in August.