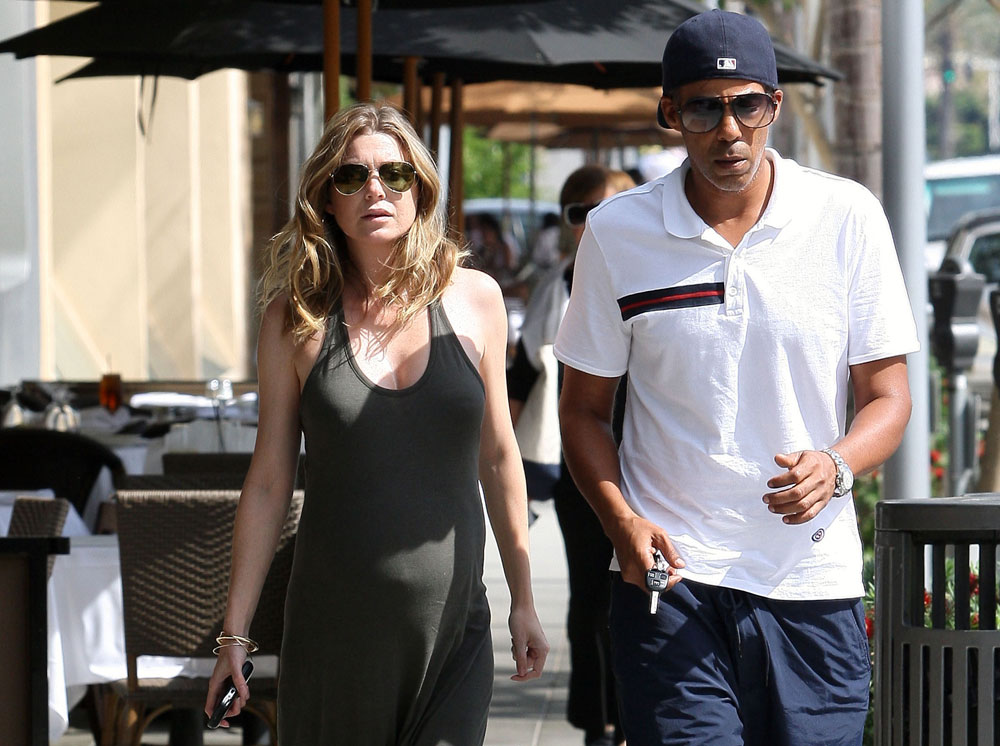 You know the drill. It's Star Magazine, so the chances are pretty good that this could all be bullsh-t. What I find interesting, though, is that this is gossip about someone who is rarely – if ever – mentioned in the tabloids. Sure, Ellen Pompeo gets a shout-out in a "Katherine Heigl is a diva" story, but Ellen, her pregnancy, and her personal life hardly ever make it into any kind of major gossip. For that reason alone, I suspect that there might be something fishy going on. So, here's the story: Star is reporting that Ellen's husband, Chris Ivery, has been having an affair with a 19-year-old restaurant hostess in Boston. The girl's name is Rachel Artz, and she has given her confirmation of the affair to Star. Rachel claims that she and Chris were "intimate" several times, and that's about it. The rest of the story is from a bunch of "insiders" and "friends". Like, an "insider" claims Chris "promised Rachel that he'd make her a star."
While Grey's Anatomy star Ellen Pompeo was glowing over the happy news of her pregnancy, her husband, music producer Chris Ivery, was practicing his baby talk on his secret lover — a sexy 19-year-old blonde!

In April, Ellen, 39, confirmed that she and Chris, 41, are expecting their first child, a daughter, later this year. But by late May, Chris had begun a torrid affair with restaurant hostess Rachel Artz in his hometown of Boston. "Yes, I had sexual relations with Chris," Rachel acknowledged when she spoke with Star. "We were intimate several times."

And while a rep for Ellen has denied all details of an affair, additional sources have told Star that over the course of three months, Chris and Rachel trysted several times — including at hotels in Boston and Miami, and a private residence in Martha's Vineyard — while Ellen was home in Los Angeles. "Chris promised Rachel that he'd make her a star — that's his lure," says an insider.

A source tells Star, "Chris often took calls from Ellen in front of Rachel and talked about their baby-to-be." Otherwise, the insider adds, "He didn't seem to like Ellen much when he talked about her. He made her seem like a diva."

Pick up the new issue of Star for all the steamy details of the affair — including Rachel and Chris' pregnancy scare — and an exclusive photo of the teen temptress!
[From Star Magazine]
Here's what I'll buy for sure – that this Rachel girl is definitely confirming her sexual relationship with Chris Ivery. The rest of it, I'm not so sure of. Whether Rachel is being honest, or she's just looking for attention, or if she's just crazy, I don't know. The weirdest thing (for me) is that I totally don't buy for a second this whole "Ellen is a diva" claim. Ellen has always seemed like a sweetheart to me – totally low-key, professional, a little eccentric, maybe. But nice. Ellen is due any day now, and I really hope her husband isn't as douchey as this report would indicate.
Ellen Pompeo and Chris Ivery are shown out on 8/28/09. Ellen Pompeo is also shown out with a friend on 9/4/09. Credit: Fame Pictures. Star cover via CoverAwards