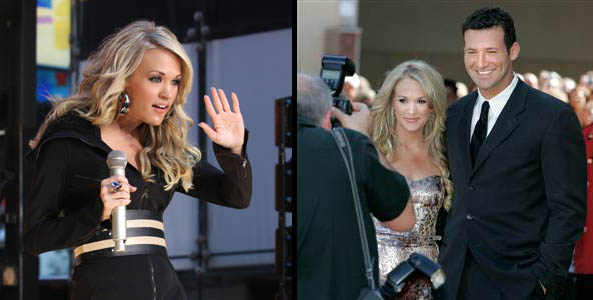 I hope you enjoyed my football pun in the title because that is all I've got when it comes to sport related humor. I am as familiar with football as Peter Doherty is familiar with a shower. The celeb-fueled story involves the adorable Carrie Underwood and former flame Tony Romo of the Cowboys. The two called in quits recently and have already moved on. Carrie admitted that she knew her relationship with the quarterback was "doomed" from the start. Football came first and people started blaming poor performances on his focus on the beautiful Ms. Underwood.
Underwood says, "He is about football… I don't think he's at the point in his life where he would be willing to sacrifice football. He hated so much that people thought he was paying more attention to me and that was causing him to not do so well."
Translation, "I was becoming the Yoko Ono of the NFL." While Carrie moved on with Chace Crawford of "Gossip Girl," Tony has a new lady in his life, Sophia Bush of "One Tree Hill." Both shows are on the CW. Sophia was dating Jon Foster in August, but that doesn't seem to matter as things between Sophia and Romo are rumored to be getting serious. Meanwhile, Carrie and Chace have made a dinner public a few days ago. The new twosome had dinner at Justin Timberlake's restaurant "Southern Hospitality." The date was report to last "well into the next morning." Do celebs do the walk of shame?
Picture note by Celebitchy: Carrie Underwood is shown performing on Good Morning America on 10/23/07. Chace Crawford is shown on on 9/20/06 at the Teen Vogue Young Hollywood Party. Thanks to PRPhotos.