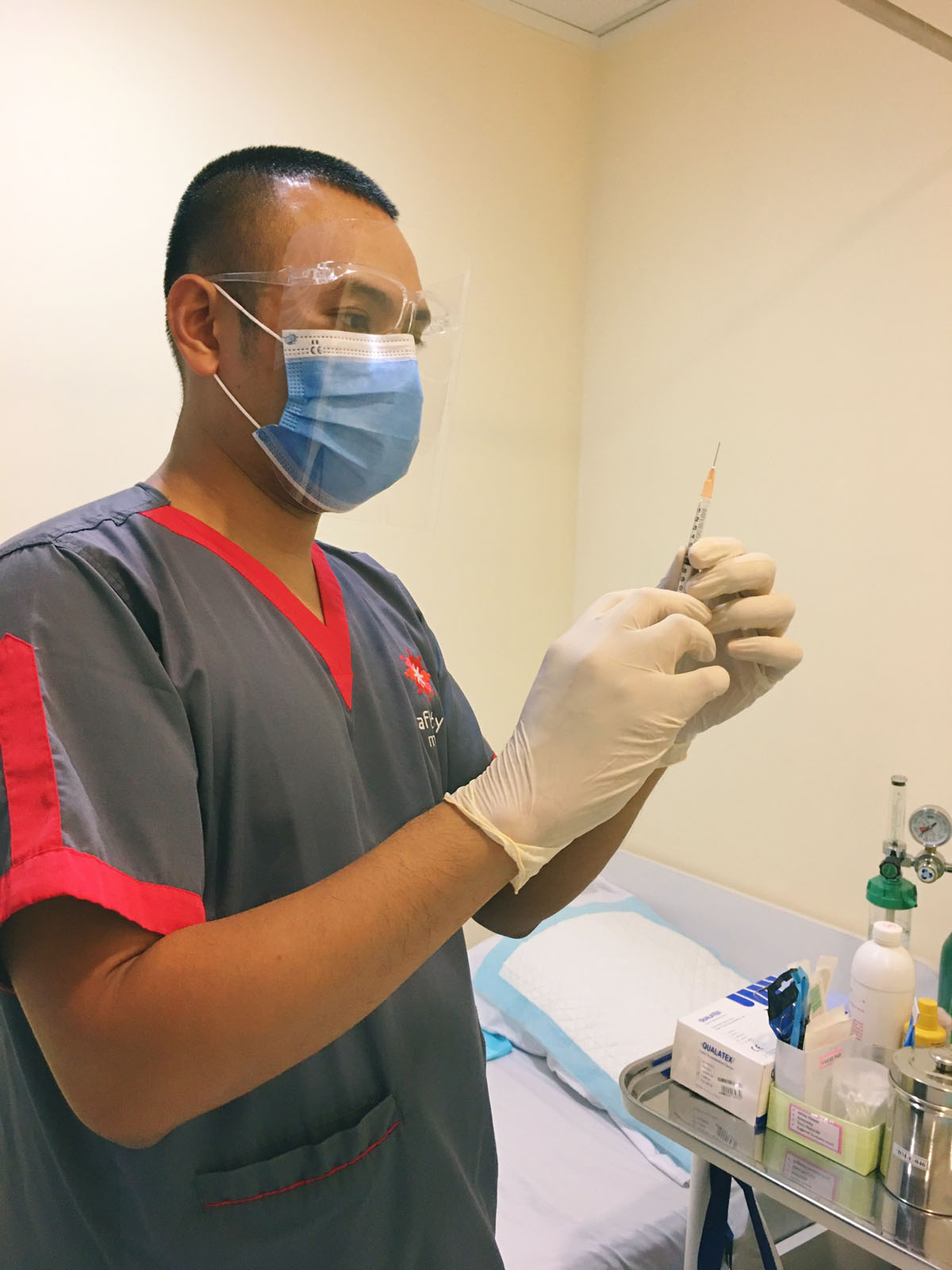 About a month ago, I covered a story about wealthy patients of concierge medical services trying to pay to get one of the two approved vaccines. At the time I thought we would be further along in the vaccination process than we are now. While there's a lot of hope now that the Biden administration is in power, the incompetent a-holes in the Trump administration left absolutely no vaccine surplus nor even a rudimentary distribution plan. States are scrambling to administer the vaccine to frontline workers and people at-risk, and availability varies wildly by area. Los Angeles and California are among the hardest hit, and vaccinations are understandably difficult to get. Enter all the rich, powerful and famous people who want to jump the line. Variety has a new article about the lengths some are going through to get vaccinated. While some celebrities, like Arnold Schwarzenegger and Harrison Ford, seem to have waited in line like everyone else, others are traveling on private jets to get the shot and sharing news about private doctors willing to give vaccinations.
Beverly Hills-based Dr. Robert Huizenga confirmed to Variety that his practice has been offered in excess of $10,000 by individuals, including members of the entertainment industry, desperate to get vaccinated.
"We've been offered bribes. We see people taking planes to every location. We've seen people try to transiently get into the healthcare profession or on staff at nursing homes, so they qualify for an early vaccine," said the physician, who has also appeared as an expert on the NBC weight loss competition show "The Biggest Loser…"

Managers, agents, producers and a few film directors have pivoted from their daily business to focus on helping clients and stars find vaccines for family members, insiders said. Some notable names are using their own shoe leather, not representatives, to seek out the vaccine.

Not all are content to navigate California's byzantine vaccination process. Allen Shapiro, the 73-year-old former CEO of Golden Globes telecast producer Dick Clark Productions, was reported last week to have flown via private jet to Florida recently in search of the vaccine with friends. Sources tell Variety that Shapiro did fly private — but alone — to Miami. While some reports have decried this as an example of vaccine tourism, insiders said Shapiro owns property and conducts business in Florida.

Some Hollywood power players are aghast that people in the industry are using their connections as millions of healthcare workers, older citizens, teachers, and essential workers toil in line. As of January 15, reports citing the U.S. Centers for Disease Control and Prevention said that California has only administered 2,716 doses for every 100,000 residents.

Dr. Art Caplan, director of the division of medical ethics at the NYU School of Medicine, said he has heard of hospital donors seeking early access to the vaccine, or about concierge doctors being asked to provide it early for their wealthy clients.

"It's bad behavior. It should not be condoned. We should find ways to penalize it," he said. "We've got 91-year-olds waiting, health care workers waiting. People who are wealthy can easily find ways to quarantine, mask, and stay isolated for another month or two, and more vaccine will become available."
The part that stuck out to me was the line about managers and agents working to get vaccines for their clients and their families. They're making calls, using connections and trying to get deals for them, like they do for their careers. Only vaccinations should be reserved for people who work in healthcare, who are elderly or who have public-facing jobs and can't afford to stay home. It's infuriating that these rich a-holes think that they deserve to get vaccinated ahead of the people who serve them. However, there was a music industry executive, Irving Azoff, who was quoted as saying "I'm a 73-year-old cancer survivor. I recently had part of my intestine removed. Damn right I received the vaccine, and I'm glad I did. Everyone eligible should get vaccinated as soon as they can." That is definitely understandable, I just hope he's making contributions to healthcare organizations serving people in need.
I agree with the medical ethicist quoted at the end that these people are so privileged that they can easily quarantine a little longer. They probably have staff and friends they're still hanging out with anyway. I see what the celebrities are doing on Instagram! Plus they can get tested every day if they want to! They should be penalized if they're taking resources away from people who need them. No one is going to enforce that though, because that's how the healthcare system works in our country. Those who can pay get the best care and people who can't afford it have to fend for themselves.
Note that the celebrities featured here all waited their turn!
I feel very lucky to have had the vaccine. I would have no hesitation in recommending it to anyone. https://t.co/gBLRR0OeJc

— Ian McKellen (@IanMcKellen) December 17, 2020
if anybody needs some good news today @WillieNelson got his covid vaccine 😍😍😍 pic.twitter.com/mIShGtswIA

— Margo Price (@MissMargoPrice) January 14, 2021
Photos credit: Kristine Wook, Steven Cornfield and Hakan Nural on Unsplash and via social media